Patriots vs. Packers: Tom Brady Calls Rodgers An 'Inspiration,' Enters GOAT Debate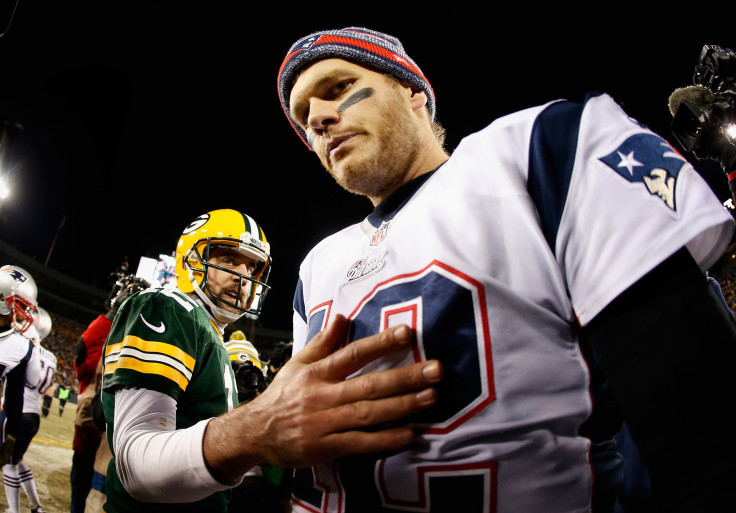 New England Patriots quarterback Tom Brady has heaped praise on Green Bay Packers star Aaron Rodgers ahead of their showdown Sunday night at the Gillette Stadium. The five-time Super Bowl winner revealed the Packers quarterback is an inspiration.
Brady is a veteran in the National Football League (NFL) and is considered one of the all-time greats of the sport, but despite that, he admitted Rodgers has motivated him to become a better player.
"I think it's inspiring," Brady said Tuesday during his weekly interview on sports radio WEEI, as transcribed by ESPN. "Even for me, I watch his game and it makes me want to get out there and practice and improve because I think he's so phenomenal with how he manages himself in the pocket.
"His ability to throw the football is unlike anyone in probably the history of the league. It's pretty awesome to watch," the Patriots quarterback added.
Brady revealed he shares a longtime friendship with Rodgers, but their meetings on the field have been rare. It will be just the second time they face each other when the Patriots take on the Packers with their last meeting coming back in 2014.
The Patriots quarterback admitted the clash against the NFC North franchise will be a tough one for their defense and hopes they can trouble the Packers defense too.
"It's going to be a big challenge for our defense. We're going to try to make it hard on their defense, and we'll see how it shakes out. We've had a lot of close games this year, and I'm sure this one will come down to the wire," the three-time Super Bowl MVP said.
One debate that is bound to come up when talking about Brady and Rodgers is the one about who is the greatest quarterback to play the game. Michael Jordan was recently roped in by NBC to make a promo for the upcoming clash where he talks about the GOAT discussion – and he was a pertinent choice as he is part of the same debate in the NBA involving LeBron James.
The Patriots star was asked about his view on the debate involving him — Brady is widely considered the greatest ever — and Rodgers, but remained coy and admitted it was a question that was "truly impossible" to answer. However, he did say that Packers star was one of the "best ever" to play the game.
"I think it's actually a hypothetical question that is just truly impossible to answer. It's great to debate it and those types of things. I don't think about, 'Oh, was this guy better than this guy or this guy?' I guess that's because maybe I'm an athlete and I realize it's a lot of teamwork, it's a lot of factors that go into helping your team win," Brady said.
"I think Aaron is one of the best ever to play the game. He has got every skill needed to be a great quarterback and I think there are lot of other guys who are playing today are phenomenal."
© Copyright IBTimes 2023. All rights reserved.