Paul Pogba Willing To Do Crazy Things To 'Help' Manchester United Win
KEY POINTS
Paul Pogba talked about his relationship with his Manchester United teammates
Pogba insisted he will continue doing silly things to make his teammates happy if it would help them perform better
Red Devils boss Ole Gunnar Solskjaer doesn't doubt the Frenchman's commitment
Paul Pogba has made a shocking admission about how he could help his teammates be at their best.
Despite displaying some inconsistencies and being linked to a transfer move away from Manchester United in recent times, Pogba has maintained a great relationship with his teammates.
In a recent interview with Manchester United's official website, Pogba revealed that he has been helping keep the team's spirits up in the locker room by doing some silly things such as dancing. Though it sounds a bit silly, the World Cup winner has no qualms doing it if it can help the team get along and perform better during games.
"It depends [on the type of dance]," Pogba professed. "Eric [Bailly] is the best African dancer, I'm more e-pop and American dance and stuff like this. We complete each other I will say!"
"I'm just myself with the guys and if it can help them to be relaxed and be happy and have a good performance, then I will keep doing it obviously," he added. "I think it's important to have a group that gel well together because football is teamwork and you have to be with everyone, you have to be connected, that's how you win. When you're connected like this, it's easier to win."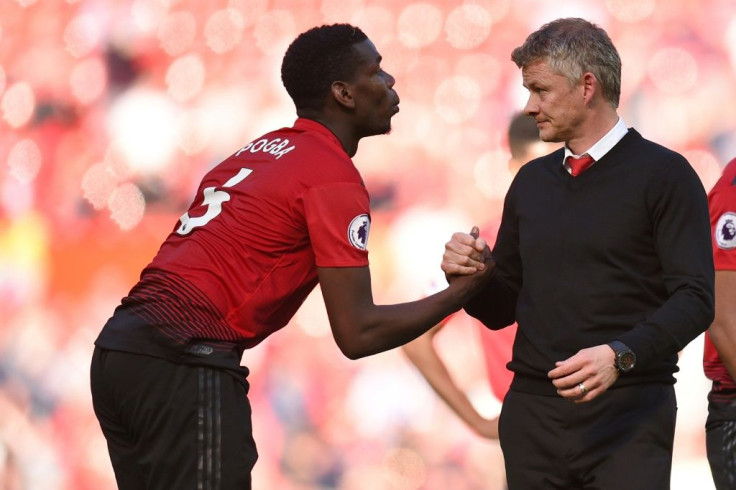 Regardless of how his season goes, Pogba has always been a talked-about star in Manchester United. In fact, the Frenchman is even the main subject of the Amazon Prime documentary "Pogmentary," which will be released next year.
Amid all the hype, Manchester United manager Ole Gunnar Solskjaer remains calm about Pogba's situation.
According to Solskjaer, he has no doubts about Pogba's commitment as his midfielder has proven over time that his "main focus" is to always be the best version of himself.
"Paul [Pogba] has been in the spotlight ever since he started at Man United, so I don't see a problem with it [the documentary]," Solskjaer told The Guardian. "Paul's main focus is to get as much out of his career as possible. He wants to be the best player he can be and he wants to win as many trophies as possible."
"He has already won the World Cup and I can see his focus now is all about winning and playing the best possible football that he can," the Norwegian added. "I know his personality. He is so lively. He gets energy from making people happy. But his main focus will always be to win football games for us."
© Copyright IBTimes 2023. All rights reserved.