Pele Supports Sepp Blatter's Re-Election As FIFA President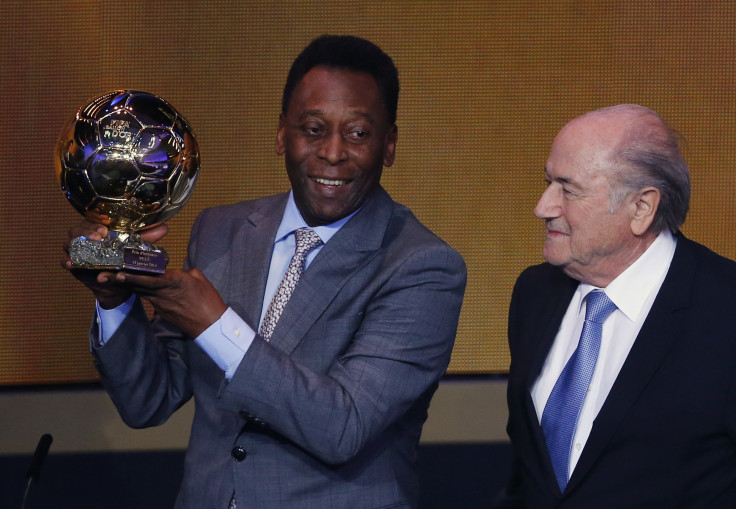 Brazilian soccer legend Pele has said that he backed Sepp Blatter's re-election as FIFA president for the fifth time, despite a massive corruption scandal within the sport's international governing body clouding his candidacy, because the organization needed an "expert" to lead it.
Blatter, who has been FIFA chief since 1998, was re-elected on Friday to another four-year term, holding off a challenge from Prince Ali bin al-Hussein of Jordan, who had promised to rid the organization of the corruption that it has been accused by many of fostering for decades. Friday's vote came only two days after U.S. prosecutors leveled charges related to bribery, money laundering and racketeering against 14 people, seven of whom, including senior FIFA officials, were arrested by Swiss authorities in Zurich.
"I was in favor," the Agence France-Presse (AFP) quoted Pele as saying. "We needed an expert guy."
Pele supported Blatter saying that the latter had helped develop the sport in Asia and Africa during his 17-year tenure as FIFA president, AFP reported.
"It was necessary because it is better to have people with experience," the Guardian quoted Pele as saying. "He [Blatter] is a man who has been there for 25 years [with Fifa], you have to respect him, it was an election."
On Saturday, Blatter slammed the corruption investigation and called it a "hate" campaign. The FIFA supremo also said that he was "shocked" by the way U.S. and European authorities had arrested the world soccer authority's officials.
"For the next four years I will be in command of this boat called FIFA and we will bring it back ashore, we will bring it back to the beach," Blatter reportedly said after his victory.
© Copyright IBTimes 2023. All rights reserved.
FOLLOW MORE IBT NEWS ON THE BELOW CHANNELS