Pelosi Could 'Feel The Danger': China Boasts After Speaker Takes Long Route To Taiwan
KEY POINTS
Analysts said the unusual route was taken to avoid further triggering Beijing
The flight may have avoided the islands militarized by China in the South China Sea
China said its military deterrence actions have made Pelosi feel the danger
The moment the U.S. Air Force Flight SPAR19 left Kuala Lumpur on Tuesday afternoon, over 600,00 flight trackers were glued to the plane that carried House Speaker Nancy Pelosi to Taiwan. But, amid all the controversy surrounding her visit, what intrigued many was the unusual route Flight SPAR19 took, a path that totally bypassed the South China Sea.
The uncommon route taken by Pelosi's flight highlighted the "unusual degree of caution" the U.S. took to avoid further triggering Beijing, which has already warned Washington of "severe consequences," reported Bloomberg.
But China has a different viewpoint. An opinion piece by Chinese mouthpiece Global Times said this showed that the "aircraft circled over the South China Sea in apparent fear of the People's Liberation Army conducting live-fire exercises in the relevant waters." China's military deterrence actions have made Pelosi feel the danger, it added. The report also addressed Pelosi as a "political god of plague" who did not do any good to the region except bring risks and tensions to Taiwan.
According to the data from flight tracking websites, the flight flew southeast straight across the Indonesia part of Kalimantan, or Borneo, before turning north and flying to the east of the Philippines. The usual route from Kuala Lumpur is directly over the South China Sea, but this would have brought Pelosi's flight close to Chinese military facilities built on islets and reefs in the Spratly Islands.
"I imagine the flight path will take extra caution into consideration," said Meia Nouwens, a senior fellow for Chinese defense policy and military modernization at the International Institute for Strategic Studies in London.
"Of concern may have been the militarization of the three largest Chinese man-made islands in the Spratlys, which are equipped with permanent defense facilities and weaponry," Nouwens told Bloomberg. Besides, China is also reportedly ratcheting up military activity in the South China Sea, as a response to Pelosi's visit.
There were also rumors that Pelosi might have avoided Flight SPAR19 and instead took another plane, the Boeing C-40 Clipper coded SPAR20. The plane departed from Tokyo Tuesday morning and arrived in Kuala Lumpur, Malaysia, at noon.
Meanwhile, Taiwan has denied reports Chinese army has dispatched an unknown number of Su-35 multi-role fighter jets across the Taiwan Strait as Pelosi approached Taiwan. According to Chinese media, Sukhoi Su-35 fighter jets were crossing the Taiwan Strait less than 20 minutes before Pelosi's arrival in Taipei. But, Taiwan later labeled this report as false.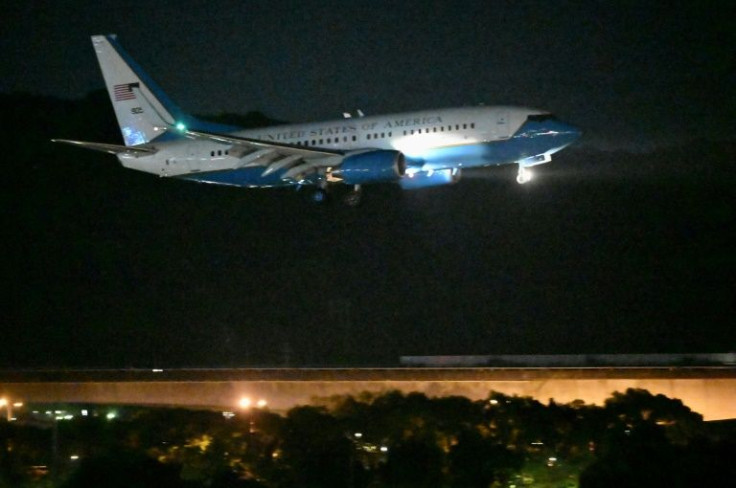 © Copyright IBTimes 2023. All rights reserved.