Penn Lawmaker Introduces Bill Seeking Moratorium On Natural Gas Injection Wells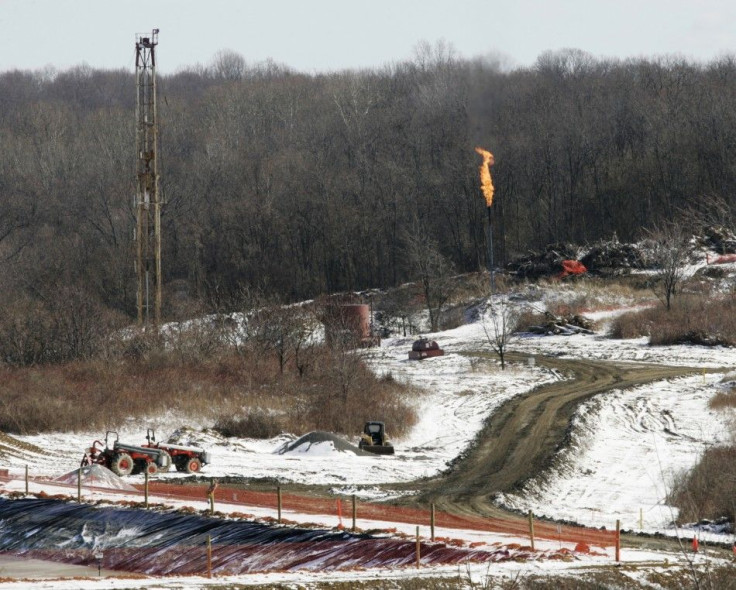 A Pennsylvania lawmaker is trying to impose a moratorium on natural gas injection wells following evidence they are linked to increased cases of earthquakes in the U.S.
State Rep. Camille George, a Democrat, introduced a bill last week that would impose a two-year moratorium on the drilling of deep injection wells.
The bill, known as the Injection Well Safe Water Act, which has been sponsored by 20 other legislators, would only prohibit the construction of injection wells designed to hold natural gas and oil drilling waste water. The law would not go into effect until after Jan. 1 2013 if approved.
Injection wells are essentially deep holes in the ground lined with piping designed to stock waste water from natural gas drilling. A newly-wide-spread drilling technique called hydraulic fracturing involves the use of thousands of gallons of water turned into toxic waste when it is blasted underground with drilling chemicals and sand to dislodge natural gas from rock formations.
George's bill would make it illegal to have an injection well closer than 2,000 feet of a private water supply unless otherwise approved by the private water well owner. The bill also makes it illegal for an injection well to be within 5,500 feet of a public water supply. The state is known for having at least eight injection wells and pending permits for another two dozen. Injection wells would also be banned in floodplains, reported the McLean Publishing Co.
The increased use of hydraulic fracturing has called for the use of these wells, but they have been linked to earthquakes in Ohio and in certain parts of Colorado and New Mexico, according to a new U.S. Geological Survey report.
According to the report's findings, the number of earthquakes near hydraulic fracturing and natural gas drilling zones, where injection wells are present, increased six-fold between 2001 and 2011.
In 2000, there were roughly 21 magnitude 3 earthquakes. That number jumped to 134 in 11 years.
Hydraulic fracturing fluid used in Marcellus shale drilling acts as a lubricant underground, George said, reported the McLean Publishing Co. When this fluid is injected into the ground near fault lines, such as in Youngstown [Ohio], it can trigger shifts in the ground that cause earthquakes.
The bill will have a tough time passing the state's house, which is Republican-lead.
In February, the state passed Act 13, which enacted a natural gas drilling fee but also proposes a state-wide standard on natural gas well and infrastructure placement that some local municipalities say violates their zoning and land-use provisions, and favors the industry.
The bill's opponents successfully enjoined the Act's land-use regulations pending a lawsuit challenging its constitutionality.
Pennsylvania has been at the forefront of an energy boom thanks to hydraulic fracturing. The state sits atop as much as 84 trillion cubic feet of natural gas, and hydraulic fracturing has been accused of contaminating water supplies in some rural communities.
--
© Copyright IBTimes 2023. All rights reserved.