Peru Election 2016: Presidential Candidates, Key Issues, Dates, How To Get Results And Everything Else You Need To Know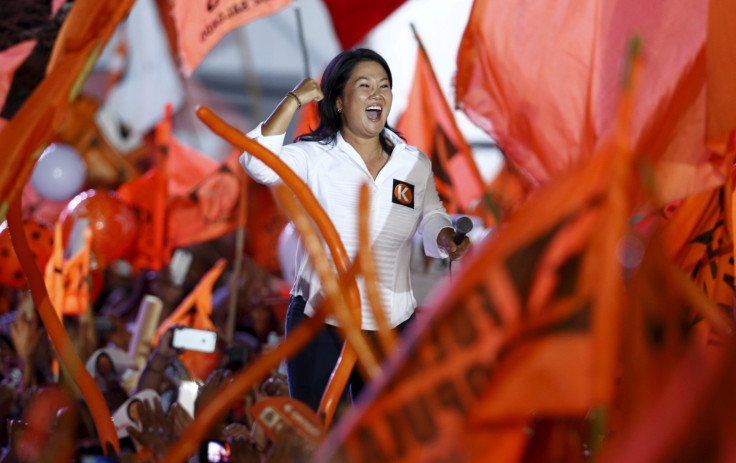 In an election season that has already been marred by controversy and demonstrations, Peruvians head to the polls to pick their next president Sunday. After reaching his term limit, President Ollanta Humala is stepping down, and the woman he defeated in 2011, Keiko Fujimori, appears poised to become the country's next head of state. Here's everything you need to know about the election and how to find its results.
The Candidates
To achieve an outright win, a candidate needs the support of 50 percent of the voters. With polls indicating the top candidates do not have more than 40 percent support, a June 5 runoff between the top two finishers is likely to take place.
Front-runner and center-right candidate Keiko Fujimori, 40, who represents the Popular Force party, has had to walk a fine line with voters. Her last name is loved by some and hated by others. Her father, Alberto Fujimori, 77, ruled Peru between 1990 and 2000, and he is currently serving a 25-year prison term after being convicted in 2009 on multiple charges, including corruption and the direction of the death squads that crushed the Maoist Shining Path rebels. Under Fujimori's presidency, hyperinflation came down from more than 12,000 percent. His daughter has been stressing his economic accomplishments, including providing aid to the poor, hoping to pick up votes.
Fujimori's main rivals are Pedro Pablo Kuczynski and Verónika Mendoza.
Kuczynski, 77, known by his nickname PPK, served as prime minister from 2005 to 2006. A free-market proponent, he has been described as a "pro-business economist" who is supported by the some of the country's biggest mining companies.
Mendoza, 35, is a left-leaning congress member who regularly speaks about economic inequality. She has promised "radical change" in Peru's free-market model, scaring some investors over increased taxes and more stringent controls on the nation's mining industry, Reuters reported.
Other candidates include Alan García, an ex-president of Peru, and Alfredo Barnechea, a former journalist who represents the Popular Action party.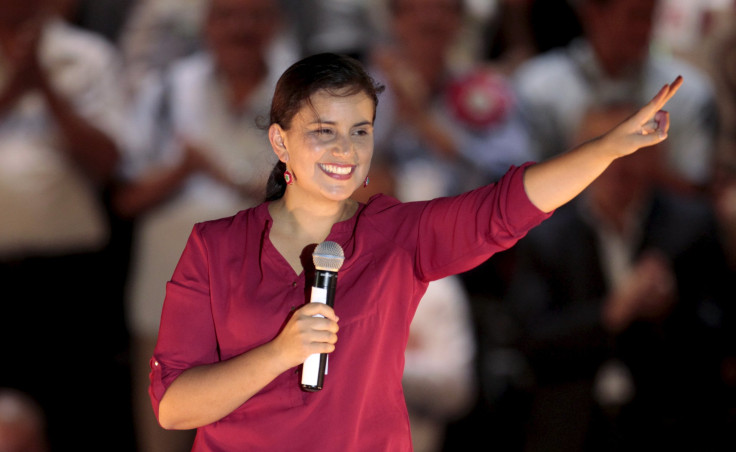 Two notable Peruvian politicians, César Acuña and Julio Guzmán, were barred from running for president when the national election tribunal ruled they had committed infractions. Guzmán had risen to second place in the polls, and critics have voiced concerns over the election's legitimacy, the Economist reported.
The Issues
Candidates have made promises to improve Peru's infrastructure and stabilize its economic environment. The mineral-rich country of 30 million people has seen its economic growth falter in the wake of a decline in demand for commodities by China. The nation's gross domestic product fell by 3.4 percent in 2014, according to the World Bank. However, the economy rebounded last year, as GDP rose by 3.3 percent, and forecasts for this year point to GDP growth of about 4 percent. Despite this turnaround, the candidates have been stressing the need to improve conditions for Peru's poorest people.
The election has brought up painful memories of Alberto Fujimori's presidency and raised concerns about a return to widespread corruption and human rights abuses. During his tenure, Andean women were forcibly sterilized, and, ahead of the election this weekend, they have marched and protested along with other people opposed to another Fujimori presidency.
Keiko Fujimori signed a pledge during a debate last week promising to respect democracy, human rights and press freedom. She also pledged to fight corruption and compensate the women who were sterilized under her father's rule, the Wall Street Journal reported.
"I know how to view the history of my country. I know which chapters should be repeated and which not," she said during a recent debate. "I promise to respect absolutely the democratic order and human rights."
How to Stay Updated
To see whether any of the presidential candidates win Sunday, check TeleSur for results. Peru's English-language newspaper, the Peruvian Times, has also been covering the election. Most polls are predicting the contest will require the second round scheduled for June 5.
© Copyright IBTimes 2023. All rights reserved.