Close Runoff Seen In Peru's Presidential Election As Keiko Fujimori Loses Ground: Poll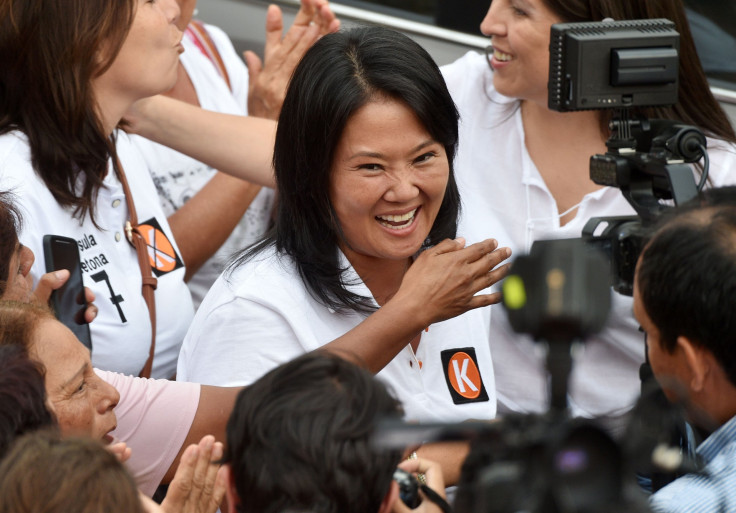 Peruvian presidential election favorite Keiko Fujimori is losing ground to technocrat Julio Guzmán, whose candidacy faces legal questions, and may be heading toward a tight runoff vote, according to a poll published Sunday. The center-right Fujimori, the daughter of jailed ex-President Alberto Fujimori, has consistently topped the polls and remains the front-runner to win the first round of the April 10 election. Some 30 percent backed her in the latest Ipsos survey, published in the newspaper El Comercio, down from 33 percent in the previous poll.
Guzmán, who has risen quickly in the polls since the beginning of the year despite questions over the legality of his candidacy, would take around 18 percent, according to the poll.
If no candidate were to gain one-half the votes in the first round, the top two contenders would go to a runoff in June. In such a case, the result would be very close, with Fujimori likely to have 45 percent support and Guzmán likely to have 43 percent support, the poll showed.
Peru's electoral board has blocked Guzmán's party from registering for the race and is considering whether to ban him, saying his party broke a series of rules, including modifying its statutes in an assembly without enough advance notice.
The dispute has further muddled the outlook for this year's elections as another candidate also faces possible disqualification amid plagiarism and vote-buying accusations.
Calling himself a "centrist reformist," Guzmán has promised to take the country back from a "corrupt" political elite that he says is now pulling strings to have him barred from the race.
The emergence of a potential close rival in the second-round runoff is becoming a serious threat to Fujimori, said local Ipsos head Alfredo Torres. "A second round between Fujimori and Guzmán winds up with a minimal difference, inside the margin of error," he said.
Third-place candidate, economist Pedro Pablo Kuczynski, had 9 percent support, while millionaire businessman César Acuña had 6 percent support. Both have seen their backing slide as negative media coverage has dented their appeal, as well as potential voters defecting to Guzmán.
The electoral board is due to decide in the coming days whether Guzmán can continue in the race.
"If the decision goes against him, his sympathizers will feel that their right to vote has been expropriated," Torres said.
The Ipsos poll surveyed 1,815 people February 13-18, with a margin of error of plus or minus 2.3 percentage points.
© Copyright Thomson Reuters 2023. All rights reserved.
FOLLOW MORE IBT NEWS ON THE BELOW CHANNELS