Pet Python Named Tiny Strangles Owner: 'She Was His Baby'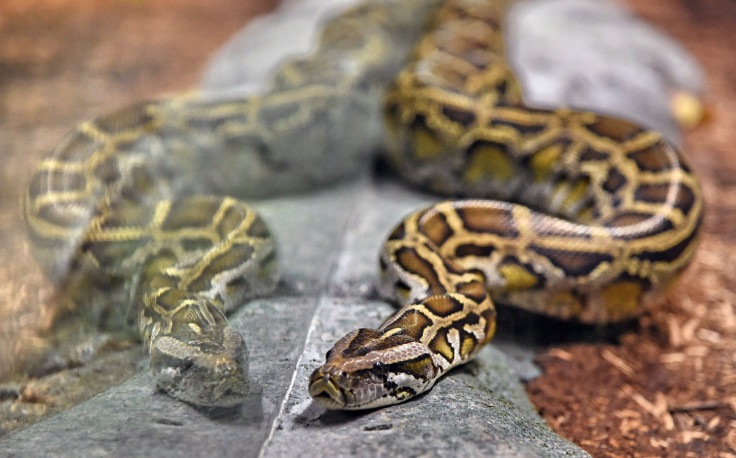 A python owner found dead last year in his Basingstoke, England, home was strangled by one of his pet snakes, according to reports.
Daniel Brandon, 31, died of asphyxiation Aug 25. One of the 10 snakes kept in the bedroom, an 8-foot African rock python named Tiny, was discovered outside of its cage, coiled up proximate to Brandon's body. A coroner's investigation determined that the snake caused the man's death, BBC News reported.
Andrew Bradley, a coroner from Hampshire, revealed at the Basingstoke Coroners' Court Wednesday that the python was "instrumental" in Brandon's death, the Guardian reported. There were no marks on the victim's neck and he appeared to have tripped while the snake wrapped around him, Bradley said.
"The most likely scenario is that that Tiny was engaged with Dan. I have no doubt she was coiling around him," Bradley said. "There was a point at which either she took hold of him unexpectedly or trips him up or there is some other mechanism. She then makes off maybe because of the shock of him falling or the shock of his reaction. I have to accept that Tiny is instrumental in Dan's death."
Babs Brandon, Daniel's mother, said she was cooking dinner in the kitchen the night her son died. She recalled hearing a loud noise before she discovered Daniel on the bedroom floor. She said she was unsure what caused his death.
Babs Brandon said that her son had Tiny since it was a "baby," however, he always handled it with caution.
"She was his baby and she loved him. She could be temperamental, if she didn't want to be held she would pretend to strike or hiss but she never felt threatened by him and he loved her," she said. "He was more wary of Tiny than the other snakes He said she's very strong. He had stopped putting her around his neck because she was so strong and unpredictable."
The African rock python is a nonvenomous snake typically found in South Africa. It kills its prey by clinging to its neck and gripping harder with each breath. Pythons rarely attack humans and usually feeds on wild rodents, lizards and warthogs.
© Copyright IBTimes 2023. All rights reserved.