PETA And Oscar De La Renta Spar Over 'Elephant Skin' Typo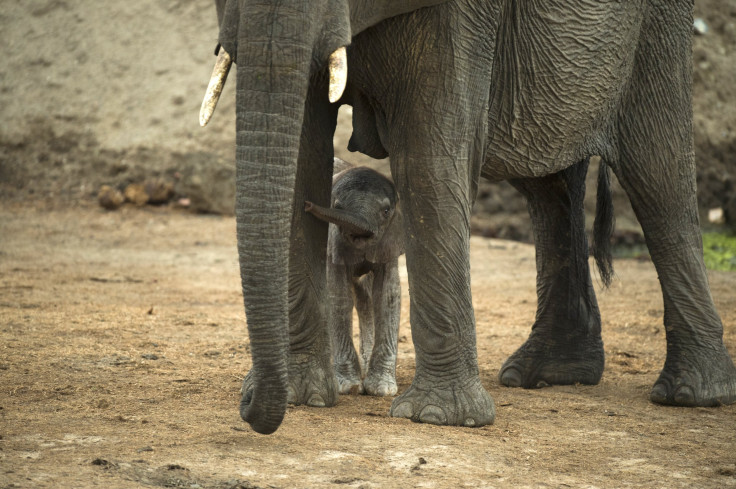 PETA is changing its tune, but not its tone, after it mistakenly accused a major fashion brand of selling shoes made from elephant skin. In a petition earlier this week, the outspoken animal rights group encouraged its members to voice their objections over a listing by fashion retailer Gilt that advertised elephant skin shoes designed by Oscar de la Renta. But it turns out, the "elephant skin" description was a typo, and the shoes are actually made of "elaphe," or snakeskin.
The typo has been fixed and the brand strongly refuted the allegations. But PETA still isn't having it. In a statement to International Business Times, Ingrid Newkirk, PETA's president and co-founder, said whether elephant or elaphe snake, no animal should be skinned for the sake of fashion.
She added that Gilt was responsible for the mislabeling. "Fashion retailer Gilt labeled the Oscar de la Renta Christina Elephant Skin Ankle Strap Pump as made from 'real elephant skin' on its website," Newkirk said. "Although Gilt obviously felt no guilt at all about selling this despicable shoe, it has now admitted it made a mistake and confirmed that the shoe is actually made from elaphe snake."
A media liason for PETA responded to questions over why the organization hadn't verified the shoe's material before drafting the petition.
"Gilt labeled the shoes themselves as elephant skin. Had it been a secondary party saying so, we would have confirmed before posting an Action Alert, but it wasn't so there was no need to confirm," according to Katie Arth, media liaison at PETA.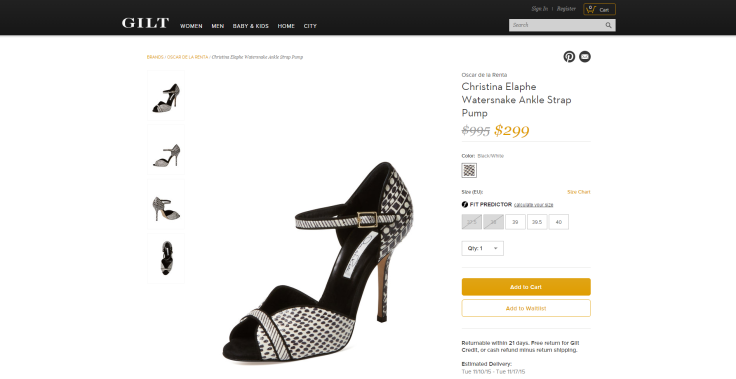 PETA has a massive following, with more than 3 million likes on Facebook and more than 600,000 Twitter followers. So when it posted a petition accusing known brands of selling elephant skin products, it's not hard to imagine the response. The animals, heavily hunted for their tusks, are critically endangered.
Both Gilt and Oscar de la Renta came under intense fire from critics, forcing Oscar de la Renta to refute the claim Tuesday.
"This afternoon, PETA posted on its Web site a claim that Oscar de la Renta used elephant skin in our accessories products," a spokesman for the brand said, according to the fashion trade magazine WWD. "In fact, this is not true, as Gilt Groupe has acknowledged that this resulted from them incorrectly labeling one of our products as being made from 100 percent elephant skin. They have acknowledged the mistake and have moved to correct it across their site."
He continued: "Unfortunately, many of their users have seen this and understandably are outraged, as are we. We do not and will never use elephant skin in any of our products."
As of Thursday, the petition was no longer visible on PETA's website.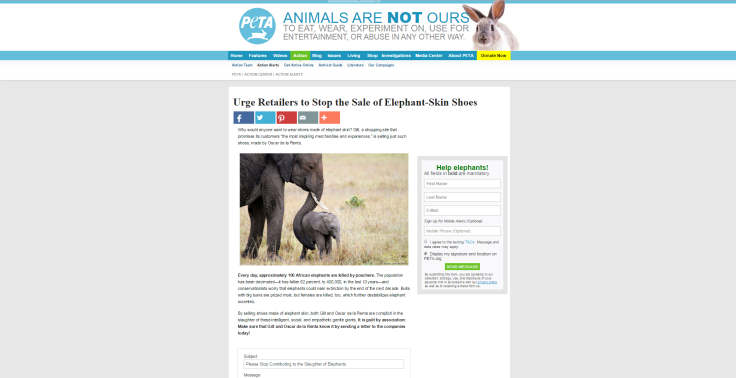 The false listing has since been updated. But Oscar de la Renta does sell snakeskin products, which PETA is now arguing against: "PETA investigations into the exotic-skins trade have shown that hunters nail live snakes' heads to trees and pump snakes full of water so that they can more easily peel the skin off their writhing bodies. The snakes can suffer for hours before they die, just so that their skins can be made into shoes, bags and belts. These animals have the same capacity to suffer as the elephants Oscar de la Renta is outraged at the idea of skinning for its shoes."
PETA is no stranger to controversy. In 2014, the organization came under fire for distributing cartoon pamphlets containing disturbing material to kids outside of an elementary school. In 2011, the organization apologized for blaming a dog musher for her dog's death. A fat-shaming billboard that encouraged people to "Lose the blubber. Go vegetarian." in 2009 sparked outrage as well.
PETA did not immediately respond to an additional question about its verification process.
© Copyright IBTimes 2023. All rights reserved.
FOLLOW MORE IBT NEWS ON THE BELOW CHANNELS