Peyton Manning Retires: Stats, Records, Achievements For Quarterback Legend Stand Out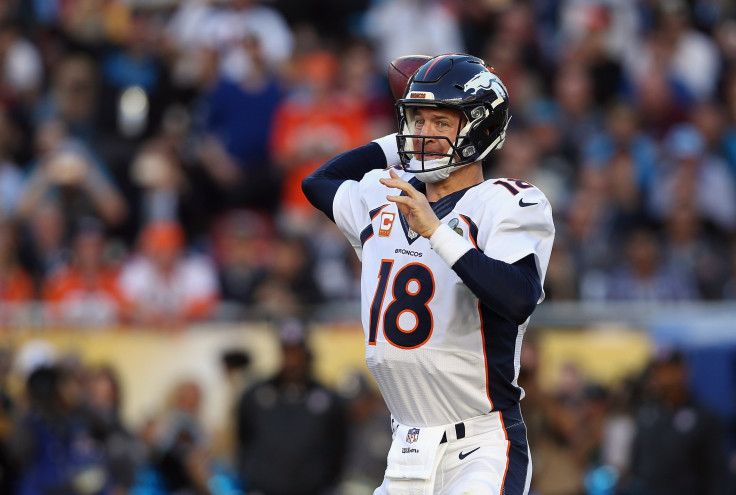 Peyton Manning's legendary NFL career has come to an end as the Denver Broncos quarterback will reportedly announce his retirement on Monday. Manning was set to make $19 million next season in the final year of his contract.
Manning retires a month after winning his second Super Bowl, leading the Broncos over the Carolina Panthers. In 18 seasons, Manning was named the league MVP five times, and he's the only quarterback to lead two different franchises to Super Bowl victories.
"Peyton's competitive fire and love of the game made him a legendary player who thrilled fans for a generation," NFL commissioner Roger Goodell said in a statement. "He has served as a great representative of the NFL both on the field and in his community. We are forever grateful for Peyton's unmatched contributions to the game and know that his success will continue in the next phase of his life."
Manning holds a number of NFL records, throwing for 71,940 yards and 539 touchdowns. His 200 wins, including the playoffs, are an all-time mark, and he has beaten all 32 teams.
Spending the first 14 seasons of his career with the Indianapolis Colts, Manning joined the Broncos in 2012 after missing an entire year with a neck injury. He took the Broncos to two Super Bowls, and his 55 touchdown passes in 2013 are still an NFL record.
"When you look at everything Peyton has accomplished as a player and person, it's easy to see how fortunate we've been to have him on our team," Broncos executive vice president of football operations and general manager John Elway said in a statement. "Peyton was everything that we thought he was and even more -- not only for the football team but in the community. I'm very thankful Peyton chose to play for the Denver Broncos, and I congratulate him on his Hall of Fame career."
Manning made more money than any player in NFL history, earning just under $249 million. The first overall draft pick in 1998, Manning threw for 11,201 yards with the Tennessee Volunteers over four seasons.
© Copyright IBTimes 2023. All rights reserved.