Peyton Manning Retiring? Quarterback Legend Remains Mum After Winning Super Bowl 50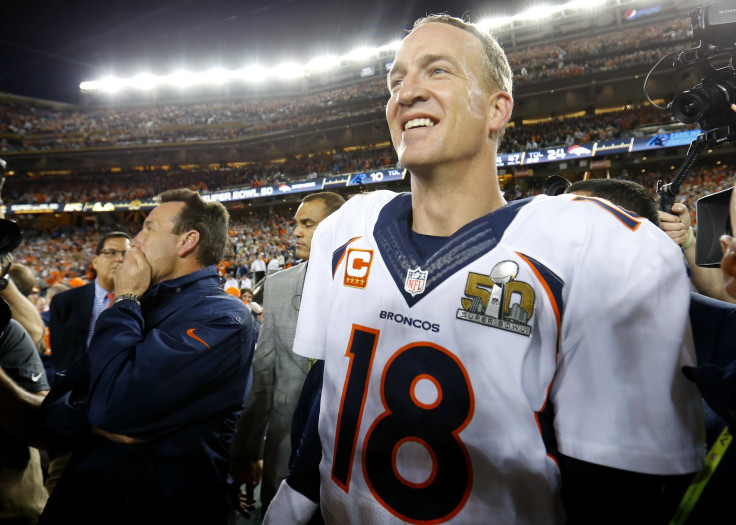 Denver Broncos quarterback Peyton Manning remained mum on whether he plans to retire from the NFL shortly after defeating the Carolina Panthers 24-10 in Super Bowl 50 on Sunday night.
"I'll take some time to reflect," Manning told CBS reporter Tracy Wolfson after the final whistle. "I'm gonna take some time with my wife and kids ... I'm going to drink a whole lot of Budweiser tonight."
Though the Broncos were underdogs, and the 39-year-old Manning entered the game with questionable arm strength and lackluster performances for most of the season, Denver's defense helped the NFL's all-time leader in passing touchdowns and passing yards end his career with a second Super Bowl title.
Manning went 13-for-23 for 141 yards, one interception, one lost fumble, and one two-point conversion, while Super Bowl MVP linebacker Von Miller and defensive end DeMarcus Ware swarmed and stung Carolina quarterback Cam Newton for a combined 4.5 sacks and six quarterback hits.
Manning began the 2015 season with speculation already swirling around whether this year would be his last, and once the season began he showed why. There was no more mustard or pinpoint placement on the throws that helped Manning win a league record five MVP awards or help the Indianapolis Colts win a Super Bowl in 2009. He finished the season with 17 interceptions, the second-highest mark in the league, and he only started 10 games.
Playing through rib and foot injuries before losing his job to the inexperienced Brock Osweiler, Manning persisted and passed Brett Favre for most career passing yards to add to his plethora of achievements on the NFL's record book.
Manning owns the marks for most 4,000-yard passing seasons, more 300-yard passing games, most 400-yard passing games, and most game-winning fourth-quarter or overtime drives, to name just a handful.
But that Manning wasn't on display in 2015, and it seemed he wouldn't be able to go on unless the Broncos could make the postseason and get him back to the Super Bowl for the fourth time in his career.
The night actually shaped up to be the perfect conditions for Manning to join John Elway as the only quarterback to ride off into retirement after winning the big one, and it's possible Manning really does just want things to settle before making a final decision. The victory in front of a sold-out Levi's Stadium crowd in Santa Clara, California on the night the NFL celebrated the 50th anniversary of its most extravagant and star-studded event, and even committing those turnovers, all just seemed to fall in place.
It seemed like a night that Manning was meant to win, but it didn't always play out that way on the Super Bowl stage. Manning's win over Carolina puts him at 2-2 in four Super Bowl starts, but the losses to New Orleans and Seattle, and the poor record against New England's Tom Brady in the postseason may slightly take luster off those two victories.
© Copyright IBTimes 2023. All rights reserved.