Philippines Coronavirus Deaths Could Surge To 53,000 By New Year's Day
KEY POINTS
The Philippines has the largest number of COVID-19 cases in Southeast Asia at 287,000
It has the second largest number of deaths in Southeast Asia after Indonesia
IHME projects up to 53,000 Filipino deaths due to the coronavirus by New Year's Day

The Philippines, which has the second highest number of COVID-19-related deaths in Southeast Asia at almost 5,000, could see its death toll explode to almost 53,000 by the end of the year.
This estimate by the Institute for Health Metrics and Evaluation (IHME), the independent global health research center at the University of Washington, is startling given the Philippines had only some 90 coronavirus deaths per day from Sept. 14 to 20. Only 50 daily deaths were recorded in the previous week.
The Philippines' two highest daily death tolls were reported over the past two weeks: 184 on Sept. 12 and 259 on Sept. 14. However, the country's Department of Health attributed this spike to grave errors in reporting and tabulating and not to any sudden surge in deaths. It corrected for the Sept. 14 record high number of deaths by reporting only 33 deaths on Sept. 15 and 69 on Sept. 16.
The government of President Rodrigo Duterte is being criticized for its response to the pandemic. Critics say Duterte's pandemic moves are beset by the absence of any serious efforts to test, trace or isolate the disease. As a consequence, the Philippines has the most coronavirus cases in Southeast Asia at 287,000, the 21st highest number in the world.
Duterte's comments have added to the problem. In late July, he recommended Filipinos clean their face masks by washing these in kerosene. After being roundly condemned for it, he amended his statement and said Filipinos should instead use gasoline as an alternative to alcohol and other disinfectant products. He insisted he wasn't joking when he made these dangerous remarks.
"What I've said was true," insisted Duterte. "If alcohol isn't available, especially for the poor, just go to a gasoline station, and use [gas] to disinfect.
"I am not joking. I am not joking. You… you try to get inside my brain."
IHME also projected 70,000 deaths in the Philippines by the end of the year with the easing of restrictions compared to 50,000 with universal mask madates in place.
Mask-wearing is almost universal in the Philippines -- 95% of Filipinos wear a face covering, said IHME -- and face shields are commonplace. Filipinos are forbidden to ride on public transportation without wearing both face masks and face shields.
An official of the health department once made the misleading pronouncement face masks in combination with face shields reduce the chances of contracting COVID-19 by 99%.
Filipino epidemiologists from the University of the Philippines have estimated total COVID-19 cases might reach 310,000 to 330,000 by the end of this month.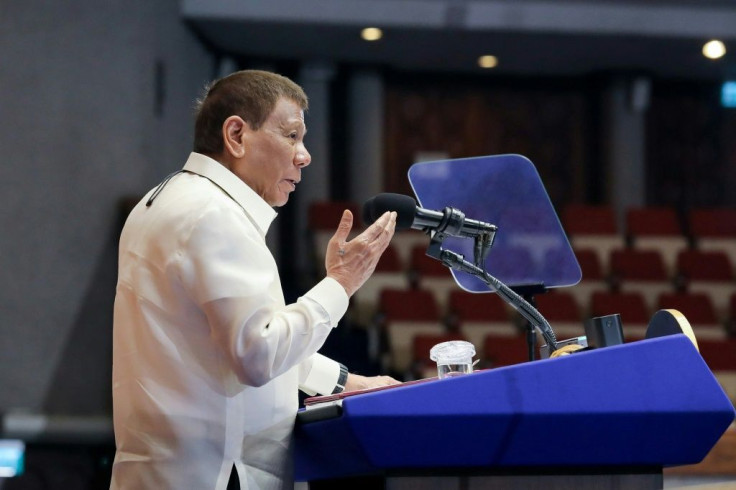 © Copyright IBTimes 2023. All rights reserved.