Phoenix Jones: Seattle Superhero Arrested for Assault After Pepper-Spraying People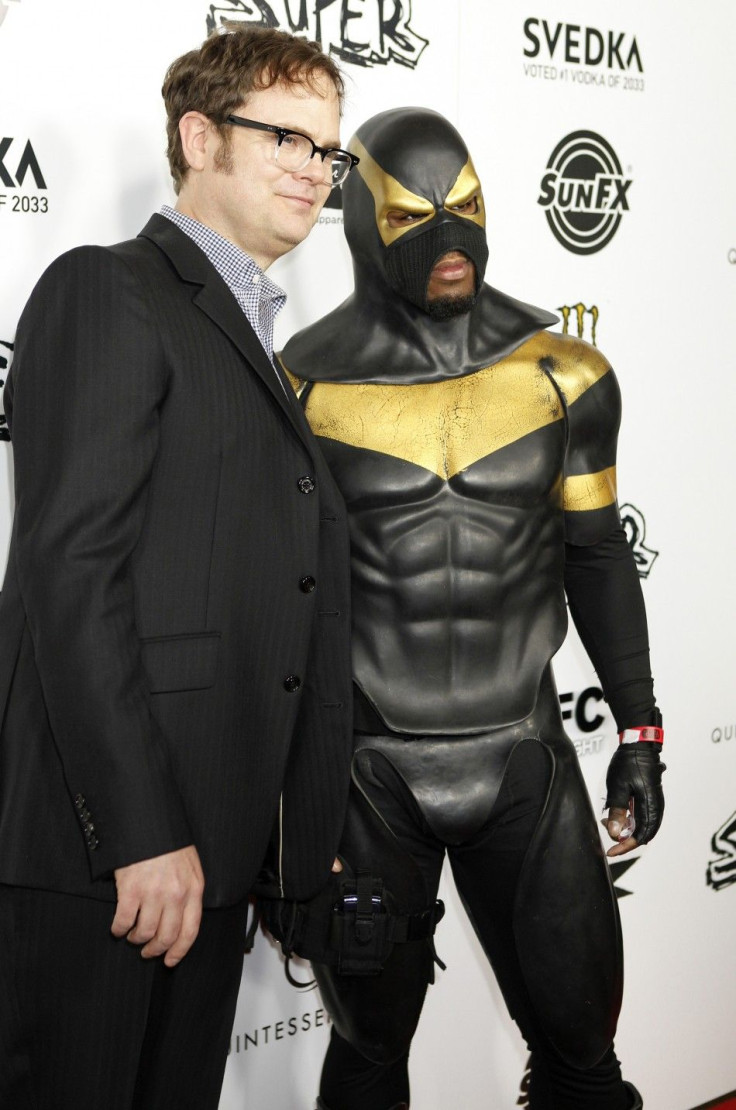 Superhero Phoenix Jones, here with Rainn Wilson, was arrested Sunday for assault after pepper-spraying people in Seattle.
For Phoenix Jones, Seattle's self-proclaimed masked superhero, it looks like he'll need to use his powers to get out of an assault charge. Police officers arrested Phoenix Jones early Sunday and charged him with assault after he was accused of spraying several people with pepper spray, according to multiple reports.
Phoenix Jones says he sprayed pepper spray on people who were fighting. Seattle police say the people were just dancing.
Perhaps lost in all of this, though, is that Phoenix Jones has been unmasked. Benjamin John Francis Fodor is the Clark Kent, the Peter Parker, to Phoenix Jones. He's no Clark Kent or Peter Parker. Or their alter egos, for that matter.
Phoenix Jones, though, was arrested about 2:30 a.m. Sunday, still in full costume of black and gold with bulletproof vest. Jones is the leader of the Rain City Superhero Movement.
Our message has been the same from the beginning, Seattle police spokesman Det. Mark Jamieson told The Associated Press. If you see something that warrants calling 911, call 911.
Just because he's dressed up in costume, it doesn't mean he's in special consideration or above the law. You can't go around pepper spraying people because you think they are fighting.
Phoenix Jones decided to retort this with all capital letters on his Facebook page, which has more than 12,500 likes.
I would never assault or hurt another person if they were not causing harm to another human being, he wrote, of course, in capital letters, for whatever reason. He said he was trying to break up a fight.
Later, he posted photos and video on his Facebook page. The photo album is entitled Stopping An Assault and the video is entitled Phoenix Jones Stops Assault.
Police said that Jones said he could only account for two people fighting.
He saw two white males fighting, but could not explain why four people, including women, had been sprayed, the police report read, according to ABC News.
The video, with shaky camera work most of the time, is below, so you can judge for yourself. But a warning: It is rather shaky most of the time in its camera work.
Phoenix Jones Stops Assault from Ryan McNamee on Vimeo.
© Copyright IBTimes 2023. All rights reserved.