Photos Of North Korea's Jang Song Thaek Dramatic Purge From Power During Korean Television Broadcast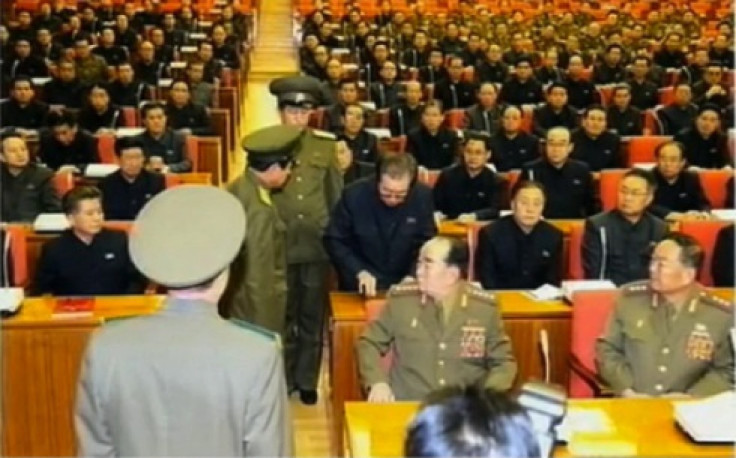 Rumors emerged last week that North Korean leader Kim Jong Un had purged Jang Song Thaek, one of the country's top leaders, the vice-chairman of the Central Military Commission, and Kim's own uncle. The rumors were confirmed by North Korean state television when it broadcast footage of Jang's dramatic removal from an official gathering.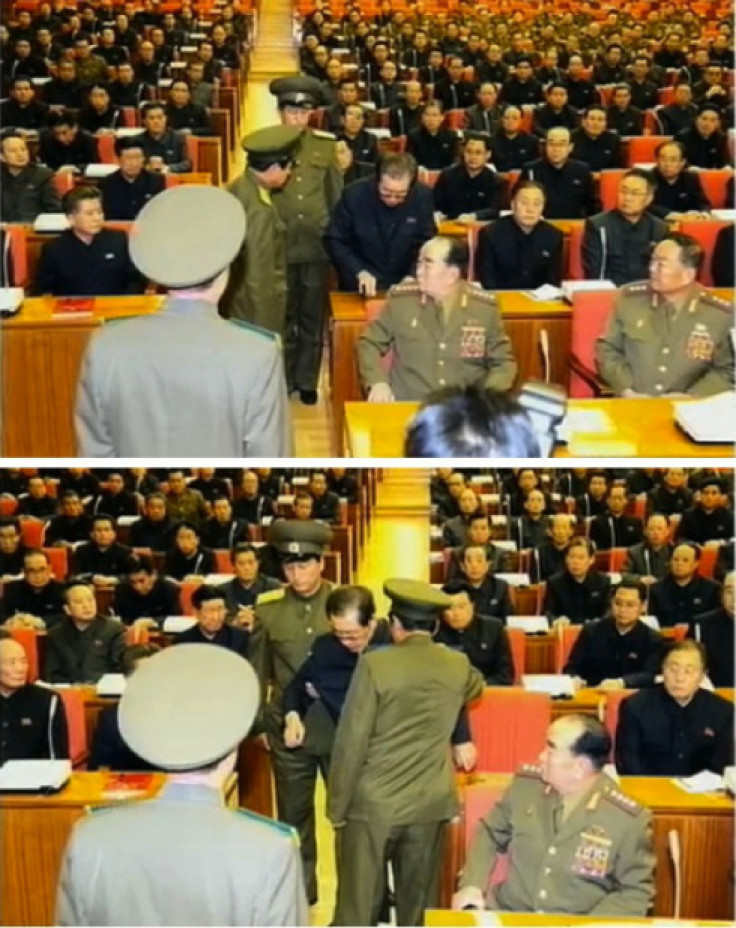 The stills from the televised broadcast show Kim's disgraced uncle being escorted and dragged out of his seat in a large official meeting by two uniformed guards. Such photos are extremely rare for the reclusive nation, which is typically tight-lipped about any internal political drama, particularly involving Kim's family members. According to a report by AFP, broadcasting a governmental purge has not happened since the 1970s, when pictures of a different official were published in state news.
One expert, Yang Soo-jin of Seoul's University of North Korean Studies, said that the rare decision to publicize the ousting of a top leader was to show Kim's decision-making power. "The publication of such images is aimed at showcasing to the world that the purge is being led by Kim Jong Un himself," Yang said.
Aside from his official roles in North Korean politics, like holding a seat on the Political Bureau and the vice chairmanship on the Central Military Commission and National Defense Commission, Jang is also credited for helping the current leader take the helm after the sudden death of his father and predecessor Kim Jong Il in December of 2011.
Along with Jang, Kim has also reportedly dismissed several of his uncle's top aides, including one who has reportedly defected to the South. Korean Central News Agency, the country's state-run news outlet, wrote about "a modern-day faction" of "undesirable elements who happened to worm their ways into our party ranks." Jang and his associates, presumably those who also served in the government before Kim Jong Un took power, were removed on the grounds of committing "anti-party, counterrevolutionary factional acts" such as "attempting to undermine the unitary leadership of the party." Specifically, KCNA listed one of Jang and his associates "enormous harm[s]" to include putting the country's financial system in disarray by "throwing the state financial management system into confusion and committing such acts of treachery as selling off precious resources of the country at cheap prices." Jang was a known champion of trade with China, which could have been his downfall. Kim has been reported to be complaining about North Korean iron resources being sold cheaply to China.
KCNA reported that the meeting where Jang was officially stripped of his roles involved speakers expressing their "firm resolution to remain true to the idea and leadership of Kim Jong Un," and anyone with dissenting thoughts on his leadership would not be excused, "regardless of his or her position and merits."
© Copyright IBTimes 2023. All rights reserved.