Pilot Claims To Have Spotted UFOs While Flying Over Pacific Ocean In Viral Video [Watch]
A pilot has spotted a series of synchronized bright lights, believed to be UFOs (Unidentified Flying Objects), while flying above the Pacific Ocean. The video of the mysterious sighting recorded at 39,000 ft has gone viral sparking heated discussions on social media about extraterrestrial life.
The video begins by showing the view of the horizon in a bright orange hue. When the pilot zooms in, around 12 illuminated dots that appear to be flying in a synchronized order could be seen. "That is some weird s***. That is something flying," the pilot could be heard saying while the bright lights continued to move, TMZ reported.
In the video, the bright objects seem to light up and dim in a random period amid the cloud while their count keeps changing somewhere between 9 and 12. Meanwhile, the speed at which the lights moved remains consistent. The video ends by showing the lights disappearing into the cloudscape, News 18 reported.
After the video was shared on social media, many viewers have come up with their explanation for the sighting. While many believe they are UFOs, some critics of UFO theory claim that the lights are from anti-missile flares shot from another plane or even ship below. Some viewers also opined that it could be migrating birds or the lights reflecting from the cabin of the aircraft.
"Ask any bird watcher and they will tell you it's a group on migrating cranes. Yes, they do fly at those heights !!" a viewer commented."This one is a light reflection from the cockpit on glass," another said.
Though often debated, UFOs and studies about the existence of aliens have fascinated people all over the world. In November, Pentagon announced the launch of a new task force dedicated to investigating UFOs and other strange sightings reported by people. Airborne Object Identification and Management Synchronization Group, the new team formed by Pentagon, is expected to work with other federal agencies to investigate reports of Unexplained Aerial Phenomena (UAP) near U.S. military facilities.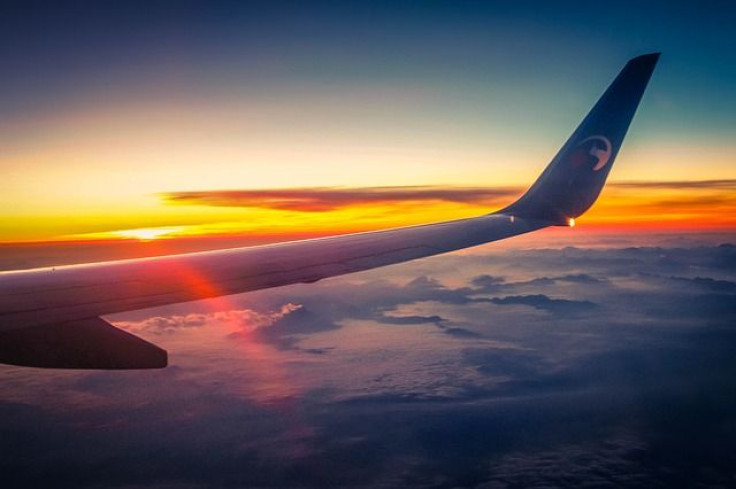 © Copyright IBTimes 2022. All rights reserved.
FOLLOW MORE IBT NEWS ON THE BELOW CHANNELS