Pirates Attack Tanker In The Malacca Strait, One Of The World's Busiest Shipping Channels And Asia's Most Strategic Oil Chokepoint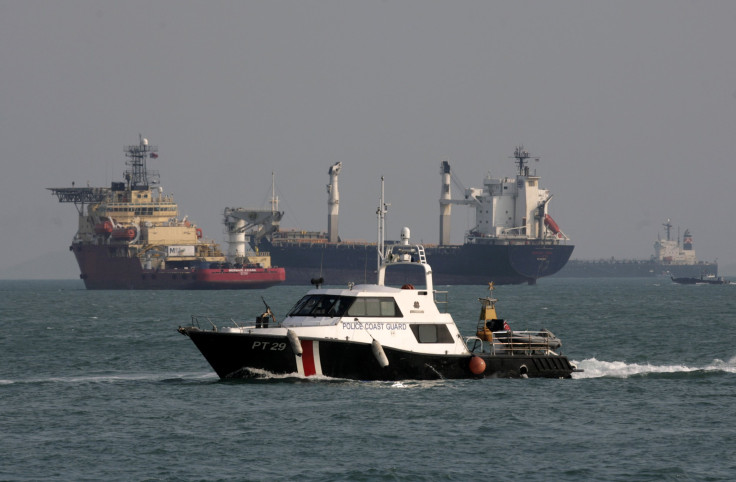 A group of armed pirates hijacked a tanker, for the second time in a month, off the Malaysian coast near Singapore, on Thursday, according to the London-based International Chamber of Commerce's International Maritime Bureau, or IMB.
Five pirates boarded a tanker about 7.3 nautical miles (13.5 kilometers) west of Pulau Kukup, an island located toward the northwest of Malaysia, and held the entire crew hostage. They later forced the ship to be steered to a pre-designated position before transferring oil from the tanker to another ship, IMB said on its website.
The attack occurred 34 miles west of Singapore, in the Strait of Malacca, which links the Indian and Pacific Oceans and is identified by the U.S. Energy Information Administration as one of the world's two most strategic chokepoints by volume of oil transit, with the other being the Strait of Hormuz, leading out of the Persian Gulf.
Thursday's incident came close on the heels of another pirate attack on an oil tanker near Pulau Aur, in the South China Sea, off Malaysia's coast on Oct. 10.
The crude oil market is heavily dependent on reliable transport, and even the threat of a blockage in chokepoints, which are vulnerable to theft from pirates, terrorist attacks and political unrest, could lead to volatility in the energy market.
The Malacca Strait, located between Indonesia, Malaysia and Singapore, is the shortest sea route between the Middle East and emerging Asian markets, including China, Japan, South Korea and the Pacific Rim.
Piracy is a constant threat in the Malacca Strait, although the frequency of attacks has fallen considerably due to state patrols since July 2005. According to a report published by the IMB in October, piracy on the world's oceans is at its lowest third-quarter level since 2006, but violent attacks continue off the East and West coasts of Africa.
"Although the number of attacks is down overall, the threat of attacks remains, particularly in the waters off Somalia and in the Gulf of Guinea. It is vital that ship masters continue to be vigilant as they transit these waters," IMB Director Pottengal Mukundan said, in a statement.
The IMB reported 188 piracy incidents in the first nine months of 2013, down from 233 for the same period last year. Incidents of crew being held hostage have also fallen, with 266 people taken hostage in the first three quarters of 2013, compared with 458 in the corresponding period in 2012.
© Copyright IBTimes 2023. All rights reserved.
FOLLOW MORE IBT NEWS ON THE BELOW CHANNELS