Pistorius Verdict: Judge Clears Blade Runner Of Murder Charges, Does Not Rule Out Culpable Homicide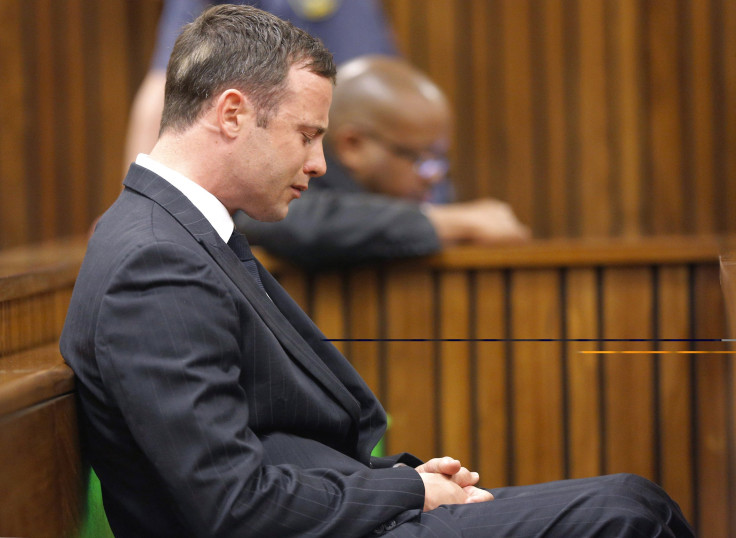 Oscar Pistorius was cleared of all murder charges by Judge Thokozile Masipa in a Pretoria court Thursday. Masipa pronounced that the case presented by the prosecution was based entirely on "circumstantial evidence" and that the state did not prove "beyond reasonable doubt that the accused is guilty of premeditated murder."
"The evidence failed to establish the accused had the requisite intention to kill the deceased, let alone premeditation," she said.
However, Masipa, who has been pronouncing her opinions on witness testimonies, evidence and arguments from the defense and prosecuting attorneys presented in the case so far, did not rule out the lesser charge of culpable homicide for the star athlete who shot and killed Steenkamp at his home on Valentine's Day 2013.
"Culpable homicide is a competent verdict," the South African judge said. But, a formal verdict is yet to be issued in the case of the 27-year-old double-amputee athlete.
The South African Olympian and Paralympian broke down in tears as the judge read out key details of the murder case. Pistorius bowed his head and listened as Masipa pronounced that the evidence suggested that Pistorius genuinely believed that there was an intruder and that he could not have foreseen that the person he was shooting would die.
"There's no doubt that when the accused fired the shots he acted unlawfully. There was no intruder. Instead, the person who was behind the door was the deceased," Masipa said.
She also described Pistorius as a "poor witness and said that he was "not truthful" about his intention at the time he armed himself with a loaded gun before approaching the bathroom. However, the judge said, the intention to shoot did not necessarily mean that there was an intention of killing someone.
The family of Pistorius and Steenkamp were present at the Pretoria High Court to hear the verdict in the trial.
Pistorius, 27, has stood on trial since March 3 for shooting and killing girlfriend Reeva Steenkamp on Feb. 14, 2013, in a case that has transfixed South Africa for more than half a year. From the start, it's received extensive media coverage, including a 24-hour TV channel on South Africa's top cable provider that was created solely to cover the case.
Before Pistorius found himself at the center of a murder trial, he was a beloved athlete in South Africa, and an inspiring sprinter worldwide. At the 2012 Summer Olympics in London, Pistorius, nicknamed the "Blade Runner," gained international fame as a double amputee competing in the 400 meters race. He would fail to reach the finals of the event, but his attempt at Olympic glory became a major story of the Games.
It was a quick fall from grace after the Olympics, as Pistorius was accused of murder just over six months later. He was released on bail eight days after shooting Steenkamp, but not before a frenzy of international attention.
Steenkamp died in the early hours of Valentine's Day in the sprinter's South African home. Shortly after 3 a.m., Pistorius fired four gunshots at his girlfriend through a locked toilet door, killing the 29-year-old model and aspiring lawyer almost instantly. Pistorius claims that he thought he was shooting at an intruder, and fired to protect himself and his girlfriend, whom he thought was asleep in bed.
Throughout the case, prosecutor Gerrie Nel argued that Pistorius intentionally killed his girlfriend after the couple had an argument. Neighbors testified to hearing a woman scream, followed by gunshots. Nel dismissed the defense's notion that the high-pitched voice witnesses heard was actually that of the defendant. Defense attorney Barry Roux argued that the banging sounds the neighbors heard were not gunshots, but of a cricket bat Pistorius used to break down the bathroom door.
Pistorius' behavior in the courtroom became a major part of the case. On multiple occasions, he began crying during the trial. He even vomited more than once during expert-witness testimony. In April, a South African columnist accused Pistorius of taking "acting lessons" ahead of the trial. Pistorius repeatedly broke down in tears during his testimony.
In May, Nel requested that Pistorius undergo a mental health assessment when Dr. Merryll Vorster told the court that the accused appeared to suffer from an anxiety disorder. Though Roux argued against it, Pistorius was sent to Weskoppies Psychiatric Hospital in Pretoria for a 30-day psychiatric evaluation. The experts who studied Pistorius determined that the double-amputee did not suffer from a mental illness that would limit or eliminate his criminal responsibility in this case.
In his closing argument on Aug. 7, Nel discredited Pistorius' testimony, claiming that he continuously lied about what happened on the night of Steenkamp's death. He cited inconsistencies in Pistorius' statements and called him an "appalling witness."
"The accused was demonstrably one of the worst witnesses ever encountered," Nel said.
Nel maintained that Pistorius was guilty of premeditated murder, by "pre-planning" and that he "made up his mind" to shoot Steenkamp by finding his gun, and walking to the bathroom before shooting.
Roux argued that the fear of an intruder and a disabled person prone to anxiety, caused Pistorius to fire four bullets, three of which struck Steenkamp. The bullets struck her head, hip and arm.
"Would it be wrong when he heard the noise in the bath to arm yourself? I don't think so," Roux said. "Would it be wrong to go there to prevent a danger coming into the bedroom where you're trapped? I don't think so."
On the second day of the trial, June Steenkamp, mother of Reeva, told NBC's "Today" that she was prepared to forgive Pistorius.
"He made a mistake. It's an enormous mistake and I lost the most precious thing in my life, myself and my husband," June Steenkamp said.
"I've lost everything that's important to me ... but, still, I can forgive."
Pistorius began his testimony in April with a tearful apology to Reeva's family. He claimed that he tried many times to write the family, "but no words would ever suffice."
"There hasn't been a moment since this tragedy happened that I haven't thought about your family," Pistorius said. "I wake up every morning and you're the first people I think of, the first people I pray for. I can't imagine the pain and the sorrow and the emptiness that I've caused you and your family. I was simply trying to protect Reeva. I can promise that when she went to bed that night, she felt loved."
© Copyright IBTimes 2023. All rights reserved.
FOLLOW MORE IBT NEWS ON THE BELOW CHANNELS