Oscar Pistorius Trial: Timeline Of Key Dates With 7 Days Before Verdict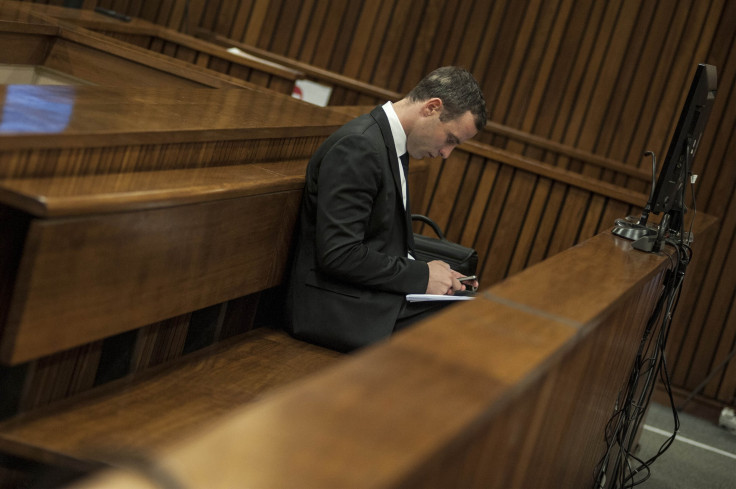 The Oscar Pistorius trial is final nearing an end. More than six months after the double-amputee first went to court for the murder of Reeva Steenkamp, Judge Thokozile Masipa is readying to render a verdict.
Pistorius shot and killed his girlfriend on Valentine's Day 2013. Since that day and all throughout the case, the 27-year-old has maintained that he thought he was shooting at an intruder. Pistorius fired four shots through the bathroom door in his house, and claims that he didn't know it was Steenkamp who was on the other side.
With the trial coming to a close, a lot has happened that will affect the judge's final decision. Below is a timeline of key dates in the Oscar Pistorius trial.
Trial Begins (March 3)
A little over a year after Pistorius shot and killed his girlfriend, the Olympian went on trial for murder. On Day One of the trial the prosecution called its first witness, as Michelle Burger took the stand. The neighbor of Pistorius told the court that she heard a woman screaming on the night of Steenkamp's death, followed by gunshots.
In the coming days, neighbor Johan Stipp recalled going over to Pistorius's house and trying to save Steenkamp. Defense attorney Barry Roux tried to prove that Burger and her husband did not hear Steenkamp scream, but the neighbors stuck to their story.
Pistorius Cries and Vomits (March 10)
Pathologist Gert Saayman provided information from Steenkamp's autopsy, describing her death after she was hit with three gunshots. The double-amputee couldn't stand to listen to the graphic nature of what Steenkamp endured, and he began to cry and eventually vomit in court.
This would be the first of several such outbursts by Pistorius. Just three days later, the 27-year-old sobbed uncontrollably and threw up, as police colonel Giliam Schoombie van Rensburg took the stand to discuss the crime scene.
Pistorius Takes the Stand (April 7)
On the first day that he took the witness stand, Pistorius was unable to control his emotions, discussing how he has trouble sleeping and has terrible nightmares. He discussed why he thought there was an intruder in the bathroom, telling the court that he and his family were victims of break-ins and violent crimes when he was younger.
Two days later, prosecutor Gerrie Nel got his chance to question Pistorius. Nel demanded that Pistorius take responsibility for what he did, and tried to point out inconsistencies in his account of the night in question. The prosecution showed a video of Pistorius shooting a watermelon, looking to portray a trigger-happy man who has a fascination with guns.
Mental Health Evaluation Begins (May 26)
The defendant began a month-long evaluation at Weskoppies Psychiatric Hospital in Pretoria to determine if mental illness was part of Pistorius's decision to shoot Steenkamp. Pistorius was monitored for seven hours a day, but didn't have to make the trip on weekends.
Judge Masipa ordered the evaluation, after it had been requested by Nel. Previously, forensic psychiatrist Merryl Vorster had testified that Pistorius suffered from anxiety disorder, which was caused by his upbringing and his physical limitations.
Trial Resumes (June 30)
The trial resumed when experts declared that Pistorius's mental condition wasn't impaired when he shot and killed Steenkamp. He was ruled to be completely responsible for his actions, and was able to distinguish between right and wrong at the time of the shooting.
Had it been determined that a mental illness played a role in his decision to shoot his girlfriend, Pistorius could have faced a much lighter sentence if the judge decides he shot Steenkamp on purpose.
Bar Fight (July 12)
Shortly after the defense rested, Pistorius was involved in an altercation with a man at a South African nightclub. A spokeswoman for Pistorius said businessman Jared Mortimer "aggressively interrogated" the Olympian sprinter about the trial. Mortimer claims a drunk Pistorius was acting unruly.
A little more than a month into the start of the trial, Pistorius was criticized by some when he was seen drinking at a party. Pistorius has admitted that his drinking increased after the death of his girlfriend, and his family released a statement about his "loneliness and alienation," following the nightclub altercation.
Closing Arguments (August 7)
Nel stated his case first, presenting facts that could prove Pistorius knowingly shot his girlfriend. The prosecutor criticized Pistorius for lying in court, calling him "one of the worst witnesses ever encountered."
The next day, Roux stressed that Pistorius was only trying to defend himself. The defense attorney also discussed Pistorius's life as a double-amputee, making him feel more vulnerable to a potential intruder.
Verdict (September 11)
Judge Thokozile Masipa announced that she will give her final verdict on Sept. 11. There are several verdict possibilities, and Pistorius faces charges of murder, culpable homicide, illegal ammunition, and two charges of firing a gun in public.
FOR FREE to continue reading
✔️ Unlock the full content of International Business Times UK for free
offer available for a limited time only
✔️ Easily manage your Newsletters subscriptions and save your favourite articles
✔️ No payment method required
Already have an account?
Log in
© Copyright IBTimes 2023. All rights reserved.