Pittsburgh Steelers' James Harrison: More Vicious Verbally than Physically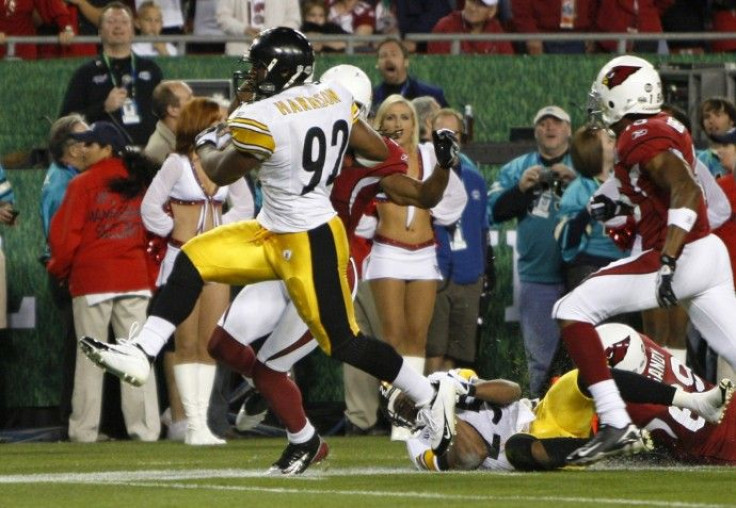 Don't get on Pittsburgh Steelers outside linebacker James Harrison's bad side.
Not only could the 6 foot, 240 pound quarterback crusher hurt you physically, he apparently has a way to destroy you with words as well. In a recent interview with Men's Journal, Harrison laid out a few vicious verbal jabs at NFL commissioner Roger Goodell, teammates Ben Roethlisberger and Rashard Mendenhall and a host of other targets.
The most damning comments were aimed at Goodell, who has long been Harrison's number one nemesis. Last year Harrison got fined thousands of dollars for illegal hits. Harrison contends however he was unfairly targeted by the commish. As a result, in the interview, he allegedly calls Goodell, stuipid, puppet, dictator, crook and the devil. He allegedly referred to the commissioner as some kind of gay slur, which will obviously give him a huge amount of heat.
If that man was on fire and I had to piss to put him out, I wouldn't do it. I hate him and will never respect him, Harrison said in the interview.
Ouch.
That wasn't all. Harrison also reportedly ripped his own teammates, Roethlisberger and Mendenhall. He called Mendenhall a fumble machine, and pointed the finger at Roethlisberger for the Steelers' loss in Superbowl 45.
Hey, at least throw a pick on their side of the field instead of asking the D to bail you out again. Or hand the ball off and stop trying to act like Peyton Manning. You ain't that and you know it, man; you just get paid like he does, he said.
In the game Roethlisberger tossed two picks that led to two Green Bay Packers touchdowns. However, it is worth noting that Harrison didn't exactly light it up, he only had one sack and one tackle the entire game.
Harrison also ripped former New England Patriots players Tedy Bruschi and Rodney Harrison calling them a bunch of clowns. He said Houston linebacker Brian Cushing is juiced out of his mind. Harrison also riffed on the Patriots saying they cheated to beat the team in the 2004 AFC Championship Game.
Over the years, Harrison has never been one to keep his mouth shut. The talented former winner of the NFL Defensive Player of the Year has ripped Goodell, the Patriots and others who have gone against him numerous times in the past.
It begs the question: Is there anyone Harrison does like?
© Copyright IBTimes 2023. All rights reserved.