Pittsburgh Steelers Quarterback: Will Mitchell Trubisky Or Kenny Pickett Start Next Game?
Calls for the Pittsburgh Steelers to make a quarterback change are getting louder, following the team's loss against the Cleveland Browns Thursday night. Mitchell Trubisky has a 1-2 record after winning the job over rookie Kenny Pickett in training camp.
It seems inevitable that Pickett, the only quarterback selected in the first round of the 2022 NFL Draft, will replace Trubisky at some point. Trubisky's position as the Steelers' No. 1 quarterback, however, might be safe for at least another week.
"I'm not in that mindset," Tomlin told reporters when asked if he would consider making a quarterback change. "I'm interested in reviewing his tape and looking at the totality of it and figuring how we collectively get better.
"So, the answer to that question is definitively no."
Cleveland defeated Pittsburgh 29-17 on "Thursday Night Football," handing the Steelers their second straight loss. Trubisky went 20-of-32 for 207 yards. He had no passing touchdowns, though he ran for a score.
Trubisky is completing an average of 60.2% of his attempts for 189.7 passing yards per game. The veteran ranks outside of the top 20 in both categories at the start of Week 3.
Pittsburgh's offense hasn't been responsible for more than 17 points in any of the team's three games. The Steelers rank 28th in yards per game.
There had been speculation that Pickett might replace Trubisky for Pittsburgh's next game if the team lost in Cleveland. The rookie would have 10 days to prepare for his first start against a beatable opponent. The Steelers host the New York Jets in Week 4 on Oct. 2.
The Steelers' schedule gets significantly more difficult after Week 4. Pittsburgh takes on the Buffalo Bills and Tampa Bay Buccaneers in Week 5 and Week 6, respectively. The Bills and Buccaneers are favored to meet in the Super Bowl.
Pittsburgh is scheduled to visit the Miami Dolphins and Philadelphia Eagles in Week 7 and Week 8. The Dolphins and Eagles are two of the NFL's few remaining undefeated teams.
If Trubisky remains the starter and the Steelers' offense doesn't improve, Pickett's time could come in Week 10. Pittsburgh has a bye in Week 9, and the schedule gets easier in November. The Steelers take on the New Orleans Saints, Cincinnati Bengals, Indianapolis Colts and Atlanta Falcons following their bye.
Trubisky found himself in a similar situation as Pickett when he was a rookie five years ago. The No. 2 overall pick in the 2017 NFL Draft, Trubisky took over for Mike Glennon as the Chicago Bears starting quarterback after the team started 1-3.
Trubisky has 66 touchdowns, 39 interceptions and an 86.4 passer rating in his career.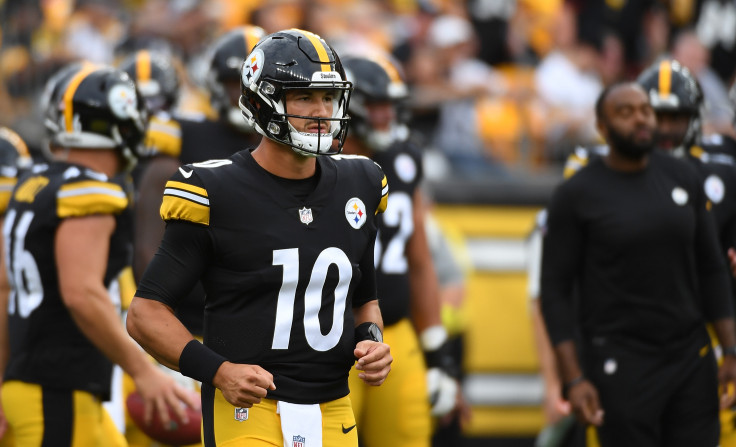 © Copyright IBTimes 2023. All rights reserved.