Pittsburgh Steelers Vs. Baltimore Ravens: Preview And Betting Odds For AFC North Rivalry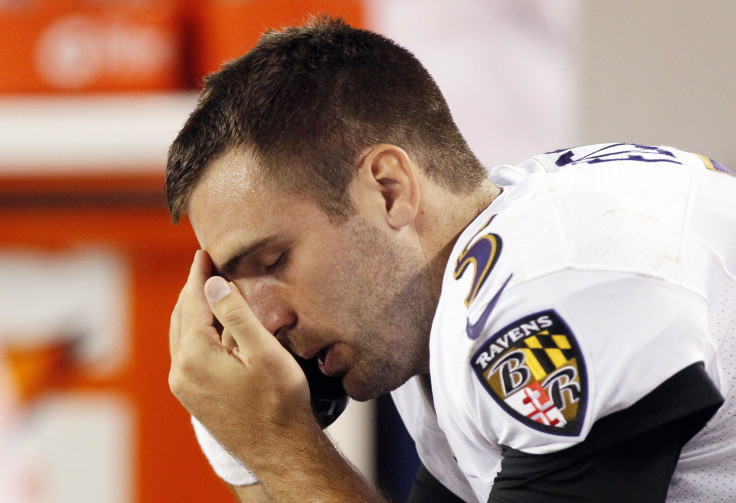 The Pittsburgh Steelers are not ready to give up on their season just yet. They began the year losing their first four games. Now, they are trying to do what only one other team has done since the NFL-AFL merger.
In 1992, the San Diego Chargers won 11 of their final 12 games to make the playoffs after starting the season at 0-4. Pittsburgh finally picked up their first win last Sunday, defeating the New York Jets 19-6.
"We're not going to quit," defensive end Brett Keisel said. "Obviously, it wasn't the start we wanted, but the men in this locker room believe there's a chance that something great could come out of this if we all work toward it."
In Week Seven, the Steelers will go for win No.2 as they host the Baltimore Ravens. Despite their slow start, Pittsburgh does have time to do some damage in the AFC North. They have only played one division game, thus far.
The rivalry between the two teams may be the fiercest in the NFL over the past five years. In that time, they have split their 10 regular season meetings. Eight of those contests were decided by exactly three points, and Pittsburgh won another one by just four. Even though Baltimore is two games up on the Steelers, history indicates that Sunday's game will be a close one. That has been reflected in the betting line, making the one-win Steelers favorites.
The Ravens enter the game at 3-3, coming off a tough loss at home. They fell to the Green Bay Packers by two points last week. Baltimore was hampered by a poor rushing attack, compiling 47 yards on the ground.
The intensity may be the same as years' past, but he 2013 matchups between the Ravens and Steelers could have a very different feel to it. Their games are usually characterized by defensive battles, predicated on the running game. This year, however, it's in both teams' best interest to air it out. The Steelers have the second-worst rushing offense in the league, and the Ravens are't much better at 27th overall. The combined average rushing yards of Pittsburgh and Baltimore is less than that of 10 other NFL teams.
Ben Roethlisberger and Joe Flacco aren't having the season's they'd hoped for. The Steelers quarterback leads one of the worst offenses in the league. Flacco signed a $120 million contract in the offseason, but hasn't looked like a Super Bowl MVP winning quarterback. Through six games, he's thrown more interceptions than touchdowns.
Baltimore, though, enters the game much healthier than their opponent. Newly acquired left tackle Levi Brown has been lost for the season, as well as tight end David Johnson. Rookie linebacker Jarvis Jones has been listed as questionable with a wrist injury.
Las Vegas Betting Odds: Pittsburgh by 2.5 points
Over-Under: 41 points
Where To Watch Online: NFL Sunday Ticket Max
Kickoff Time: 4:25 PM Eastern Time
TV Channel: CBS
Prediction: Baltimore 20, Pittsburgh 17
© Copyright IBTimes 2023. All rights reserved.
FOLLOW MORE IBT NEWS ON THE BELOW CHANNELS