Poland Missile Blast: Latest Among Several Mysteries Threatening To Escalate Russia-Ukraine War
KEY POINTS
The Poland missile incident threatens to escalate the conflict beyond the borders of Ukraine into Europe
Under Article 5 of NATO, an attack on any one member of the alliance is considered an attack against all
While full investigation of the incident awaited, nations have urged calm and cation
Avoiding the risk of a dangerous escalation in the nearly nine-month-long Russia-Ukraine conflict, U.S. officials have reportedly said the missiles which landed in Poland on Wednesday were fired by Ukrainian forces at an incoming Russian missile. However, amid heightened fears of false flag operations, the incident had added to the several mysteries that expose the sheer danger of the war spilling beyond the borders of Ukraine.
After U.S. President Joe Biden said it was "unlikely" that the missile came from Russia, reports quoting the Associated Press said initial findings suggest that the missile that landed in the Polish village of Przewodów, which is near the border with Ukraine killing two people, was fired by Ukrainian forces.
Although it is unlikely that a stray accidental attack would trigger full-fledged direct NATO involvement in the Russia-Ukraine war, a deliberate provocation will threaten to drag the U.S.-led military alliance into direct conflict with Moscow. Under Article 5 of the NATO treaty, an attack on any one member of the alliance is theoretically considered an attack against all.
With a full investigation into the incident still awaited, nations have urged calm and caution. However, the Poland missile incident has added to several other mysteries that have threatened to escalate the conflict that has been dragging on for nearly nine months, beyond the borders of Ukraine into Europe.
Amid allegations of a dirty bomb attack, and nuclear threats, and while the risk of leaks at the Zaporizhzhia nuclear power plant continues to spark fears of another nuclear disaster, the Nord Steam blast investigation has not made much headway.
While Denmark, Germany and Sweden are all carrying out their own investigation into the Nord Stream explosion that occurred in September, they have all remained tight-lipped about who may have caused the damage and why, with some observers arguing that had the findings confirmed the suspicion of Russian involvement, they would have been quick to make the information public.
Russia denied any involvement in the Poland blast on Wednesday, however, Ukrainian President Volodymyr Zelensky decried the incident, calling it a "very significant escalation," by Moscow. He said the strike in Poland offered proof that "terror is not limited by our state borders."
"We need to put the terrorist in its place. The longer Russia feels impunity, the more threats there will be for everyone within the reach of Russian missiles," Zelensky added.
Poland's president Andrzej Duda was meanwhile more guarded in his comments saying that there was so far no "conclusive evidence" about who launched the missile into Polish territory. Duda termed the explosion in Przewodów as a "one-off incident" with "no indications" that it will happen again.
"We do not have any conclusive evidence at the moment as to who launched this missile ... it was most likely a Russian-made missile, but this is all still under investigation at the moment," Duda told reporters.
Meanwhile, Poland's prime minister, Mateusz Morawiecki, who said his country would increase combat readiness and surveillance of its airspace, asked people to be restrained.
"I call on all Poles to remain calm around this tragedy. Let's be prudent, let's not let ourselves be manipulated. We need to be ready to face fake news, and propaganda efforts" Morawiecki said.
Speaking to reporters in Bali, after an emergency meeting with NATO and G7 leaders, Biden said it was 'unlikely' that the missile came from Russia due to the weapon's trajectory.
Asked if the missile was fired from Russia, Biden said: "There is preliminary information that contests that. I don't want to say that until we completely investigate. But it is unlikely in the lines of the trajectory that it was fired from Russia, but we'll see."
Biden said NATO would support Poland's investigation into the incident. "I'm going to make sure we figure out exactly what happened...Then we're going to figure out our next step," the U.S. President added.
A report in CNN quoting a NATO official said that a surveillance plane of the alliance flying above Polish airspace on Tuesday had tracked the missile and intel was provided to NATO and Poland.
"Intel with the radar tracks [of the missile] was provided to NATO and Poland," the NATO military official quoted by CNN added. But, the official did not give further details as to who launched the missile or where it was fired from.
NATO has been conducting regular surveillance flights around Ukraine since the Russian invasion began and the plane flying above Poland on Tuesday was monitoring events in Ukraine.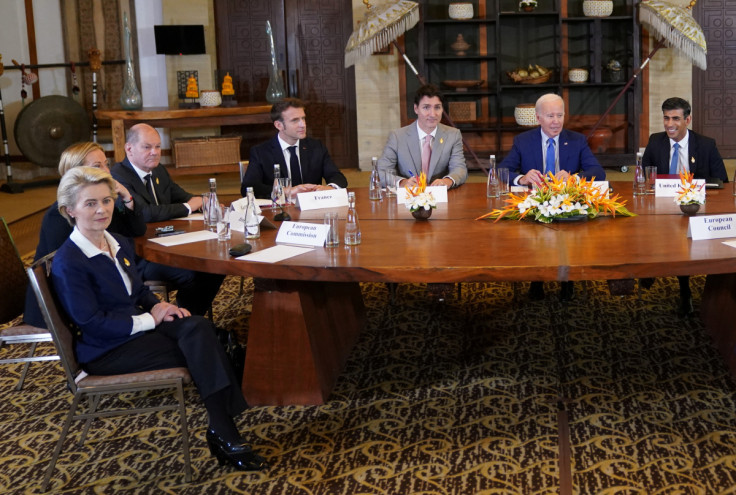 © Copyright IBTimes 2023. All rights reserved.