Police Militarization: After Ferguson Protests, Senators Question Use Of MRAPS, Military Equipment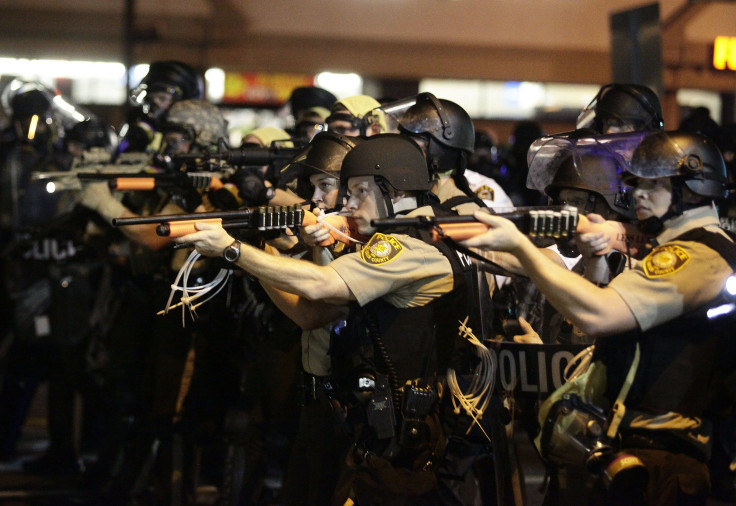 Lawmakers from both sides of the aisle slammed the militarization of local police forces during a Senate hearing Tuesday called in response to the riots last month in Ferguson, Missouri. Senators on the Homeland Security Committee questioned why armored trucks built to withstand roadside bombs and other military-grade equipment have been provided to state and local law enforcement.
U.S. Sen. Claire McCaskill, D-Mo., who witnessed the Ferguson protests, said during the hearing the demonstrators "did not deserve to be treated like enemy combatants" and there was "overmilitarization in Ferguson." Representatives from the Department of Defense, Department of Homeland Security and the Department of Justice gave testimony on how their agencies are involved in distributing equipment such as armored vehicles, military fatigues, military-style assault rifles and pistols, bomb-disabling robots and night vision devices, among other items.
During the Ferguson protests, local police aimed military-grade weapons at demonstrators upset about the police shooting of Michael Brown, 18.
McCaskill also singled out the Payne County Sheriff's Office in Oklahoma, which has one full-time sworn officer. The law enforcement agency has received two mine-resistant ambush protected vehicles, or MRAPs, which are designed to sustain damage from roadside bombs. The Lake Angelus Police Department in Michigan, which also has one full-time sworn officer, has received 13 military assault weapons since 2011, McCaskill said.
"How in the world can anyone say that this program has one lick of oversight if those two things are in existence?" she asked, referring to the Defense Department's 1033 program, which distributes the equipment no longer needed by the military. "I question whether state and local law enforcement agencies need this kind of equipment."
McCaskill said she couldn't understand why Florida local law enforcement agencies have 45 MRAPs, but the Florida National Guard has none. In Texas, the National Guard has six MRAPs, but state and local law enforcement have 73. McCaskill said the National Guard might not want the vehicles because they destroy roads.
U.S. Sen. Rand Paul, R-Ky., said the militarization of police "has gotten out of control. ... I can't imagine any use for a bayonet in an urban setting."
U.S. Sen. Tom Coburn, R-Okla., said he had "some real heartburn" over the 1033 program, saying the federal government shouldn't have a role in local and state police forces. "We're on dangerous ground of undermining the basic principles that built the country," he said. He wanted to know how the Defense Department decided an MRAP is appropriate for local police forces.
Alan Estevez, the department's principal deputy undersecretary of defense for acquisition, technology and logistics, couldn't answer. "This is one of the areas that we're obviously going to look at, senator," he said.
© Copyright IBTimes 2023. All rights reserved.