Police And Protesters Clash In Indonesia Over Passage Of New Labor Laws
KEY POINTS
Around 400 protesters were detained in Jakarta as protests turned violent outside government buildings
Protests have taken place for nearly a week after Indonesia's government passed new labor laws the country's unions were openly opposed to
The law is designed to encourage foreign investment, but critics argue it infringes on workers' rights and could cause environmental harm
Protesters and police clashed Thursday in Jakarta, Indonesia, as thousands filled the city's streets in opposition to a new labor law critics said will harm workers' rights and potentially damage the environment.
Reports from BBC News said the protests, which are taking place across Indonesia, were peaceful for most of the week. However, protests in Jakarta started descending into chaos as hostilities between police and protesters escalated. Protesters were seen throwing rocks at police outside Jakarta's presidential palace and officers responded with tear gas and other "less-lethal" arms to try and force protesters to disperse. Several isolated fires were also started by protesters, as well, and ranged from tire fires in the streets to a subway shelter being burned down.
Clashes broke out as police detained around 400 protesters, some of whom police said were armed with Molotov cocktails and improvised weapons. Protests were in response to the country's parliament passing the Job Creation Law on Monday. The "omnibus law," as it has been referred to, is designed to ease Indonesia's current labor and environmental laws in the hopes of attracting foreign investment.
Some of the changes include abolishing sectoral minimum wage in favor of wages set by regional officials, reducing severance pay from 32 to 19 months' salary, relaxing environmental standards, increasing allowable overtime, and only requiring businesses to provide one guaranteed off-day a week.
"We want to simplify the licensing and bureaucracy [process], we want speed, so a harmonisation of law is needed to create speedy services, speedy policymaking, so that Indonesia would be faster to respond to every world change," President Joko Widodo told the BBC News in January.
The law was met with major pushback from many of Indonesia's labor unions along with the International Trade Union Confederation, the largest international trade union in the world.
"It is staggering that while Indonesia is, like other countries, facing the devastation of the Covid-19 pandemic the government would seek to further destabilize people's lives and ruin their livelihoods so that foreign companies can extract wealth from the country," ITUC general secretary Sharan Burrow said in a press release.
A coalition of over 30 Indonesian unions subsequently organized the protests and strikes that began on Monday. Protesters demanded the law be repealed immediately, otherwise protests will continue and more strikes will be organized.
"This is our struggle for our children and grandchildren and our future generations," protester and Astra Honda worker Maulana Syarif told Aljazeera. "If it's like this (with the new law) our well-being will decrease, and we will lack certainty in jobs."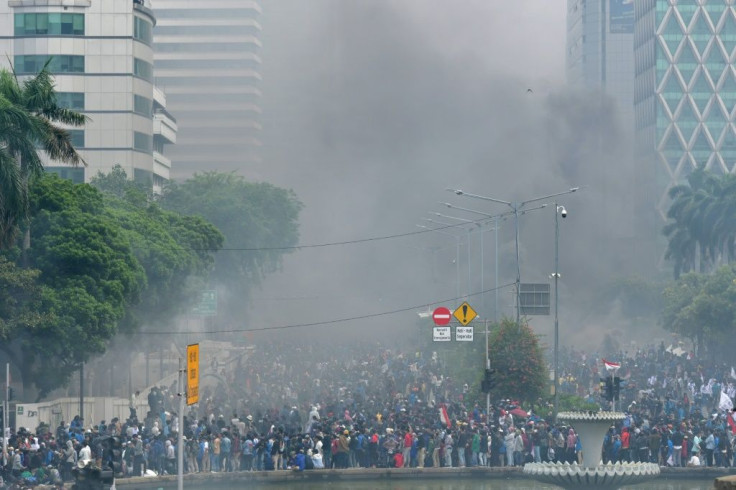 © Copyright IBTimes 2023. All rights reserved.