Police Remove Some Demonstrators from Wisconsin Capitol Building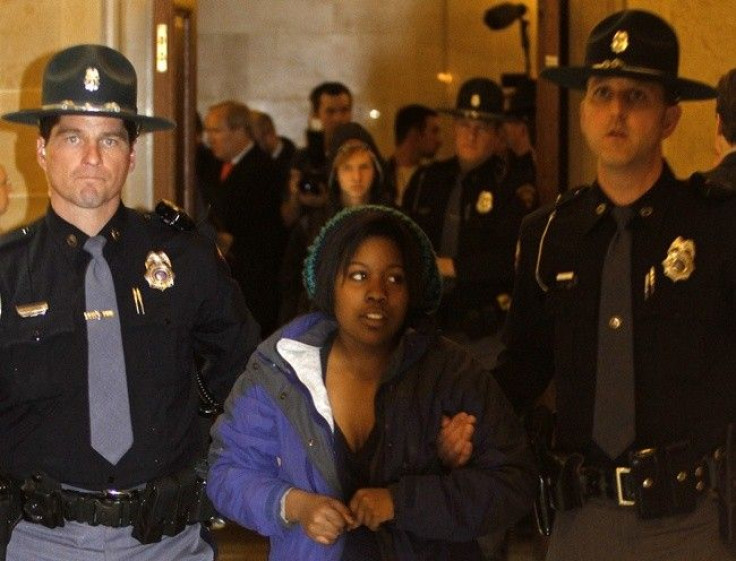 Police physically removed more than a dozen demonstrators at an entrance to the Assembly chamber in the Wisconsin capitol building on Thursday ahead of vote in that chamber of a bill that would remove collective bargaining rights from public state employee unions.
Police encouraged some protesters to leave, but removed others about an hour before the Assembly was scheduled to vote, according to Channel3000.com, the website of CBS affiliate WISC-TV.
More than 200 people spent the night in the Capitol after the Senate voted yesterday to pass a bill that would restrict bargaining in areas such as health and pension benefits.
Shame! Shame! Shame! some demonstrators shouted, according to the Journal Sentinel.
Protestor Taylor Tengawall, 21, of Duluth Minnesota told the Sentinel the police grabbed me by the shoulders and took me out.
The statehouse did not open at 8 a.m. as it is schedule to during normal business hours. The assembly had been scheduled to convene at 11 a.m. to discuss the bill.
Last week, a judge ruled that demonstrators could only remain in the capitol during regular business hours.
That specific bargaining provision passed on its own, without provisions related to spending to which it was originally tied to in a budget repair bill.
This parliamentary move has upset opponents of the measure, who say that the collective bargaining restrictions are anti-union efforts unrelated with reducing the state's deficit or fixing its finances.
Proponents of the bill, including governor Scott Walker on Wednesday praised the Senate's move to split up the original bill and pass what it could, considering that 14 Democrats who have stayed away from the Senate, have impeded the passage of the full measure.
© Copyright IBTimes 2023. All rights reserved.