Police On Strike After Black Lives Matter Protests? How Michael Brown's Death Changed Policing One Year Later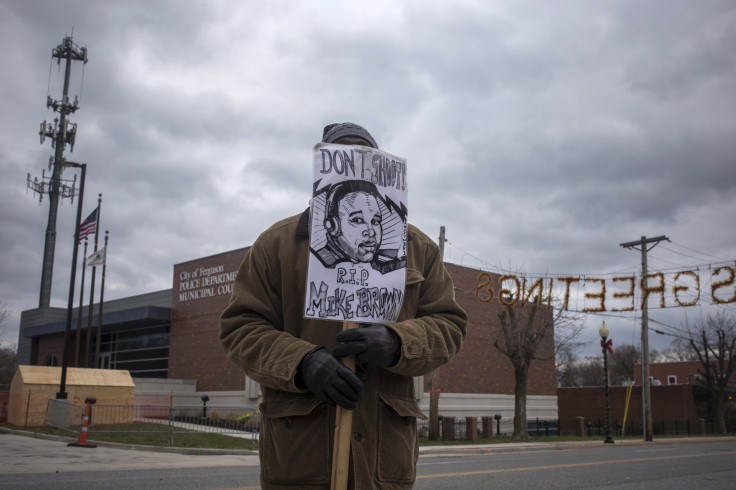 As a boy attending Catholic school in upstate New York, Stephen Loomis would find a parked police car blocking the building's lot on each school day, so that motorists approaching a nearby intersection wouldn't cut through and endanger students. Loomis said he and his friends frequently went over to speak with the officer, who would occasionally pop the hood of his squad car and show off the engine.
"Suddenly, he'd get a call and then whiz off on another assignment," Loomis said. "I remember imagining he was off to chase bank robbers."
That's the kind of policing that inspired Loomis to become an officer. He idealized the privilege of being a positive role model for the young residents he would be sworn to protect. But views on policing have changed in recent months for Loomis, now a 22-year veteran of the Cleveland police department and the blunt-spoken president of the local officers' union, who said he has felt besieged by the ongoing national scrutiny of the law enforcement profession.
Demonstrations over police brutality in the last year have prompted a change in day-to-day policing, experienced officers have said. But it's not the social and political change that protesters outraged by the killing of unarmed African-Americans, including the death of Michael Brown in a St. Louis suburb one year ago on Sunday, have cried out for. Although officers deny a de facto slowdown in policing because of the Black Lives Matter protests, many said there is a hesitance among officers to risk becoming the star of a viral police video and add fuel to activists' rhetoric. Activists, however, said law enforcement officials are merely deflecting blame amid heightened awareness of excessive police force and an ongoing national debate about race.
"There is no longer any proactive policing going on in Cleveland," Loomis, 51, who is white, said of a belief shared by police nationally. Deep cuts to police budgets in the past decade and an investigation into the use of force complaints in Cleveland by federal officials haven't helped either, he said.
"We all [as police] accept the inherent risks to life and limb," Loomis said. "But what we're not willing to accept is the endless [public] scrutiny and the rantings of elected politicians playing to the media and trying to imprison us."
Even as violent crime remains at historic lows nationwide, the sustained protests and media attention given to subsequent police-involved deaths has further strained the existing tensions between officers and the communities they serve. But activists and criminologists have called police out on their claims that anti-police brutality protests have caused a spike in violent crime rates around the country.
"It's really simply the same old deflection of responsibility," said Veronica Bayetti Flores, an activist who participated in a recent massive Black Lives Matter demonstration in New York City that snarled traffic on roads and bridges. Bayetti Flores, who is part of the group Communities United for Police Reform, said officers aren't talking enough about rooting out abusive and discriminatory behavior.
Policing doesn't necessarily impact the underlying causes of crime, such as poverty, education, population density, mental health resources and gun control issues, criminal justice experts have said. "The police and their deployment can help present a deterrent influence [on crime] and improve community relationships," said James Acker, a professor of criminal justice at the State University of New York in Albany. "But what police alone do is not apt to produce a tremendous turnaround in the incidence of crime."
Amid Low Crime Rate, Officers Warn Of Protest Impact
The biggest frustration among some police is that they claim they have become scapegoats for social ills that aren't a result of good or bad policing. They said the hostilities shown toward officers in the last year have taken a toll. Rumos have spread of a national police worker strike in the wake of the assassinations of two New York police officers last December and the charging of the six Baltimore officers involved in the death of Freddie Gray, a 25-year-old black resident who died of fatal neck and spinal injuries in April.
Violent and property crimes in the U.S. have been on a sustained decline since the 1980s. That decline continued during the 1990s, when Congress enacted legislation that paid for the hiring of as many as 60,000 new police officers nationwide and toughened penalties for drug offenses and violent crimes. But critics, and Black Lives Matter activists later, said the policies resulted in mass incarceration for blacks and Latinos and further strain to police-community relations.
Police Attitudes Toward Abuse of Authority | FindTheBest
The Federal Bureau of Investigation hasn't released U.S. crime statistics for 2015 yet, but several large cities have put out their own figures. In New York City, the murder rate went up by 20 percent in the first few months, according to the mayor's office. The murder rates in other cities, including Baltimore, Los Angeles, Houston and Chicago, were up as much as 50 percent, according to several news reports. Some former officers have said they feared an uptick in crime would be the result of anti-police protests.
"In 26 years of doing this job, I have never seen police officers this traumatized," said Ron Martinelli, a California-based forensic criminologist and retired patrolman who has served as an expert witness on national police cases. He said anecdotal accounts of decreased self-initiated police activity are real. Members of the public who have been emboldened to take confrontational stances and point smartphones toward officers are becoming a safety hazard, he added.
"Officers are not concerned as much about being videotaped," Martinelli said. "What they are concerned about is people getting in their way. Nobody is coming to aid these officers. That's anarchy. You can't have that. I think the crime statistics coming out for this last year... will exceed any of the statistics for the past 10 years. "
Loomis, the Cleveland police union president, said one of his colleagues recently observed a black man pushing a brand-new lawnmower down a street in a high-crime neighborhood at 4 a.m. Normally, officers might pull up alongside the man and ensure he had legally acquired the equipment. But in today's climate, Loomis said, officers are likelier to wave at the man rather than profile him and risk a firestorm from activists.
Thomas Manger, president of the Major Cities Chiefs Association, which represents chiefs and sheriffs in the largest law enforcement departments in the U.S., said police leaders nationwide increasingly stress that officers value the community's trust, in spite of anti-police protests. "We're only as good as that last contact that we had with residents," he said. "All police understand that we are accountable to the public. I don't see it getting any easier."
Manger, who is also chief of the Montgomery County Police Department in Maryland, said the last year of protests have given officers the impression that all unpleasant exchanges with civilians will be held against them.
"It gets tiresome after a while," he said. "Even minor incidents between the public and the police are being used by opponents as justification for criticizing the entire profession."
Michael Brown Shooting Changed Everything
Days after Brown's death in Ferguson, Missouri, chaotic protests there captured the national spotlight. The attention was earned not just for demonstrators' emotional "hands up, don't shoot" chant, but also the militarized law enforcement response to protester violence. Activists in Missouri and elsewhere called for officer diversity for communities of color, police body-worn cameras for accountability, and independent review of fatal police shooting cases for transparency.
Brown's death sparked a national discussion around policing that forced law enforcement leaders to begin a soul searching process that continues today, experts said. An earlier incident in New York City, which had been captured on video, also paved the way for several months of nationwide demonstrations.
The summer 2014 death of Eric Garner, a 43-year-old New York City man who suffered a fatal heart attack after police officers in Staten Island, New York, placed him in a chokehold for resisting arrest, brought global attention to the issue. Cell-phone video footage of the encounter – Garner's reported last words, "I can't breathe," became a rallying cry of protesters – went viral within hours of its public release by the New York Daily News on July 18.
Bayetti Flores, the New York City activist, said the year of action for the cause nationally -- a White House-convened task force on policing, increased use of body-worn cameras by street officers, and other criminal justice-related reforms -- has been encouraging. Last month, Gov. Andrew Cuomo issued an executive order that requires a special prosecutor in cases of police-involved deaths. Otherwise, the impact of protests locally have been lackluster, Bayetti Flores said.
"We have yet to see anything that really matches the demands of the crisis that we're facing," she said. Despite pledges of reform from Mayor Bill de Blasio and William Bratton, the commissioner of the city's 34,500-strong police force, many in New York fear that brutality allegations still aren't speedily investigated and officers are rarely made accountable for improper or illegal conduct.
Former Ferguson police officer Darren Wilson shot and killed Brown, an 18-year-old unarmed resident whom he confronted on Aug. 9. There was no video of the encounter, but several witnesses eventually corroborated the officer's story that Brown charged at Wilson when the confrontation escalated to violence. A grand jury last November decided against indicting Wilson, the white policeman whose story galvanized pro-police groups to raise tens of thousands of dollars to support his defense against criminal charges. Wilson was cleared of any wrongdoing by state and federal probes in March.
The Eastern Missouri Coalition of Police, the union for officers in departments of northern St. Louis County that helped establish Wilson's trust fund, did not respond to interview requests.
The U.S. Department of Justice in March released a damning report from its investigation in the Ferguson Police Department, which had engaged in a discriminatory practice of stopping and ticketing blacks for traffic violations and other minor municipal offenses to help balance city budgets. The DOJ report prompted resignations of the city's police chief and other local officials. Weeks of protests helped bring about local and state legislation to stem certain law enforcement abuses, said participant Marcus Stewart, a resident of a town that borders Ferguson.
"I think the protests allowed them to see how angry the community actually was," said Stewart, 40, who cited the Missouri legislature's May passage of a bill limiting fines and prohibiting incarceration for those who fail to pay them. Stewart added that officers lately seemed less aggressive about making traffic stops, but other changes in police behavior weren't as evident.
In the 10 months that followed Brown's shooting, reports of deadly police encounters or uses of brute force, several of which were captured on video by civilians, public surveillance systems, body-worn cameras or dashboard-mounted camcorders, incited protests similar to those after Brown's and Garner's cases. Consequences for the involved officers varied greatly.
Those other cases included the deaths of Tamir Rice in Cleveland, Walter Scott in North Charleston, South Carolina; Freddie Gray in Baltimore, as well as the police response to a pool party largely attended by black teens in McKinney, Texas. Some of the involved officers have been terminated, resigned and/or faced criminal charges over their conduct.
Number of People Killed by Police by State in 2015 | FindTheBest
'Make It Clear They Will Face Consequences'
So what will bring about changes that activists and police officers can live with? Gregory Thomas, president of NOBLE, or the National Organization of Black Law Enforcement Executives, said it should begin with how police leaders reform their forces.
He said chiefs must track who they hire, for the sake of officer diversity that matches the community being served. Leaders must also thoroughly vet candidates, train them better on uses of force, supervise them throughout their tenure and discipline them when they screw up.
"How are you invoking some consequences, if they are caught committing a grave offense or lying about their conduct?" Thomas said. "You've got to hit them hard and make it clear that they will face consequences, if not termination. That tells [residents] that you aren't putting unqualified people in their community."
NOBLE, which represents several thousands of African-American law enforcement professionals at the federal, state, county and municipal levels, has been outspoken in the wake of fatal police encounters. Last month, the group hosted Attorney General Loretta Lynch at its national convention, where she pushed for an increase in officer-community dialog. Lynch in May launched a Justice Department investigation of the Baltimore police force, over a long history of abusive policing complaints in the majority-black city.
Community policing, or the embedding of officers on foot patrols in high-crime neighborhoods, for the purposes of building trust between officers and residents, might have prevented Brown's death and reduced the likelihood of violent unrest seen in Ferguson and Baltimore, Thomas said.
"With more community policing, residents will trust you because they'll see [a police shooting] as a one-off incident," said Thomas, who is also a senior executive of law enforcement operations in the Office of the District Attorney in Brooklyn, New York. "They'll trust you to get to the bottom of it."
Chris Dunn, an associate legal director of the New York Civil Liberties Union, said it's too soon to tell if recent changes in New York City -- an end to police "stop and frisk" strategies and the special prosecutor policy -- are having the desired effect. Any increased transparency in law enforcement "helps people understand the truth of police misconduct," Dunn said.
"I think the last year served as a wake-up call for police executives around the country," Thomas added. "It's my hope that they don't hit the snooze alarm and are not conscious of the need to make changes."
FOR FREE to continue reading
✔️ Unlock the full content of International Business Times UK for free
offer available for a limited time only
✔️ Easily manage your Newsletters subscriptions and save your favourite articles
✔️ No payment method required
Already have an account?
Log in
© Copyright IBTimes 2023. All rights reserved.