How Big Pharma Secretly Funds The Fight To Keep Drug Prices High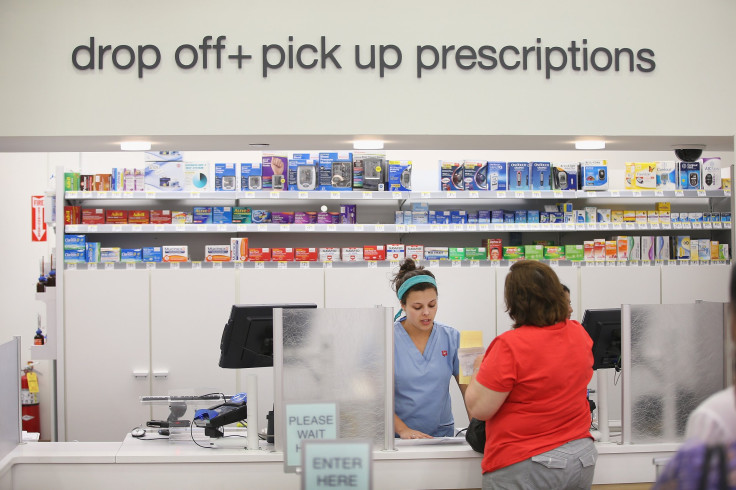 As the cost of prescription drugs continues to rise in the nation that already pays the most in the world for medications, federal legislators and ballot-measure committees are proposing ways to curb those prices. But pharmaceutical companies, worried their profit margins will decline under the pending proposals, are spending millions of dollars against the initiatives — and in one political bellwether state, they are employing a controversial tactic that uses shell companies to let them evade longstanding campaign finance disclosure laws.
In Ohio, the drug industry faces Issue 2, the Ohio Drug Price Relief Act — a citizen-initiated ballot measure designed to prevent state agencies, including the state Department of Medicaid, from purchasing drugs at rates any higher than the lowest amount paid by the federal Department of Veterans Affairs, which negotiates with drug companies and saves between 20 and 24 percent on drug costs. Proponents of the measure say it would save taxpayers hundreds of millions of dollars per year, while detractors say it would actually raise drug prices and reduce access to medications.
To oppose Issue 2, the Pharmaceutical Research and Manufacturers of America (PhRMA), the biggest trade organization in the U.S. representing major drug companies, created a political action committee on May 1 called Ohioans Against the Deceptive Rx Ballot Issue. On the same day, PhRMA also founded a limited liability corporation of the same name and registered at the same address; under normal circumstances, it would not be required to disclose its donors. Campaign finance reports document only one donor to the ballot measure committee: the linked LLC. With the LLC's individual corporate donors being hidden, PhRMA is wading into a legal gray area: The committee is revealing its donor, the LLC, but not the true sources of the funds given to the LLC.
"We've said from the start that our campaign was primarily being funded by the pharmaceutical companies," said Dale Butland, spokesman for Ohioans Against the Deceptive Rx Ballot Issue, responding to questions of secrecy.
"Certainly, setting up an LLC to launder drug company money into fighting the ballot measure looks like an effort to evade Ohio's transparency and disclosure laws," Brendan Fischer, director of federal and Federal Election Commission reform at the nonpartisan Campaign Legal Center, told International Business Times in an email.
Donors Use Corporations To Hide Their Identities
PhRMA's Ohio maneuver spotlights how so-called "dark money" groups are creating new ways to get around state campaign finance laws after two federal court decisions in 2010, most notably Citizens United, allowed unlimited corporate and union money in elections. These 501(c)(4) "social welfare" nonprofits, which are supposed to spend less than half their resources on political issues but are rarely held accountable by the gridlocked Federal Election Commission (FEC), are not required to disclose their donors. Independent political operatives have used these organizations to fund super PACs, which are required to disclose their contributors, while hiding the names of the original donors.
Another method of hiding political donors' identities, which is becoming increasingly common, is using limited liability companies as "ghost corporations" to fund super PACs and even campaign committees. In March 2016, the gridlocked FEC was evenly split on whether to investigate big donations to a Mitt Romney-supporting super PAC made in 2011 by mysterious LLCs. Because of the tie vote, the commission closed the case, signaling to donors that the sources of money funneled through LLCs would not be scrutinized.
But the plaintiffs who filed a lawsuit demanding the FEC investigate the pro-Romney LLC donations — the Campaign Legal Center and fellow government watchdog Democracy 21 — sued the FEC for its inaction, and in March 2017, a federal district court quashed the FEC's attempt to have the case thrown out.
The Campaign Legal Center contends that hiding donors this way at the federal level violates the Federal Elections Campaign Act, which prohibits "straw donors." Section 325 of the FECA reads, "No person shall make a contribution in the name of another person or knowingly permit his name to be used to effect such a contribution." Violating this provision at the federal level can be a criminal offense. (Here, "person" refers to an individual, partnership, committee, association, corporation, labor organization, or any other group.)
"Failure to enforce the straw donor provisions would be extremely troubling," said Adav Noti, Campaign Legal Center's senior director for trial litigation and strategy. "The straw donor bans exist for the obvious reason of preventing people from giving money in secret... If you can hide your contributions, you're completely undermining the entire purpose of financial disclosure."
In a more recent instance of straw donations, a California real estate agent formed Children of Israel LLC in 2015 in order to launder the political contributions of one individual. The LLC ended up giving $150,000 to a super PAC supporting then-presidential candidate Mike Huckabee, $400,000 to a pro-Ted Cruz super PAC and the maximum allowed amount for an individual — $334,000 — to the Republican National Committee. In April 2016, The Intercept discovered the source of the LLC's money via a twice-amended filing from the RNC: Saul Fox, a California private equity CEO whose firm itself is an LLC.
Ashley Balcerzak of the Center for Responsive Politics found that 840 LLCs donated roughly $21 million to presidential campaigns and super PACs in 2016, nearly double the amount spent in 2012.
This year, the FEC asked Donald Trump's campaign to clarify who was behind 140 different LLCs that gave money — a total of $91,000 — directly to his campaign in the 2016 election. But most of the LLC money that entered the presidential race went towards independent spending groups, mostly super PACs. Outside groups supporting Trump took in $1.6 million from LLCs.
A Booming 'Ghost Company' In Ohio
Ballot measure committees in states like Ohio and California have no contribution limits but are required to report their contributors. Through LLCs — or nonfunctioning companies that act as ghost corporations — major pharmaceutical companies are hiding their names as they bankroll an expensive effort to crush the Ohio Drug Price Relief Act.
One detail that could embarrass the corporate donors is the fact that, despite the name of the anti-Issue 2 corporation — Ohioans Against the Deceptive Rx Ballot Issue LLC, a "wholly-owned subsidiary of PhRMA" — not one of PhRMA's member companies is actually headquartered in Ohio. Most of the donors are PhRMA members, based on the available information and statements from the "No on 2" group's communications director.
While most donors remain secret in the Ohio effort, two companies voluntarily disclosed their donations to the LLC in recent corporate reports. According to the Columbus Dispatch, California-based Amgen gave $6.3 million from 2016 through June 2017, and Biogen, headquartered in Massachusetts, gave $1.5 million last year. This accounts for roughly half of the $15.8 million total that PhRMA's LLC raised in just May and June to fight Issue 2. With a November 7 election, the funds will almost certainly continue to flow heavily.
The coalition backing the "No on 2" effort includes the Ohio Hospital Association, the Ohio Chamber of Commerce and the Columbus branch of the NAACP.
In 2016, PhRMA set up a very similarly named committee, Californians Against the Misleading Rx Ballot Measure, which raised over $111 million for its campaign against a California initiative that, like Ohio's, would have blocked that state from paying higher drug prices than those negotiated by the Veterans Affairs Department. The trade group set up a political action committee in California to which pharma companies donated directly — so PhRMA had to disclose these donors. Merck, Pfizer and Johnson & Johnson gave over $9 million each; Amgen gave $7.6 million; and 19 other drug companies gave $1 million or more. The PhRMA-run committee spent nearly all of the millions it raised, and the measure failed to pass, with 53 percent of voters shooting it down. All donors except for Genentech and Gilead Sciences are PhRMA members, and only a handful of companies out of more than 30 total corporate donors are headquartered in California.
One Big Donor Backs Issue 2
Supporting Issue 2 is a committee called Ohio Taxpayers for Lower Drug Prices. The nonprofit took in close to $3.7 million through June, almost entirely from the Los Angeles-based AIDS Healthcare Foundation run by Michael Weinstein, the financier behind a similar 2016 California ballot measure. His controversial foundation gets most of its revenue from "adjacent businesses" — pharmacies and clinics — that provide primary care to roughly 41,000 patients, according to the New York Times Magazine. This income funds free care for more than 700,000 international HIV patients.
Ohio Taxpayers for Lower Drug Prices argues that the measure would save Ohio residents $400 million per year. Sen. Bernie Sanders, for whom lowering drug costs is a top priority, has endorsed Issue 2. Sanders' own bill in the U.S. Senate to allow drug imports from Canada would save the federal government more than $6 billion, according to the nonpartisan Congressional Budget Office.
Holding Big Pharma Accountable
An Ohio voter and proponent of Issue 2 filed an official complaint with the state elections commission against PhRMA, its ballot committee and its LLC on August 2. The suit alleges that PhRMA's LLC "is a political action committee under Ohio law, because it is a combination of two or more persons with a primary or major purpose to oppose [the ballot measure] through express advocacy." Therefore, the suit says, the LLC is in violation of the law for failing to register as a PAC with the Ohio Secretary of State; if it did register, it would be required to disclose details on its donors.
"These three entities have deliberately concocted a scheme to attempt to hide the identities of the individual drug companies that have contributed millions of dollars in an effort to defeat ODPRA," reads the complaint. "The people of Ohio deserve to know the identities of these drug companies."
"If the LLC's major purpose is to act as a pass-through to funnel pharma's money into the ballot fight, then the LLC may have to register as a political committee and file disclosure reports," said Fischer.
Ohio's campaign finance handbook says that LLCs may make contributions, but such groups need to accompany any donation with detailed information of each partner, owner or member and their allocated portion of the contribution. Recipients of these funds need to itemize each individual donation.
The Ohio secretary of state's office, however, says the practice is legal, since state campaign finance law does not restrict donations based on tax designation, including 501(c)(6) organizations like PhRMA's LLC. But if the office is incorrect, and PhRMA has broken the law, there needs to be "proper enforcement that should involve disclosure of donors and some sort of penalty," said Noti.
Fischer said he doesn't see any legal problems with the AIDS Healthcare Foundation funding the "Yes on 2" ballot committee. Since the foundation's revenue comes from its own business operations, there's nothing else to disclose. If other donors were funneling money through the foundation, that would be a problem, Fischer said. Some individual donors gave small amounts to the ballot committee, but this does not appear to be happening with the foundation itself.
As the ballot fight continues, the drug industry faces another battle as well: A lawsuit filed in June by the Ohio attorney general alleges that pharmaceutical companies Purdue Pharma, Teva Pharmaceutical Industries, Johnson & Johnson, Endo Health Solutions and Allergan — all PhRMA members except Endo — sponsored marketing campaigns that misled doctors and patients about the dangers of opioid addiction and overdose. Allergan, Johnson & Johnson and Purdue combined to give nearly $16 million to the PhRMA-run ballot measure committee that successfully opposed the California ballot measure last year.
FOR FREE to continue reading
✔️ Unlock the full content of International Business Times UK for free
offer available for a limited time only
✔️ Easily manage your Newsletters subscriptions and save your favourite articles
✔️ No payment method required
Already have an account?
Log in
© Copyright IBTimes 2023. All rights reserved.