Pope Francis Addresses Female Genital Mutilation, Gender Equality, War In Ukraine
Pope Francis on Sunday addressed gender equality and called female genital mutilation a "crime" while aboard the papal plane en route home to Vatican City after his visit to Bahrain. He also called the Russia-Ukraine War a "world war" and its leaders only wish to "feel strong."
Francis responded to reporters' questions about women's rights following the Iranian protests sparked by the death of 22-year-old Mahsa Amini, who was detained and then allegedly fatally beaten by morality police after she was accused of violating Iran's strict dress code for women.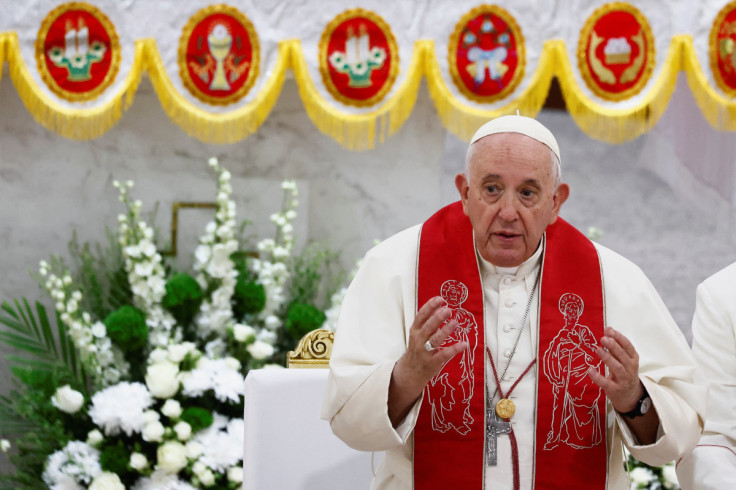 Francis did not directly address the question but did say: "How is it that today in the world we cannot stop the tragedy of infibulation of young girls?" he asked, referring to the ritual cutting of a young girl's external genitalia. "This is terrible, that today there is a practice that humanity must stop. It's a crime. It's a criminal act!"
He also commented that many women worldwide are still treated as second-class citizens. "God... created two equals: man and woman," Francis said. "We have to continue to fight this, because women are a gift."
This is not the first time Francis has addressed gender equality. In February, he spoke to Vatican City on the U.N. International Day of Zero Tolerance for Female Genital Mutilation, condemning female genital mutilation and sex trafficking as an affront to humanity that "humiliates the dignity of a woman and gravely attacks her physical integrity."
During the flight, Francis also spoke about Ukraine and the world's many conflicts.
"This one is a world war, because it is true that when empires, either on one side or the other weaken, they need to make war in order to feel strong – and also to sell weapons! I believe that today the greatest calamity in the world is the arms industry," he said.
© Copyright IBTimes 2023. All rights reserved.