Pope Francis Awarded Honorary Sommelier Diploma, Debunks "Teetotaler" Rumor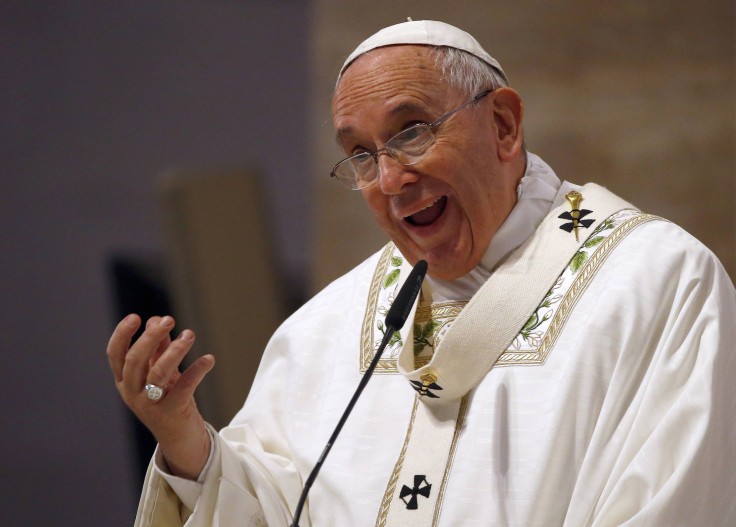 Pope Francis is a big fan of wine – and not just the sacramental kind. On Wednesday, the Pope hosted a group of wine enthusiasts from the Italian Sommelier Association and told them he occasionally indulges in a glass, before accepting an honorary sommelier diploma.
"I'm not a teetotaler," the pope said, according to a report by Breitbart, debunking rumors that he drank only mate tea, an herbal infusion commonly consumed in Latin America. "I drink a little wine from Italy and other countries from around the world. But just a little."
Franco Maria Ricci, the president of the Italian Sommelier Association, which brought 180 wine producers, vintners, sommeliers and wine writers to the event, was happy to hear Francis' enthusiasm for wine, which he reportedly weaved into his sermon. In addition to the honorary sommelier diploma, Ricci's delegation also gifted the religious leader with a Tastevin, which is a wine tasting bowl, and two bottles of red wine.
"The idea of asking for an audience with the pope came to me when I heard that he made so many references to good wine in his preaching," Ricci said, according to local Italian newspaper Il Messaggero. "For us producers, sommeliers and vintners, it is an important honor and an encouragement of our work."
The pope, whose grandfather was an Italian winemaker in the Piedmontese region, has been vocal about his appreciation for wine in the past. Last February, the pope made headlines when he was quoted as saying, "Without wine, there's no party," in reference to the famous late-Renaissance oil painting "Wedding Feast at Cana." "Imagine finishing up the feast drinking only tea!" he added.
The pope's name came up again in a wine context just last week, when the Catholic-owned Trinitas Cellars winery in California's renowned Napa Valley unveiled its newest addition – the "Cabernet Francis," which is a play on Cabernet Franc. According to Religion News Service, Trinitas Cellars CEO Garret Busch says the wine embodies many of the qualities that the pope exudes, calling the 2012 red wine "big, bold, rich, approachable," just like its namesake. The wine will sell at $75 a bottle and is part of the winery's "Faith Collection," which includes other wines with Catholic-inspired names like "Rose'ary" and "Psalms."
© Copyright IBTimes 2022. All rights reserved.
FOLLOW MORE IBT NEWS ON THE BELOW CHANNELS