Papal Visit In The Philippines: Pope Francis' Progressive Catholicism Finds Adepts In A Conservative Country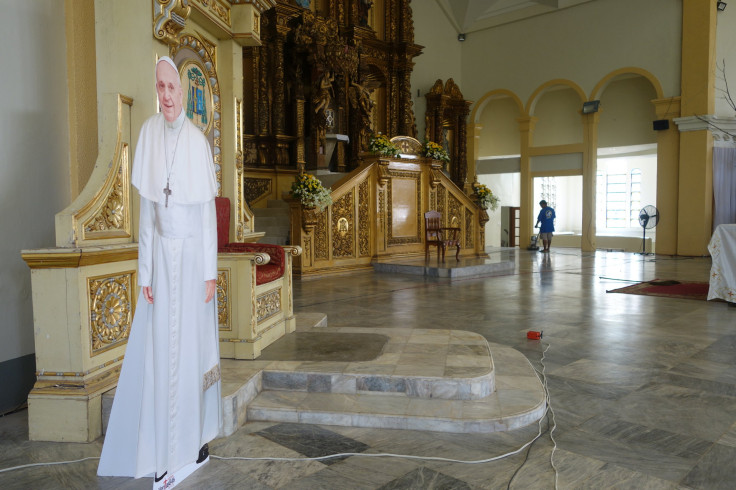 MANILA, Philippines -- When Pope Francis lands here on Thursday, he will be greeted by record crowds in Asia's largest Catholic country. His first visit to the Philippines is expected to draw almost 6 million people, which would beat the 1995 visit by John Paul II, currently holding the record for highest attendance at a papal event, with 5 million.
But this time the excitement surrounding the papal visit is fueled partly by the pope's refreshing candor and reformer style, which resonates even in a country where mainstream Catholicism has long been a very conservative religion.
For many Filipinos, Pope Francis' tour, from Jan. 15 to 19 -- when he will be be celebrating Mass in Manila, as well as in the typhoon-devastated areas of Tacloban and Palo in Leyte province -- will be an occasion to hear firsthand a message that's making Catholicism a place where religious values can coexist with subjects that have long been taboo here, like sex education, homosexuality and divorce.
"I think what Francis is doing by addressing these issues, he's addressing a constituency, a major part of the world which otherwise would be in a twilight zone, unrecognized, unaddressed," Fr. Luis David, a Jesuit and a philosophy professor, told Filipino news site Rappler. "He's precisely bringing [them] back to the table of negotiation, these people who, for the longest time, have lived out on the edges, below the radar."
Pope Francis is, in fact, ahead of the leaders of his church in the Philippines on social issues.
The Catholic church's traditional position of unquestioned power on social issues was challenged recently over the so-called Reproductive Health Bill, which provided universal access to reproductive health care services and information, particularly for the poor. The church not only opposed the RH bill but actively lobbied against it. Archbishop Ramon Arguelles called Philippine President Benigno Aquino's support for the bill a declaration of "open war" against the church. However, Aquino was not alone in his endorsement: In a survey taken in the Philippines in 2008 by Social Weather Stations, a social research institution, 71 percent of respondents were in favor of passing the bill. Despite the Church's efforts, Congress eventually passed the bill after a 14-year struggle between women's rights activists and Catholic bishops, marking a shift away from traditional Catholicism toward a more modern version.
The pope certainly won't announce a formal change in the Vatican's opposition to contraception and abortion, said a prominent Filipino theologian, Father Catalino Arevalo. But his charisma and openness, such as when he said "Who am I to judge?" in reference to gay people, will resonate in the Philippines, according to Arevalo.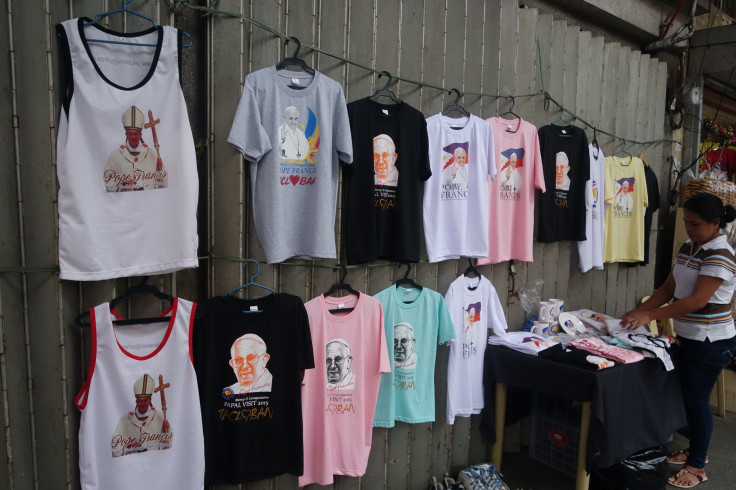 Another thing Aquino and the pope share is a similar background. The first Jesuit pope may find cultural common ground with the president, who was educated by the intellectually rigorous Jesuits, known to be the church's most progressive thinkers.
"Both leaders are products of Jesuit education and training, which emphasizes empathy and service to people," Herminio Coloma Jr., the president's press secretary, said. "The Aquino administration's goal to achieve inclusive growth is aligned with the Pope's strong advocacy for helping the poor."
The Pope's visit is also aimed at evangelizing. By the time the Pope arrives in the Philippines, he will have already spent time in two other Asian nations, South Korea and Sri Lanka, where Catholics are 6 percent and 11 percent, respectively. In an interview with Vatican Radio, Vatican spokesman Fr. Federico Lombardi called Asia "one of the great frontiers" for the Catholic church, "a boundless terrain of evangelization" that is difficult to penetrate because of cultural, social and political uniqueness in the region.
"There is room for enlarging the numbers of Christians, and obviously that's a very nice spot to start -- from the Philippines, which is a Catholic country," Lombardi added.
"The Pope's visit kindles the Filipinos' enthusiasm in a most unique manner," Coloma said. "Pope Francis has evoked much affection and endearment on account of his simplicity and candor. He has brought his lofty office within reach of the common people… He is a rallying point for the Filipino faithful."
The enthusiasm has manifested in a range of papal merchandise including mugs, keychains, T-shirts and calendars emblazoned with Francis' face. Similarly branded banners and billboards line Manila's highways and streets. There are even two productions called "With Love, Pope Francis" and "I Love Pope Francis," a play and a musical respectively, directed and produced by Filipinos, set to run during his visit.
"Three of the five days of his visit have been declared as special nonworking holidays to enable as many people to witness and participate in this landmark event," Coloma said.
That may be a high point even for a pope who has earned the covers of Time magazine and Rolling Stone, as well as a Nobel Peace Prize nomination.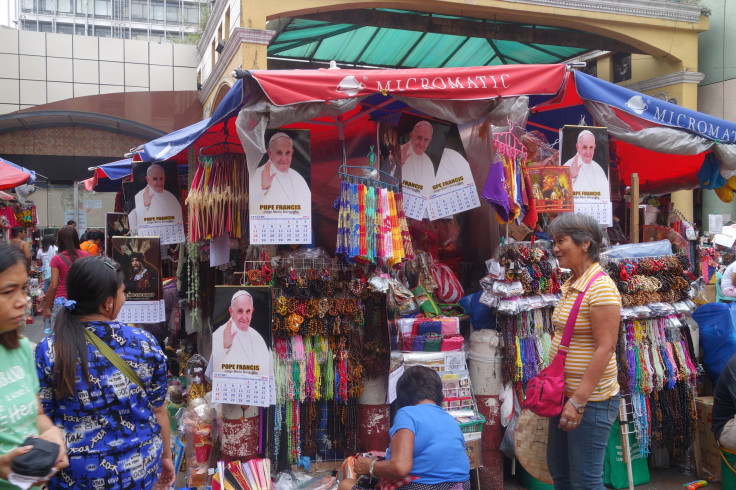 In December, the Roman Catholic Archdiocese of Manila introduced additional official papal visit prayers and hymnals to Sunday Mass, and in some cases passed around additional offering baskets to help the poor in the name of "mercy and compassion," the Pope's visiting message. At the Sto. Niño De Paz Chapel located in Metro Manila's Greenbelt Park, Sunday Mass ends with the newly introduced national prayer of the papal visit and an accompanying Powerpoint slideshow of images of the Pope.
At Minor Basilica of Black Nazarene, a church located in a commercial neighborhood of Manila called Quiapo, preparations for the Pope's arrival has opened the door for opportunistic entrepreneurs. Outside the Quiapo church, which just wrapped up the annual Festival of the Black Nazarene, the country's largest annual religious gathering attracting millions and considered a "dry run" of the Pope's visit, shopkeepers and street peddlers are already stocking vast amounts of calendars, plates, and other Pope-themed memorabilia.
Francis' status as pop-culture icon was on display throughout the market. "The Beatles had the Ed Sullivan show, Francis will have us!" a Manila taxi driver who gave his name as Jon-Jon said, "and the rosary I hang on my mirror will be here long after the Pope is gone."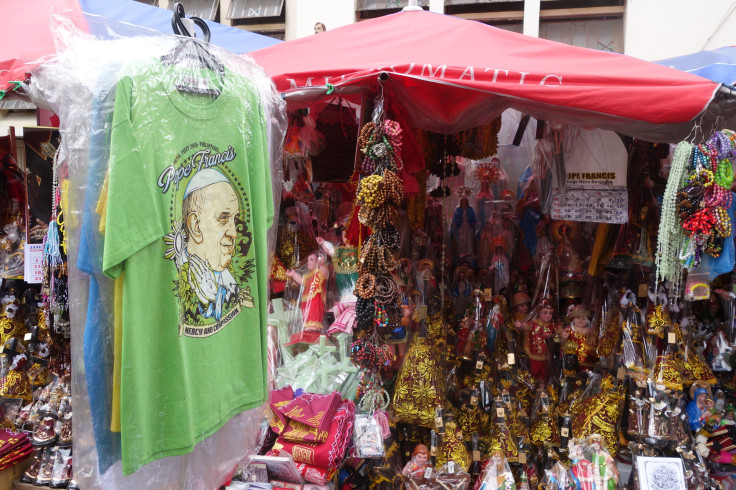 © Copyright IBTimes 2023. All rights reserved.