Pope Francis Presses Mexico's President And Bishops On Corruption And Drugs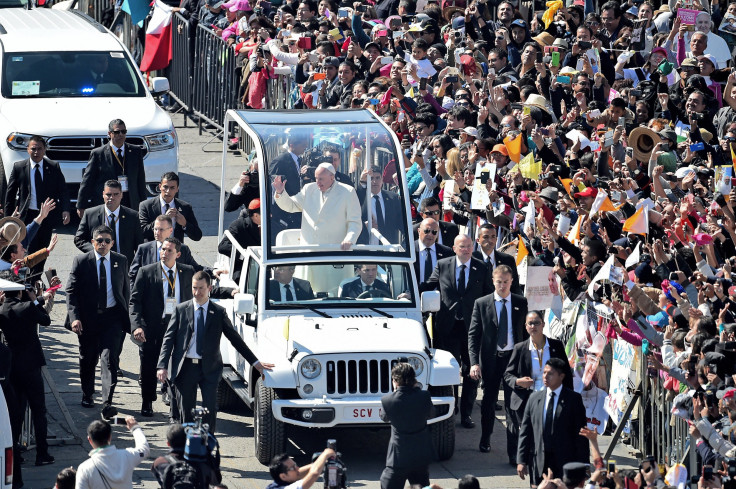 Pope Francis launched a broadside against endemic corruption Saturday on his first visit to Mexico as the Roman Catholic pontiff, calling on President Enrique Peña Nieto and his government to combat it. Corruption is deeply ingrained in Mexico, and Peña Nieto, his wife and finance minister have all been embroiled in conflict-of-interest scandals involving homes purchased from government contractors.
The pope also exhorted Mexico's bishops to take a more active stand against the drug trade, which he said "devours like a metastasis." He told them to make it clear to drug dealers that they could not consider themselves good Catholics if their hands were "drenched in blood, but pockets filled with sordid money and their consciences deadened."
Drug-trafficking gangs have infiltrated police forces across the country and more than 100,000 people have been killed in drug violence during the past decade. Some 26,000 are missing.
"Experience teaches us that each time we seek the path of privilege or benefits for a few to the detriment of the good of all, sooner or later the life of society becomes a fertile soil for corruption, the drug trade, the exclusion of different cultures, violence and also human trafficking, kidnapping and death," the pope said in a speech to Peña Nieto, the government and foreign diplomats. He said Mexico's leaders have a "particular duty" to move past corruption and violence and work for the collective good.
Speaking in his native Spanish before bishops inside Mexico City's main cathedral, the Argentine-born pontiff urged religious leaders to do more to help migrants, "pouring balm on their injured feet" through social and charity programs. "Brothers, may your hearts be capable of following these men and women and reaching them beyond the borders," he said, calling on Mexico's church to strengthen its ties to the U.S. episcopate.
The pope has made migration one of the central issues of his papacy, and is due to end his visit to Mexico in the notorious northern border city of Ciudad Juárez, where he will meet relatives of victims of violence.
From the U.S. border to the indigenous south, Francis will visit some of Mexico's poorest and most violent corners during his five-day trip.
Mexico is the world's second-most-populous Roman Catholic country, and hundreds of thousands of people are expected to join the pope Saturday afternoon at a Mass at Mexico City's basilica for the country's patroness, the Virgin of Guadalupe.
"'Don't be afraid,' that is what she tells me," the pope said ahead of his visit, adding that he wanted to reflect silently in front of her image.
Carrying pictures of the pope and the Virgin of Guadalupe, and wrapped up against the winter chill, thousands converged on Mexico City's historic center as the pope addressed the government at the presidential palace.
"This country needs his blessing. We're really struggling with corrupt politicians, unemployment and drug gangs, and everyone knows it," said Juanita Lopez, a 58-year-old maid, as she walked to the Zocalo, the capital's main square, clutching a rosary.
The pope this month urged Mexicans to fight against corruption and brutal drug gang violence. Some Mexicans are looking to him to take that even further while he's here.
During his visit, the pope will celebrate Mass with indigenous communities in Mexico's poorest state Chiapas and speak with young people in Morelia, the capital of Michoacán state that has been plagued by violence between drug gangs and armed vigilante groups. In Juárez, he will also visit a prison.
In a reminder of Mexico's corruption and violence, 49 people were killed in a fight between rival gangs in a prison just days before the pope's arrival.
© Copyright Thomson Reuters 2023. All rights reserved.