Prague Metro Plans 'Love Carriage' For Lonely Singles, As Czech Marriage And Birth Rates Plunge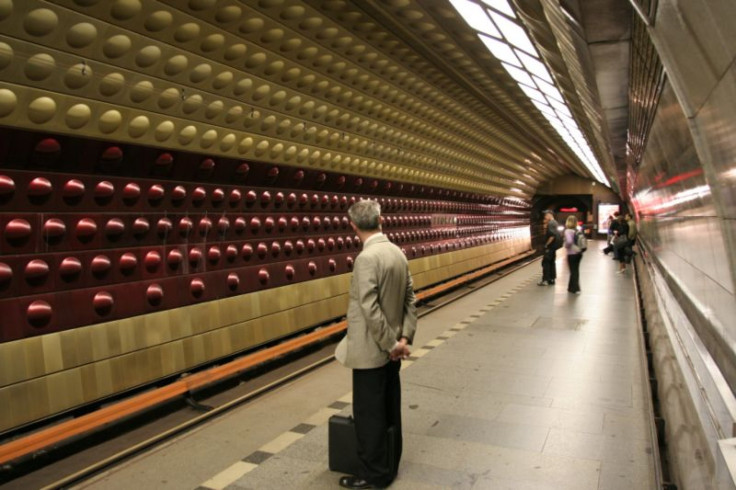 Lonely Czechs in the city of Prague may have a new way to meet that special someone -- the local subway system is providing carriages specifically for singles, in hopes that they will mingle and eventually develop relationships leading to marriage.
Tyden, a Czech weekly newsmagazine, reported that the Prague Public Transport Company, which runs the overall metro system, wants to commence this project by the end of the year in cooperation with Ropid, the municipal organization that operates transportation in Prague.
"People today have no place to meet. Maybe somewhere at parties, or at work. In the metro you can already read and learn, so why not find a partner?" said Filip Drapal, spokesman for Ropid.
"We want to make life more pleasant. People today have no time to meet. We do not know yet whether the dating car will be the last carriage on each train and whether it will be one work day a week or one an hour. We need to do some fine tuning."
Monika Lojínová, a spokeswoman for the Prague transport company, told Tyden that the focus would be on young Czechs.
Tyden's readers seem divided in the idea of the "love train"; a little over half (54 percent) of those who replied to a survey said it is a "great idea"; while 43 percent derided it as "utter nonsense."
However, there are serious issues behind all this. As with many other European countries, the Czech Republic is witnessing falling birth rates and declining number of marriages.
According to Eurostat, the statistical arm of the European Union, the 27 countries in the union have experienced a plunge in marriages since 1970 and a rise in divorce.
In 2010, the EU-27 recorded 2.2 million marriages, versus 1.0 million divorces in 2009. Thus, the "crude marriage" rate -- that is, the number of marriages per 1 000 inhabitants, amounted to 4.4 in 2010, while the crude divorce rate checked in at 1.9 in 2009.
In 1970, the crude marriage rate stood at 7.9 per 1,000 inhabitants -- an overall decline of 36 percent in the absolute number of marriages. The crude divorce rate has almost doubled since 1970.
For the Czech Republic specifically, the crude marriage rate has plummeted from 9.2 per 1,000 inhabitants in 1970, to 4.3 in 2011. Over that period, the crude divorce rate has edged up from 2.2 divorces per 1,000 inhabitants to 2.7
Czech media reported that women in the country are also having fewer and fewer children.
In 2011, the total number of births in the country dropped by 8,500 to 108,700 from 2010, according to the Czech Statistical Office (ČSÚ).
"The decline in 2011 was significantly higher than the two preceding years combined," the CSU stated.
The fertility rate for Czech women -- that is, the average number of children they have -- fell to 1.42 in 2011 from the average 1.49 in 2009-2010.
In addition, women are postponing childbirth -- the average age that mothers give birth climbed by five weeks in 2011 to 29.7 years, with the highest fertility rate now seen among those aged between 28 and 31.
© Copyright IBTimes 2023. All rights reserved.