Preakness 2014: Favorites, Sleepers, Early Betting Odds And California Chrome Update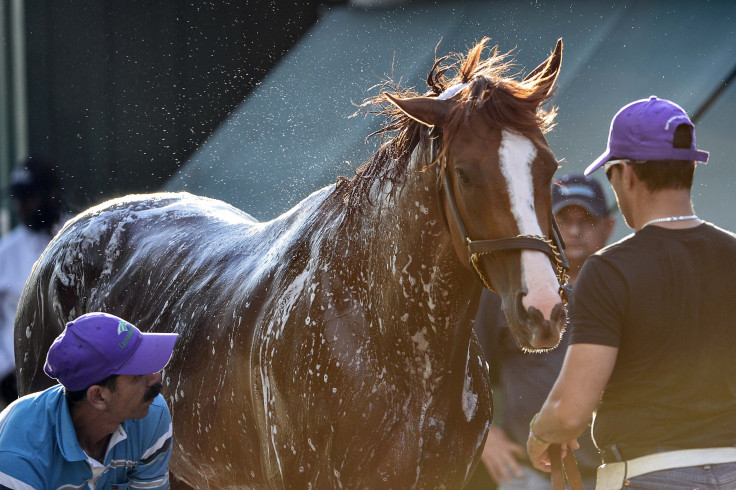 After taking in the full breadth of Pimlico and completing his first practice run, California Chrome's quest for the Triple Crown continues Saturday at the 139th running of the Preakness Stakes in Baltimore.
On Tuesday, California Chrome trotted out onto Pimlico's 1 3/16-mile dirt track and appeared rather comfortable, while poking his head around to display his rather curious nature.
"He jogged and he was great," assistant trainer Alan Sherman, son to trainer Art Sherman, said to Reuters. "He stood out there for a while, just looked around and took it all in. He's a really curious horse.
"He likes to look around a lot and check out the surroundings. He was good. He was really good."
The first California-bred horse to win the Kentucky Derby in more than 50 years, California Chrome is the overwhelming odds-on favorite to win the Preakness at 5-8, followed way back by Social Inclusion at 6-1 and Bayern and Ride On Curlin at 12-1, according to Bovada.lv.
There are several factors that make California Chrome the favorite to win the $1.5 million purse on Saturday. For one thing, he'll face far fewer competitors as the field has gone from 19 at the Derby to 10 at the Preakness, which typically allows a maximum of 14 thoroughbreds to race.
The weather forecast also calls for similar and kind conditions like those at Churchill Downs two weeks ago, partly cloudy with a high of 70 degrees Fahrenheit.
And of course no horse in the field has beaten California Chrome to date, and only two of them, General A Rod and Ride On Curlin, competed in the Derby. Danza and Wicked Strong were seen as California Chromes biggest threats at Churchill Downs, but their connections opted out of the trip to Baltimore. Pablo Del Monte, a 25-1 longshot, was also specifically held out of the Derby as a replacement so his connections could prep him for the Preakness.
Still, California Chrome has won five consecutive races and it's possible he might not have much left in the tank to snag the second jewel of the Triple Crown.
That wear and tear could leave the door open for a major upset on Saturday.
Ride On Curlin hasn't won a stakes race yet, but he's placed in four stakes races and came up only seven lengths short of California Chrome for a seventh place finish at Churchill Downs. His lineage also includes 2007 Preakness winner Curlin, and he'll take on a much shorter track at Pimlico.
Ria Antonia could also be the first filly to win the Preakness since Rachel Alexandra in 2009, and the sixth all-time. By far the biggest longshot at 33-1 odds, the daughter of sire Rockport Harbor has lost in all three of her starts this year but did finish second at the Grade I Santa Anita Oaks and last year was named Canada's top juvenile filly.
Betting Odds
California Chrome 5/8
Social Inclusion 6/1
Bayern 12/1
Ride On Curlin 12/1
Kid Cruz 14/1
Dynamic Impact 16/1
General A Rod 20/1
Pablo Del Monte 25/1
Ring Weekend 25/1
Ria Antonia 33/1
© Copyright IBTimes 2023. All rights reserved.