This Premier League Club Won't Sign Unvaccinated Players During January Transfer Window
KEY POINTS
Liverpool were held at a 1-1 draw with Spurs on Sunday
Liverpool were without four key players for that game
The Reds next play Leicester City on Wednesday
Jurgen Klopp has said Liverpool FC won't sign unvaccinated players during the upcoming January transfer window.
Klopp has emphasized how important it is for players to protect themselves and their teammates, calling unvaccinated players a "constant threat" for his entire squad.
"I think it will be influential, definitely, in who clubs sign. If a player is not vaccinated at all, he is a constant threat for all of us. He doesn't want to be a threat, it's not that he thinks 'I don't care about the others', but he is," Klopp said in a pre-match conference ahead of Liverpool's league clash with Tottenham, Goal reported.
Klopp also explained the complicated logistics of signing an unvaccinated player.
"From an organizational point of view, it gets really messy. We'd have to find different scenarios. He has to change in a different dressing room, he has to eat in a different dining room, he has to sit in a different bus, he has to drive in a different car. If you really want to follow the protocols, it is incredibly difficult to do. If we have to travel to a country to play international football and we come back, he has to get self-isolated, all these kinds of things. Of course, it is going to be influential [in signing]," added Klopp in the same interview.
While Liverpool have been linked with quite a few players, including Porto's Luis Diaz, ahead of the winter window, Klopp has confirmed that the Anfield club is not close to making any signing yet.

"We are not close to signing a player," Klopp said.
Liverpool were without as many as three players – Curtis Jones, Fabinho and Virgil van Dijk – for their league clash with Newcastle United earlier this week because of COVID-19. Thiago Alcantara missed the next game, which was an away fixture against Tottenham on Sunday, as the Spaniard was a suspected fourth coronavirus positive case in the Liverpool camp.
In what turned out to be a controversial game, Liverpool were held at a 1-1 draw at the Tottenham Hotspur Stadium. Unhappy with quite a few decisions from Paul Tierney, Klopp confronted the on-field referee on the pitch after the full-time whistle in North London. "I have no problems with other referees, only you," Klopp told Tierney.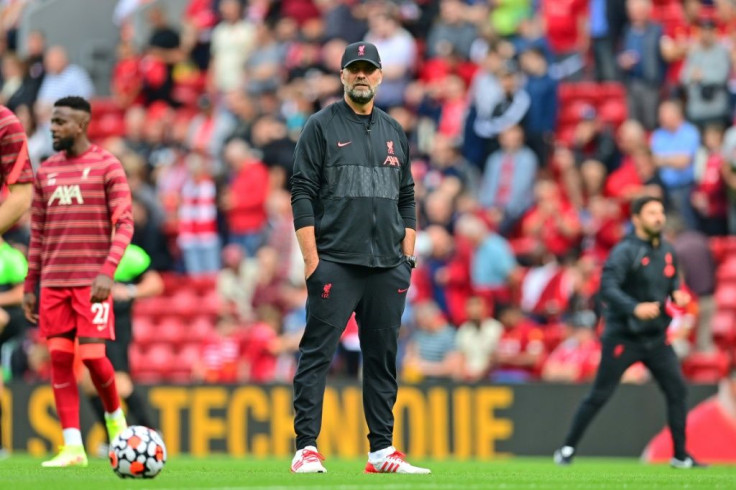 Liverpool's upcoming game is the League Cup quarter-final tie against Leicester City at Anfield on Wednesday.
© Copyright IBTimes 2023. All rights reserved.