Premier League News: Jurgen Klopp Responds To Roy Keane For Calling Liverpool 'Sloppy'
KEY POINTS
Liverpool defeated Arsenal 3-1 in their recent Premier League matchup
Roy Keane said Liverpool had some "sloppy" moments at the start of the match
Jurgen Klopp called out Keane regarding his comment
Liverpool manager Jurgen Klopp responded to Roy Keane's comments on the Reds' recent 3-1 win over Arsenal in the Premier League.
The Manchester United icon Keane shared his thoughts on the game and analyzed how Liverpool was able to come up with the win.
"They're like a machine," Keane was quoted by Goal, as saying.
Keane continued to praise Liverpool on how the defending Premier League champions were able to stay in top condition throughout the match.
"They've got great quality going forward. They're obviously one of the fittest teams around. They suffocate teams. I know Arsenal were encouraging them by playing out from the back but they have loads of goals in them," Keane shared.
The three-time footballer of the year continued by saying that despite the things to improve on, Liverpool performed well in their win.
"They were sloppy on one or two occasions at the back but job done and a good start to the season for them," Keane pointed out.
While these words were meant to commend Liverpool, Klopp took offense to what was said about his club.
"Did I hear it right, that Mr. Keane said it was a sloppy performance tonight? I could hear you already, did he say that?" Klopp asked.
"That is an incredible description of this game, that was absolutely exceptional. Nothing was sloppy, absolutely nothing," Klopp continued.
It was an all-around effort from the Anfield-based squad as they were able to take control of the offense. The trio of Sadio Mane, Andrew Robertson and Diogo Jota stepped up and scored for Klopp in their victory.
"From the first second, we were dominant against a team in form, 100% in form. You have to be careful like hell and not get counter-attacked. I think 60 or 70% of all the balls in behind were offside. You have to wait a little longer for the flag now so that's why it feels not great, but they were offside," Klopp added.
Klopp didn't stop there as he emphasized that there's no doubt their team played excellently during the game.
"About this game tonight, there is nothing bad to say. It was the opposite of sloppy," Klopp added.
Emotions were high for Klopp, but Keane had the last word in their exchange.
"Very sensitive, Jesus. Imagine if he'd lost!" Keane responded.
Liverpool is currently undefeated in this year's Premier League with three wins. The Reds will face Arsenal again on Oct. 2 for the English Carabao Cup Round of 16.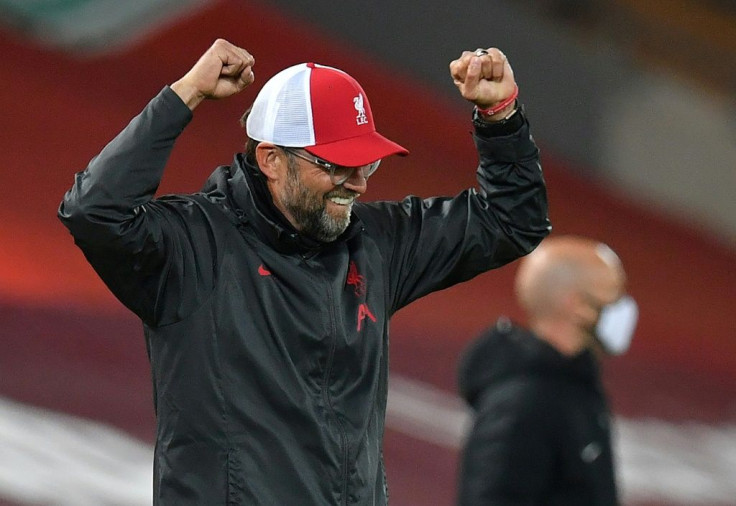 © Copyright IBTimes 2023. All rights reserved.