Prince Andrew Publicly Denies Sex Allegations Against Him While Speaking At Davos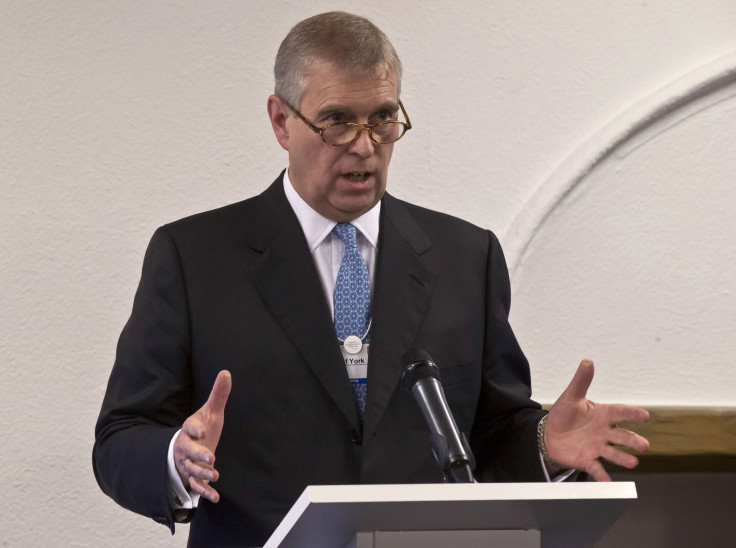 Britain's Prince Andrew has for the first time publicly denied allegations made by a woman who alleges that she was forced to have sex with him when she was 17 years old.
Speaking at a reception at the World Economic Forum in Davos, the prince reportedly said: "Firstly I think I must, and want, for the record, to refer to the events that have taken place in the last few weeks, and I just wish to reiterate and to reaffirm the statements which have already been made on my behalf by Buckingham Palace. ... My focus is on my work."
The prince's denial follows previous statements from Buckingham Palace, which denied the allegations, branding them "categorically untrue" and lacking "any foundation."
An unnamed guest at the reception at which the prince spoke, told the Independent of his unease at the prince's attendance. "It is a bad call for him to be here. It is just a distraction. I would have understood if the event had been cancelled and it wouldn't have been seen as a signal of anything."
The BBC's royal correspondent Peter Hunt reported: "We have had two unprecedented statements from Buckingham Palace and now this, Prince Andrew on camera.
"It's a sign of how damaging these allegations are and the price he is paying for his past friendship with a convicted sex offender."
The sex offender in question is Jeffrey Epstein, formerly a prominent U.S. financier, was convicted on a single charge of soliciting prostitution from a minor, and served 13 months in jail. He also, however, reached 16 out-of-court settlements with women who alleged that he sexually abused them, according to the Telegraph.
The prince's personal denial of the allegations against him came the day after new details about the allegations emerged in legal submissions filed with a Florida court. In the filing, Virginia Roberts, known in the case as Jane Doe #3, alleges that she was paid $15,000 by Epstein "to keep my mouth shut," about her encounter with the prince.
"I had sex with him three times, including one orgy," Roberts claims in her affidavit. "I knew he was a member of the British royal family, but I just called him 'Andy'," the Guardian reported.
The documents also revealed that Roberts' lawyers had written to Buckingham Palace to request an interview with Prince Andrew, "under oath regarding interactions that you had with Jane Doe No. 3 beginning in approximately early 2001. Jane Doe No. 3 was then 17 years old."
"The interview could be conducted at a time and place of your choosing, and with your cooperation, I believe the interview could be completed in two hours or less," it said, according to CNN.
Buckingham Palace did not respond Thursday to a request for comment about the letter, the CNN report added.
© Copyright IBTimes 2023. All rights reserved.