Pro-Democracy Protests Erupt In Hong Kong Over Controversial Electoral Decision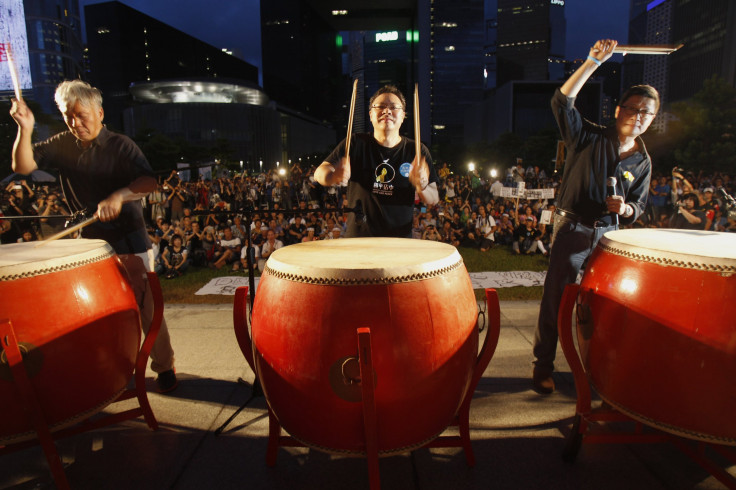 Pro-democracy demonstrations erupted in Hong Kong Monday over China's decision Sunday not to allow a fully democratic election to select the former British colony's next leader. Hong Kong police employed pepper spray to break up protests outside the AsiaWorld-Expo center where Li Fei, deputy secretary-general of the standing committee of the National People's Congress, was laying out the plan for the 2017 election, according to the Wall Street Journal. The plan would not allow Hong Kong residents full suffrage, instead requiring that candidates be approved by a Communist Party nominating panel, Reuters reported.
Critics contend that such a requirement would mean a ballot full of Beijing cronies and without democratic opposition candidates. Demonstrators denounced the ruling Monday, and a group called Occupy Central has declared it will lock down the vital Hong Kong financial district on a to-be-determined date should their demands for free elections not be met.
Hong Kong legislators who support full democracy for the Special Administrative Region went so far as to disrupt Li's remarks, holding up signs reading "Breach of Promise" and "Shameful" and yelling to express their displeasure, the Journal reported. Several lawmakers were removed from the AsiaWorld-Expo center by police as the speech continued, while protesters outside the venue held up signs in support of "Genuine Elections."
China has run Hong Kong according to a so-called one country, two systems policy since Britain handed it over in 1997. Pro-democracy voices say the announcement about the election goes against that policy, but the Communist Party maintains the 2017 election will be freest, most democratic ever.
© Copyright IBTimes 2023. All rights reserved.