The Professional Mourner: A New Tradition At Chinese Funerals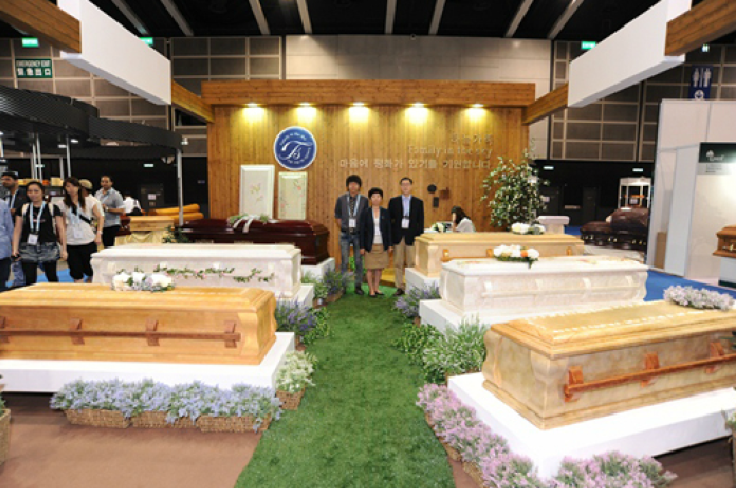 China has some odd (at least for most Westerners) traditions and superstitions. Unusual stories have come out of China's funeral industry recently, whether it is the new trend of playing pop hit "Gangnam Style" or bizarrely themed caskets. Adding to the list of new, seemingly unusual funeral traditions is Hu Xinglian, a professional mourner.
As a professional mourner, Hu's job includes screaming and sobbing at funeral events in her area. According to NPR, she is one of the most acclaimed mourners in the southwestern city of Chongqing, known for her kusang, which literally means "crying and shouting." Hu broke into the theatrical crying business more than a decade ago when she lost her job as a department store clerk after some downsizing at the company. Looking for a job, she found herself crying -- professionally.
"Our entry into the world is splendidly dramatic, so our exit from this world also needs to be spectacular," Hu Xinglian, who goes by Dingding Mao or Dragonfly professionally, said. "A big part is saying the last goodbye to the dead person. We need to show our feelings for others to see and to display the filial piety of the offspring," she said. "Some people can't cry. So I use my heart to sing this song to represent the loss of the younger generation."
The professional mourning business has remained lucrative, because older generations want people to cry at funerals. At one Chongqing funeral, Hu arrives at a funeral with a troupe of six other actors and musicians in tow. While all of the traditional trimmings of a Chinese funeral are present, like a spread of food for guests and mourners, the juxtaposition of the sad ceremony next to the growing city's skyscrapers and modern housing complex say a lot about how even the funeral industry is changing.
The family of Zhang Tuijin, a 67-year-old who died of heart failure, said that people these days no longer know how to mourn the dead. People's lives are consumed with the modernity of the new China so much that they are no longer in touch with their spiritual side. "We need a proper mourner because young people don't know how to cry anymore," Xu Xinwei, the niece of the deceased, said. "We paid for a whole package for the funeral service," Zhang Yingshu, the daughter of the deceased farmer, who was still working until the day before his death, said. "Because he worked hard his entire life, we definitely need to remember him."
Hu's ceremony is quite dramatic; after all, that's what she's being paid for. "He was a good man, a good husband, a good father, a good grandfather," she said, choking down sobs. "He has gone now. He has left this world full of life."
Music swells behind her as she drops to her hands and knees and begins crawling to the coffin while wailing in sorrow. "You were like a tall tree sheltering your kids from the wind and rain," she moaned. "We never thought you'd leave so soon."
The performance continues to escalate, culminating with confetti-like pieces of paper, traditionally burned to remember the dead, tossed in the air. The family joins her in front of the casket as they bow at the side of the coffin, tears running down everyone's cheeks. As the ceremony ends, a young woman from the troupe begins belly-dancing in front of the coffin, her embellished clothing clinking as she moves her body. Modern elements of flashing lights and hip-hop-style dancing then begin to fill the ceremony -- a bizarrely fitting end.
© Copyright IBTimes 2023. All rights reserved.