Mark Hodge Murphy
President and Chief Executive Officer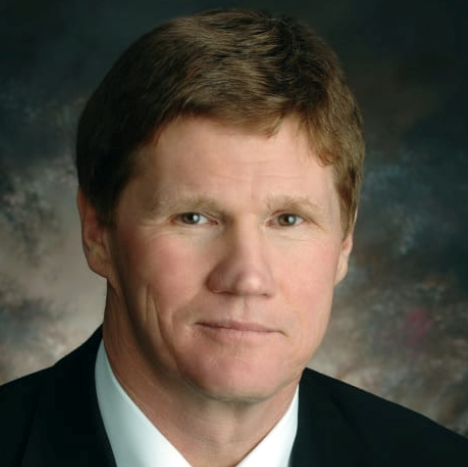 Mark Murphy is the current president and CEO of the Green Bay Packers of the National Football League (NFL). Proving that social capital can thrive even in the world of pro sports, Murphy has rightfully earned his place as one of the most respected leaders in history.
And why wouldn't he? As the leader of the only publicly-owned, not-for-profit major professional team in the U.S., Murphy has stayed true to the intent of that legacy. It first started in 1923, when fans helped support the team by buying shares to keep it afloat. This seed grew steadily, leading to a community of 361,311 people owning the franchise (therefore making it a community project) — and Murphy knows that the only way to move forward is to give back to the same people.
This is why under his leadership, the Packers have held community events like "Empower Leadership," a leadership event for middle school students, "Christian Outreach Ecumenical Thanksgiving Dinner," a Thanksgiving experience for those in need, and "Festival of Lights," a family-friendly holiday event that they've followed for the last 13 years. There's also the Green Bay Packers Foundation that supports community-based charities, as well as Murphy himself making a personal donation of $250,000 to match the organization's pledge to Wisconsin causes for social justice.
Before leading the Packers to win another Super Bowl, Murphy was a standout NFL player that helped Washington make it to two of them — and win one in the process. He obtained his M.B.A. from American University's Kogod School of Business and graduated with a J.D. degree from the Georgetown University Law Center.
Mark Murphy, Green Bay Packers - Why We Recognized Him:
It's amazing how few people know that the Green Bay Packers are a community-owned team, and CEO Mark Murphy is all about staying true to the important intent of that legacy in the high-dollar industry of modern professional sports.
As a standout NFL player, he helped Washington make it to two Super Bowls and win one. As a CEO of the Packers for the last 13 years, he has helped the team win another Super Bowl, but even more importantly, he has driven home their value to the community in some pretty compelling ways from communicating with personally and listening to the concerns of the fans, and even making sure the construction teams for refurbishing Lambeau Field were all local.
The Green Bay Packers have been a publicly owned non-profit since 1923. Today, 361,311 people own the franchise, and the bylaws state that the Packers are a community project, intended to promote community welfare. This is a responsibility that the Packers and Murphy take extremely seriously and why they fit in perfectly to our Social Capital list this month.
The kindness that they spread in their community is incredible. From their Empower leadership event held at Lambeau Field, where they bring in middle school students for a full day conference, to their "Christian Outreach Ecumenical Thanksgiving Dinner" where they provide holiday meals for those in need. Then there is the Festival of Lights, where for the past 13 years, the Packers have created a free family-friendly holiday event including holiday movies and cartoons, card-making, music performed by local high school choirs, cookie-decorating, photo opportunities with Santa Claus and a tree-lighting ceremony.
The Green Bay Packers Foundation supports charities that "perpetuate a community environment that promotes families and the competitive value of athletics; contributes to player and fan welfare; ensures the safety and education of children; and/or prevents cruelty to animals."
"Give BIG Green Bay" is one of the Foundation's premier events in conjunction with the Greater Green Bay Community Foundation, which highlights the work of 40 local nonprofit organizations. The combined three-year total of this unique crowd-funding effort has exceeded $3.4 million of support for local nonprofits.
They also spent millions to help the Green Bay Police Department buy body cameras and other technology that will help them in protecting the community. And the Packers recently teamed up with the Milwaukee Bucks and Milwaukee Brewers to help Black- and Latinx-owned startups raise investment money and other resources.
Murphy himself has stayed true to that kindness and community promise himself since taking over the leadership of the team. When Mr. Murphy needed to choose a construction team for work on historic Lambeau Field, he wanted one that would take great pride in the build and a company that was a part of the community.
He shows his very real, candid and personal dedication to his fans and his relationships to them through his "Murphy Takes 5" monthly column which he personally writes that is published on the first Sunday of every month. There he picks a subject of fan interest to expound upon and also responds very openly to questions that are submitted. In the last year, he used that forum to speak very openly and honestly about everything from racial justice and the issue of taking a knee for the National Anthem to the pandemic and the complexities of playing through it to how he Packers are helping the community to stay prosperous and safe through all the challenges of the last year.
Mark Murphy made a statement recently not just with words but with his checkbook, when the Green Bay Packers President/CEO made a personal donation of $250,000 to match the organization's pledge to Wisconsin causes to affect social justice. He also donated $100,000 to help The Milwaukee Public Schools Foundation campaign and its mission to support social justice and racial equality in Wisconsin last year.
We tend not to include non-profits in our Social Capital section, but this was an exception because Murphy is not just showing kindness to the Packers community and the larger legacy of the team, but proving that Social Capital can thrive in even the hard-nosed, traditionally profit-crazed world of pro sports. And if it can prosper there, it can prosper anywhere.
| Current Position | Tenure at Current Position | Previous Position |
| --- | --- | --- |
| Green Bay Packers | January 2008 - Present | Northwestern University |
| Education | Industry | Sub Industry |
| Georgetown University | | |