Puppy Bowl 2023: Streaming Details, Adoption Process And More
Team Ruff will take on Team Fluff at the 19th edition of the Puppy Bowl on Feb. 12, parallel to NFL's Super Bowl. The event is designed to boost awareness about pet adoptions across the U.S.
At least 122 dogs are slated to play at Puppy Bowl XIX, coming together from 67 shelters and rescue centers across 34 states, CNN reported. The latest addition to the game is a puppy from Dominica, West Indies.
Unlike football, the Puppy Bowl has a loose set of rules and focuses on displaying the fun side of the participating dogs. The only rule in the game is to bring a chew toy into the end zone, New York Post reported.
Dan Schachner, a veteran Puppy Bowl referee, explained that the puppies are not trained ahead of the game. "These are dogs in their purest form," he told the outlet.
When And Where To Watch?
Puppy Bowl XIX will be available to viewers on Animal Planet and Discovery+ on Feb. 12. A pre-game show will be broadcast "to give audiences the inside scoop on the Puppy Bowl draft," read the press release, as quoted by CNN.
The main event commences at 2 p.m. ET and is expected to go on for three hours. While Schachner will be the on-field referee, popular commentators Steve Levy and Taylor Rooks will be on air through the game.
Replicating Super Bowl's halftime shows, the Puppy Bowl will have its own "Kitty Half Time Show," featuring multiple dogs that are up for adoption in the U.S.
How To Adopt The Pups?
The names and breeds of the participating dogs are already available on the Discovery website. Information about the dog's shelter can also be found on the website. Those wishing to adopt can contact the respective authorities.
For example, Team Ruff's Jimmy Kibble, a Pomeranian/Husky mix, is representing St. Cloud-based Florida Little Dog rescue group, according to The Independent.
All dogs featured in the upcoming game will be up for adoption. New York Post reported that Puppy Bowl's adoption rate has been 100% so far. "Every Puppy Bowl ends with every single dog being adopted," Schachner told the outlet.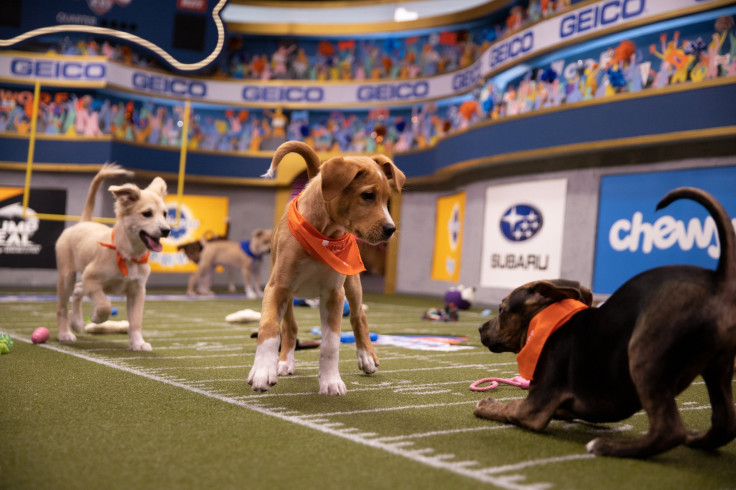 © Copyright IBTimes 2023. All rights reserved.