Rafael Nadal Not Fully Fit As Comeback Nears, Coach Moya Says
Rafael Nadal could make his return from injury when Spain take on Germany in the Davis Cup quarter-finals Friday, but his coach Carlos Moya has warned that the Spaniard is not 100 percent fit as he has trained for just one week.
The 31-year-old has been sidelined with a hip injury he picked up during the 2018 Australian Open in January when he lost to Marin Cilic in the quarter-finals. Nadal has not played a single game since his retirement in Melbourne.
The Spanish tennis star was slated to return at the Mexico Open in Acapulco at the end of February but suffered a recurrence of the injury just prior to the start of the tournament. He has since skipped the Masters Series events at Indian Wells and Miami and was expected to return for the start of the clay court swing of the season at the Monte Carlo Masters on April 14.
However, the 16-time men's singles Grand Slam champion was named in Spain's Davis Cup team for their upcoming clash against Germany this weekend, but no decision has been made if he will play. Moya admits that 'one or two wins' in the Davis Cup will be good for his confidence, but made it clear that his main focus is on playing the entire clay court swing of the season.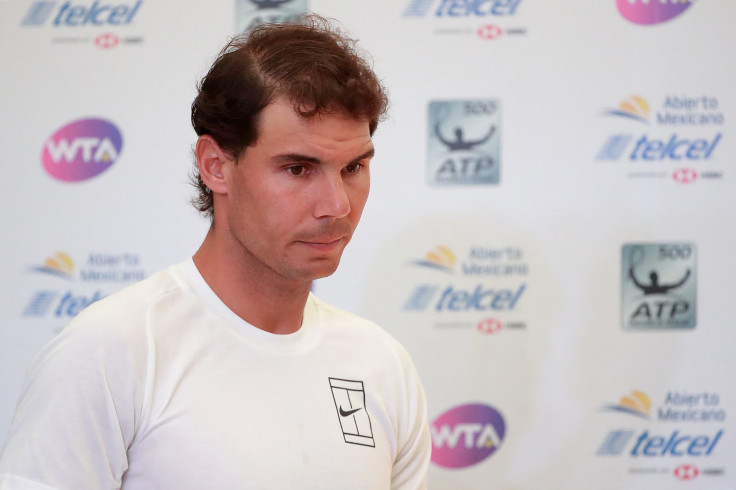 Nadal has been providing regular updates about his progress, but will be wary about rushing his return especially since he suffered a recurrence of the injury in February. His doctor made it clear earlier this year that this injury requires maximum amount of rest and a controlled training regimen rather than his regular schedule.
"He has been training for a week, we go little by little, without doing crazy things, because you have to consider that he had two same injuries, basically," Moya said, as quoted by the Express. "He is not at 100% yet. But if he can win one or two matches it can help him."
"We go progressing, the Davis Cup motivates us but we also know that after that, it comes a month and a half without stopping that is very important to him," he said.
Nadal is defending 4,860-points on clay this season following his wins at the Monte Carlo Masters, Barcelona Open, Madrid Masters and the French Open in 2017 and will be keen to continue his dominance on the red dirt this campaign. And despite his recent injury struggles the Spaniard will be the favorite in all the upcoming major tournaments on clay.
The ten-time French Open winner returned to world number one in the ATP men's singles ranking after Roger Federer's loss in the second round at the Miami Open and will be the top seed heading into the second Grand Slam of the year. However, the Spaniard can lose top spot to the Swiss ace if he does not defend all his points as he is currently just 100-points ahead of his long-time rival.
© Copyright IBTimes 2023. All rights reserved.