Rafael Nadal, Roger Federer, Novak Djokovic Register Poor Record Ahead Of Wimbledon [Details]
KEY POINTS
Nadal recently won a record 22nd Grand Slam title
Federer and Djokovic have two major titles
Nadal is the current World No. 4 in ATP rankings
Roger Federer, Rafael Nadal and Novak Djokovic – The Big Three – in men's tennis have registered a poor record just before the 2022 Wimbledon.
While Nadal and Djokovic have been regularly playing over the last couple of years, Federer has been out of action due to surgeries he underwent between 2020 and 2021.
Nadal, Djokovic and Federer have not ranked World No. 1 or 2, as per the latest rankings released by the ATP.
It is the first time since November 2003 that none of Djokovic, Nadal, Federer or Andy Murray have appeared in the top two rankings spots, according to BBC Sport.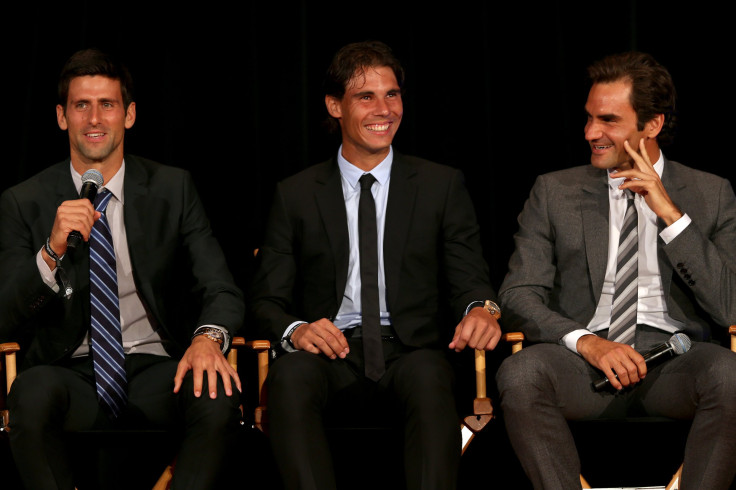 Federer, whose last appearance in a tennis competitive game was the quarter-final of the 2021 Wimbledon, has also dropped out of top 50 of the ATP rankings. The Swiss Master has fallen out of the top 50 for the first time ever in as long as 22 years, according to media outlet Tennis World.
The veteran tennis star first broke into the top 50 on June 12, 2000. He had entered the 2000 Roland Garros from just outside the top-50, before entering the notable group after reaching the fourth round in Paris.
On the other hand, Nadal, who recently clinched his 22nd Grand Slam by winning the French Open 2022, remained at No. 4 in the ATP rankings. Djokovic, who has two major titles fewer than the Spaniard, dropped two spots to No. 3. That also saw Daniil Medvedev reclaim the World No. 1 rank.
When Medvedev replaced Djokovic as the new World No. 1 ATP player in February, the Russian had become the first player other than Djokovic, Nadal, Federer or Murray to top the men's rankings since American Andy Roddick 18 years ago.
Germany's injured Alexander Zverev claimed his career's best ranking as he climbed to the No. 2 spot. He recently underwent surgery for the three torn lateral ligaments in his right ankle, an injury that he suffered during his French Open semifinal match against eventual champion Nadal earlier this month.
Unfortunately for the top-ranked Medvedev, he won't be competing in the upcoming edition of Wimbledon. The iconic competition has been stripped of its ranking points over its decision to ban Russian and Belarusian players over the Russian invasion of Ukraine.
However, that decision means one-time Grand Slam winner Medvedev is likely to increase his lead over Djokovic at the end of the tournament because the Serb is defending champion and has more ranking points to lose, the BBC Sport's report further claimed.
Wimbledon is due to begin on June 27 and will go on till July 10.
© Copyright IBTimes 2023. All rights reserved.