Rafael Nadal Teaches So Many Lessons On And Off Court, Says British Tennis Player
KEY POINTS
Rafa Nadal has won 22 Grand Slam titles
He is back to training after recovering from an abdominal injury
Nadal is scheduled to play two ATP Masters events before the U.S. Open
British tennis player Jack Draper has heaped praise on Rafael Nadal, saying there are "so many lessons" that can be learned from the 22-time Grand Slam winner on and off the court.
After playing just seven ATP tournaments last season, Nadal left everyone surprised with his run this year, especially in the first six months. He won a trophy in each of his opening three tournaments: Melbourne Summer Set, Australian Open and Mexican Open. The World No. 3 extended his Grand Slam tally to 22 by winning the French Open in June.
Nadal looked in fine form at Wimbledon as well but was forced to withdraw ahead of his semi-final clash with Nick Kyrgios due to an abdominal issue.
Just like so many fans and athletes do, even the 20-year-old Draper, who made his Grand Slam debut earlier this year at Wimbledon, looks up to Nadal's never-give-up attitude.
"Just the way he [Rafael Nadal] operates on a tennis court and off the court as well. His attitude, I think everyone can see that in any sport. He is someone who fights hard for every point. He's a very humble guy. I think you can learn so many lessons from a great athlete like that," Draper said in a recent interview, as per Tennis World USA.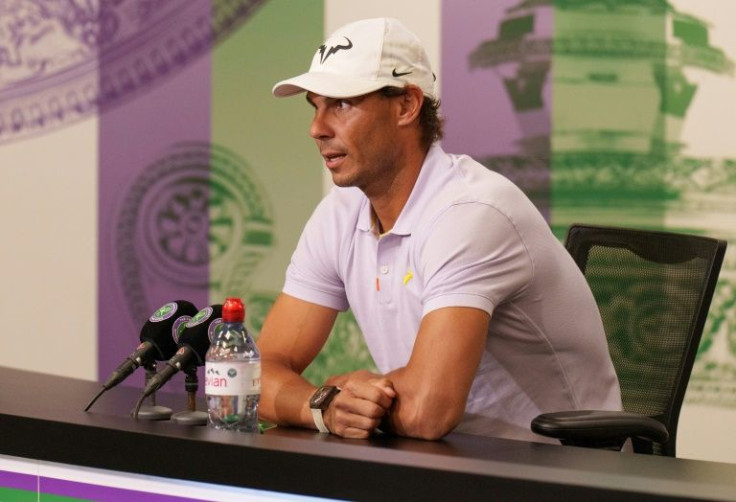 Nadal registered his personal record of a 21-match unbeaten streak that eventually ended at the Indian Wells final, which he lost to Taylor Fritz. It was later revealed that the Spaniard played through the final with a rib fracture. As a result, Nadal missed ATP events in Miami, Monte-Carlo and Barcelona before making a comeback at Madrid Open. However, he lost in the quarters and followed that with a third-round exit from the Italian Open.
But that did not affect his run at the Roland Garros, where he defeated Novak Djokovic in the quarters, Alexander Zverev in the semi-final and thrashed Norway's Casper Rudd 6–3, 6–3, 6–0 in the final to clinch a record 14th French Open trophy.
Ahead of the U.S. Open, Nadal has returned to training, which implies he has recovered from the abdominal injury. A video posted by Rafa Nadal Academy showed several people in attendance as they caught a glimpse of the former World No. 1 in action.
Nadal is scheduled to compete in two ATP Masters events in the lead-up to the final Grand Slam of the year: in Montreal and Cincinnati.
In November, Nadal is set to do a South America tour and is scheduled to play against Alejandro Tabilo in the latter's home country of Chile.
"For me it is incredible. Since I was little I have always tried to do everything like [Rafael] Nadal; he is my idol and playing with him in Chile is a dream, it will be unforgettable. So to have this opportunity to exhibit here with him makes me very happy," Tabilo said in an interview.
The 25-year-old Tabilo broke into the ATP Top-100 for the first time in his career in February this year and reached his first final on the ATP tour at the Cordoba Open.
"When they first named it to me, I didn't think much of it. It took me a while to react and already, a week ago, when they confirmed me, I couldn't believe it. Guille (Gómez) called me on the phone and was happy. My eyes widened with happiness," the Chilean tennis star added.
© Copyright IBTimes 2023. All rights reserved.