Rafael Nadal 'Very Bothered' At No. 1 Ranking Loss: Andy Murray's Ex-Coach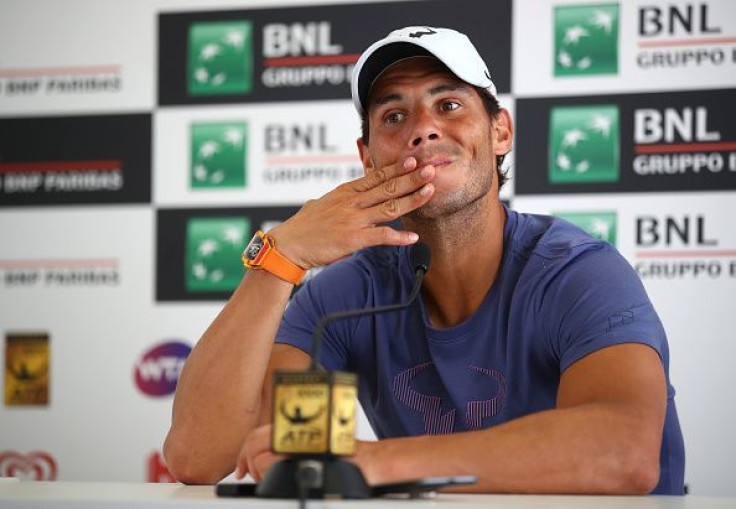 Rafael Nadal will be "very bothered" at losing his No. 1 ranking but it will not affect his preparations in the Rome Masters this week, according to Andy Murray's ex-coach Miles Maclagan.
Nadal was in fine form since making his return to competitive action last month as his dominance on clay resulted in him successfully defending his titles in the Monte-Carlo Masters and the Barcelona Open.
The Spaniard's dominance was particularly highlighted by his record of 50 consecutive sets won on clay following his win over Diego Schwartzman in the Madrid Open round of 32, surpassing John McEnroe's all-time record of 49 on the now-discontinued carpet surface in the process.
However, he would later crash out in a 7-5, 6-3 loss to Dominic Thiem in the quarterfinals with the Austrian prospect notably being the only player to defeat Nadal on clay in 2017.
Nadal's failure to defend his Madrid title saw him drop down to No. 2 in the world rankings below Roger Federer who now has a 720-point lead over the 16-time Grand Slam winner.
While it might be a minor setback given that he can regain the ranking with a first win in the Rome Masters since 2013, Maclagan still believes it was frustrating for Nadal to lose top spot.
"It's not damaging. I wouldn't completely agree with Peter Fleming in saying he's not bothered [about losing his No 1 status], I think he's very bothered," Maclagan said, as per Sky Sports. "However, it's not going to affect the way he prepares in Rome. His attitude is about improving, getting better, and that's very much what he'll do."
Maclagan believes Nadal will be using selective memory, much like other top athletes, so that he can go into the Rome Masters this week with a fresh mindset.
"Top athletes have a selective memory, and he'll say, 'Well I don't like playing in Madrid, so that I didn't play so well is no surprise. I'm going to go to Rome where I like it and start all over again.' ... He lost to a guy [Thiem] who played just about perfect tennis. He's coming off wins in Monte Carlo and Barcelona. These tournaments are important in terms of building, but also in their individual right, he wants to win these Masters 1000 events, so when he gets to Roland Garros those conditions really do suit him. The conditions are a bit heavier so he can hit through it without fear of the ball flying on him."
Nadal will get a bye into the round of 32 where he will face the winner of Fernando Verdasco and Damir Dzumhur who both play each other Tuesday.
The final of the Rome Masters takes place Sunday and if Nadal were to win the event, he would gain 820 points and return to the top of the rankings, owing to the fact that he lost to Thiem in the quarterfinal stage last year.
The French Open takes place afterward from May 21 to June 10 where Nadal will be looking to extend his record with an 11th crown.
© Copyright IBTimes 2023. All rights reserved.