Rafael Nadal's Top 5 Iconic Moments Across 1,000 Career Wins
KEY POINTS
Rafael Nadal has attained his 1,000th ATP win
Most of Nadal's big wins happened at the French Open
Nadal shows no signs of slowing down
There is no denying Rafael Nadal's place in tennis history after becoming just the fourth man to enter the 1,000-win club of the ATP Tour on Wednesday.
The 34-year-old Spanish ace attained the feat by pulling off a come-from-behind 4-6 7-6 (7-5) 6-4 victory over Feliciano Lopez in his opening game at the Paris Masters, inserting his name in the elite cast comprised of Jimmy Connors, Roger Federer and Ivan Lendl.
Now let us look back at the five moments that defined Nadal as a celebrated icon of the sport.
1. First of many at 2005 Roland Garros
Known as a tennis prodigy, Nadal entered his first French Open with high expectations as a top-five seed.
The then-19-year-old defeated Federer in the semi-finals and claimed his maiden Grand Slam with a four-set victory against Mariano Puerta, 6–7, 6–3, 6–1, and 7–5.
The Mallorcan-based prodigy became the first teenager to win a major since Pete Sampras at the 1990 US Open. It was a sign for many years to come as he would eventually beat the American's record of 14 titles more than a decade later.
2. Instant classic at 2008 Wimbledon Final
Federer has reigned over the grass courts for the majority of his illustrious run. But at the 2008 Wimbledon final, he proved to the world how he's just as capable as his esteemed rival.
Throughout four hours and 48 minutes of extended tennis action, Nadal secured his first-ever Wimbledon title when Federer made an error with his cross-court forehand.
Both men laid it all on the line in the five-set thriller, but it was Nadal who emerged victorious with the scores of 6-4, 6-4, 6-7(5), 6-7(8), and 9-7.
3. La Decima at 2017 Roland Garros
"To win Roland Garros one time, it's almost impossible. To win it five times, it is impossible. To win it ten times, I don't know the word," Boris Becker said.
These were the musings of the aforementioned tennis legend when Nadal achieved a historic 10th French Open title, his 15th overall at that time.
Twelve years after winning his first Grand Slam tournament, Nadal succeeded in inconceivable fashion, winning a decade's worth of Roland Garros trophies.
It was a three-set onslaught of Swiss star Stan Wawrinka, 6-2, 6-3, and 6-1, demonstrating how special he is as a man with a racket.
4. Career Slam at US Open 2010
Winning one major contest in tennis is rare. Winning all four championships throughout one's career is legendary.
Nadal was already the world's best player in 2010, but the hardcourt title of the Arthur Ashe Stadium eluded him for so long. It was the missing piece to his already growing trophy collection.
The search came to an end at the 2010 US Open Finals when he defeated Novak Djokovic in four sets, final etching the words "Career Grand Slam" into his profile.
5. Ties record at French Open 2020
For years, Federer has earned the distinction of having the most Grand Slams in the men's singles division.
But with his persistence and consistency, it was only a matter of time before the so-called "King of Clay" caught up with the Swiss legend.
He defeated Djokovic in the recent French Open finals in three sets to hoist tennis' most prestigious hardware for the 20th time.
It seems that Nadal isn't resting on his laurels. He is slated to compete at the upcoming ATP Final set to happen at the O2 Arena in London from Nov. 15 to 22.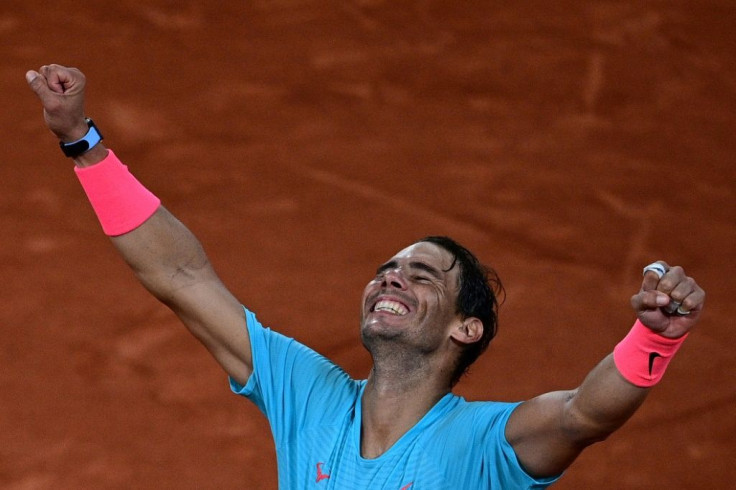 © Copyright IBTimes 2023. All rights reserved.