Raiders Draft News: First Round Has At Least 3 Players Who Can Change Defense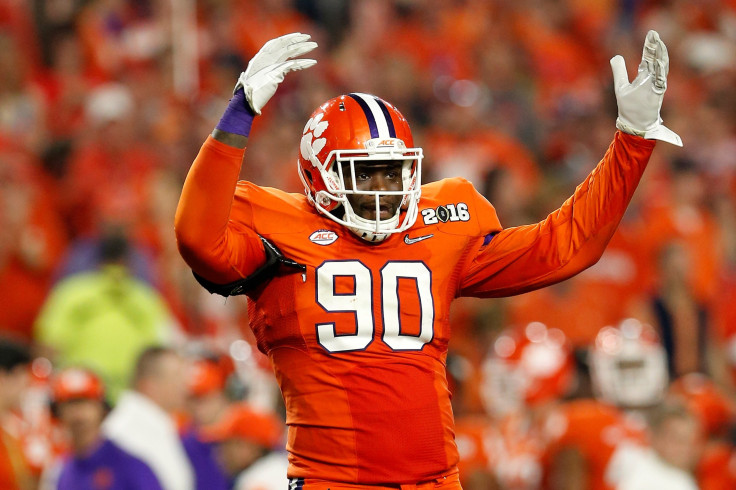 The Oakland Raiders hope their recent string of good fortune with first-round selections continues on Thursday night when the 2016 NFL Draft begins. With the No.14 overall pick on Day One of the draft, the team is reportedly eyeing several players.
Oakland has selected Pro Bowlers in each of the last two drafts, taking pass rusher Kahlil Mack in 2014 and Amari Cooper a year ago, to help fans forget busts like JaMarcus Russell and Darrius Heyward-Bey. With 2014 second-round pick Derek Carr leading the offense, the Raiders went 7-9 last season and they should enter the 2016 season as one of the most promising teams in the AFC.
The Raiders were particularly active this offseason, giving lucrative deals to a few coveted free agents like guard Kelechi Osemele (five years, $60 million) and linebacker Bruce Irvin (four years, $40 million). Oakland also addressed their inconsistent secondary by adding safety Reggie Nelson and cornerback Sean Smith.
But the draft might offer the best solution to bolstering a defense that finished in the bottom third of the league in both points (24.9) and yards allowed (5,818). Raiders general manager Reggie McKenzie has already stated his openness to trade up for "a special player," but if he drafts purely for talent, he can find some defensive gems in the middle of the first round.
Oakland Raiders First Round Draft Picks Since 2000 | PointAfter
Some mock drafts have Clemson defensive end Shaq Lawson being taken as high as No.11, but the Raiders could scoop him up if he's still on the board at No.14. Defensive ends like Ohio State's Joey Bosa and Oregon's DeForest Buckner are projected top-10 picks, but Lawson was more dominant than either player in 2015. He recorded 24.5 tackles for a loss, including 12.5 sacks. It might be a stretch for the versatile Lawson to be available by the time the Raiders pick, but stranger things have happened.
Oakland can still improve their defensive line with Lawson off the board. If McKenzie has his heart set on a defensive tackle, Mississippi's Robert Nkemdiche could be his guy. Nkemdiche's off-the-field behavior, durability and work ethic have raised some red flags, prompting him to plummet in most mock drafts. But if McKenzie wants to take a chance on a high-ceiling defensive player, Nkemdiche is an obvious choice. The former high school standout is a potential Pro Bowl selection if he cleans up his act.
The Raiders finished 16th in rushing yards allowed per carry (4.1) and Oakland's 38 sacks were tied for 14th in the league. The Kansas Chiefs' Alex Smith, who turns 32 in 10 days, is the only mobile quarterback in the AFC West, so an effective pass rush might be crucial to the Raiders' success next season.
Oakland improved their secondary through free agency, but they could be looking to do even more in the draft. Cornerback William Jackson III will likely be the best defensive back available with Florida State's Jalen Ramsey and Florida's Vernon Hargreaves III potentially going in the top 10. Jackson had five interceptions in 12 games for Houston last year, and scouts love his speed and instincts.
Other possibilities include defensive tackle Sheldon Rankins of Louisville and cornerback Eli Apple of Ohio State. A'Shawn Robinson, a defensive tackle from Alabama, would be an interesting choice, but the Raiders may want to cross their fingers and hope he somehow slips to the second round.
Twenty-five teams allowed fewer yards against the pass than the Raiders, and they were tied for 15th in the NFL with 24 passing touchdowns allowed.
The Raiders have eight total picks in this draft.
© Copyright IBTimes 2023. All rights reserved.