Ralph Nader Seeks Primary Challenger For President Obama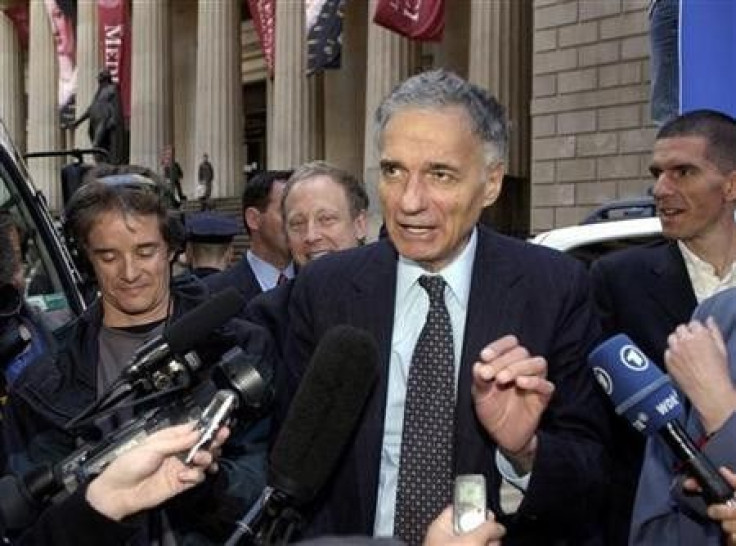 President Obama may face some challenges among his own party during his 2012 reeelection campaign, after a group of liberal leaders that includes former presidential nominee Ralph Nader announced plans to challenge the incumbent during the Democratic primaries next year.
To launch the effort, Nader and his allies penned a scathing letter that was sent to more than 150 potential sympathizers, accusing Obama of betraying his liberal base and its progressive agenda.
However, Nader insists the purpose of the effort is not to deny Obama the Democratic nomination, or undermine his chances in the general election.
Just the opposite, Nader told the Los Angeles Times. If [Obama's] smart, he'll welcome it, because nothing's worse than an incumbent president slipping in the polls, being constantly on the defensive, being accused by supporters of having no backbone and running an unenthusiastically received campaign. That's a prescription for defeat.
Nader said the competiton may help activate Obama's base, many of whom have lost enthusiasm for the president as a result of the struggling economy and Obama's numerous concessions to Republicans in congress.
Nader and his sympathizers, according to a press release, have issues with Obama's, decision to bail out Wall Street's most profitable firms while failing to push for effective prosecution of the criminal behavior that triggered the recession, escalating the wars in Afghanistan and Pakistan while simultaneously engaging in a unilateral war in Libya, his decision to extend the Bush era tax cuts, and his acquiescence to Republican extortion during the recent debt ceiling negotiations.
Although he has been frequently asked about his own presidential ambitions, Nader -- who has run for president on five occassions as a Democrat, Green Party candidate and Independent candidate -- told the Los Angeles times that it is very unlikely that he will run in 2012.
I just want, as a citizen, to have a rigorous debate on all the matters we've worked on for decades: consumers affairs, environmental protection, new taxes, new ideas, new excitement, he said.
Nader isn't the only progressive who has suggested that Democats may want to challenge Obama. Rep. Dennis Kucinich (D-OH) recently told CNN that a challenge to Obama would make him a better president. Meanwhile, Rep. Peter DeFazio (D-Ore.) told The Hill that a growing number of Democrats believe Obama should be challenged, although he would not signal out any names.
Nader himself may not be popular enough among Democrats to seal the nomination. Many still resent the legendary consumer advocate for his involvement in the 2000 election, saying that his race on the Independent ticket siphoned votes away from Democratic nominee Al Gore, leading to the election of George W. Bush.
© Copyright IBTimes 2023. All rights reserved.
FOLLOW MORE IBT NEWS ON THE BELOW CHANNELS