Rams Coach McVay Confirms Malcolm Brown Injury, Discusses 2nd NFC West Title
Sean McVay led the Los Angeles Rams to their second consecutive National Football Conference West title Sunday. Their victory against the Detroit Lions is their 11th win this season.
The Rams have won 11 of their 12 games so far this season, and are among the favorites to make it to the Super Bowl from the NFC. Their only loss came against the New Orleans Saints, their main rivals for the number one seed in the NFC.
McVay's side may have won the NFC West title for the second consecutive season, but they still have a way to go before they ensure a more comfortable run in the post-season playoffs. They still have to ensure they get the first round bye in the playoffs, which can be achieved if they win their next game against Chicago Bears or win their two of their remaining four games.
Apart from that, McVay will also want his team to have home field advantage throughout the playoffs and they can secure that by winning all their remaining four games. The Saints were leading the race, but their shock loss to the Dallas Cowboys on Thursday night gave the Rams the advantage going into the final stretch of the regular season.
"It still feels great either way to be able to accomplish something with people that you care about and that you love," McVay said after their win against the Lions, which secured the NFC West title, as quoted on therams.com.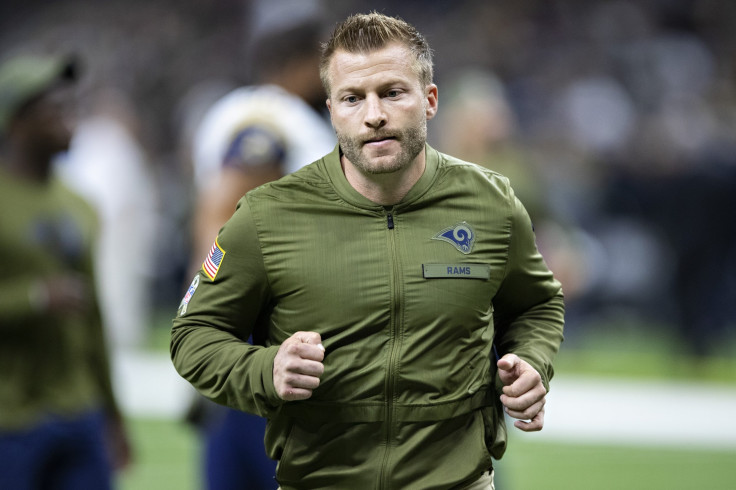 The win against the Lions, however, came at a cost as running back Malcolm Brown suffered an injury in his clavicle area, which McVay confirmed required a procedure to rectify. The Rams coach did not give a timeline with regards to his return but admitted his absence would be a massive blow to the team.
"You know, he kind of got hit up in his clavicle area. He's going to have a procedure done. That's not necessarily a surgery, but he's got to make sure that we can kind of get that thing where — it's a little bit above my understanding with regards to some of the specifics," McVay explained.
"Yeah, that would be a big loss. It would be a huge loss because of what (RB) Malcolm (Brown) means to our football team – not only for our offense, but for our special teams."
McVay, meanwhile, is currently sidelined with illness which forced him to hold his press conference via a conference call. The Rams coach, however, guaranteed that he would do everything possible to be in the best shape to travel with the team to Chicago to take on the Bears on Sunday.
"Even if I'm not healthy that's not going to hold me back. I'm not out there playing. As long as my brain isn't too slow, then I'm going to do the best that I can to get as healthy as possible and ready to go for these guys. Yeah, that's not going to be an issue (laughs)," the Rams coach added, as quoted on the Turf Show Times.
© Copyright IBTimes 2023. All rights reserved.