Ray Allen Rumors: Will He Be Traded To Miami Heat, Stay In Boston Or Retire?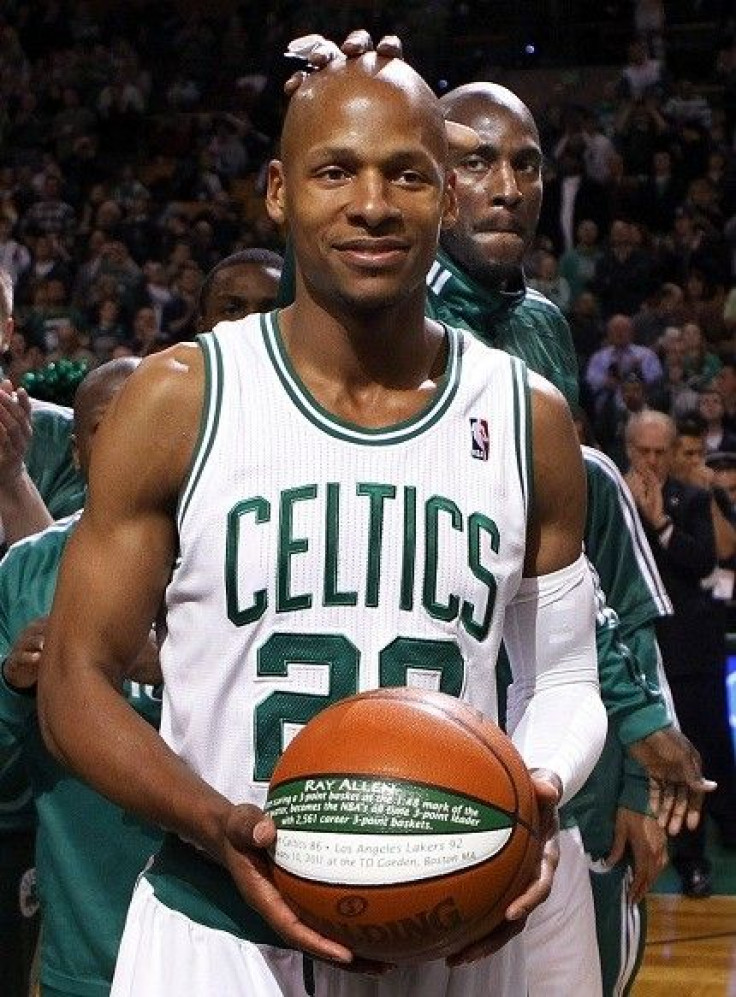 Ray Allen is one of the best Celtics of all time, and Boston fans are waiting with bated breath to find out whether he will be back for another season with the Celts, retire, or -- heaven forbid -- be traded to the hated Miami Heat or another NBA team.
As he is a major part of the Boston Celtics' aging Big Three, any discussion of a Boston team without Ray Allen is sure to start all kinds of rumors.
But it appears that Ray Allen will likely stay where he is in Boston's green-and-white uniforms, according to Danny Ainge, the Boston Celtics' president of basketball operations.
On Wednesday morning, Ainge contributed his two cents on the topic during a discussion with reporters, when he said he believes, as does much of the sports world, that shooting guard Ray Allen will return for another season with the Celts, according to ESPN Boston.
Ainge is not authorized under NBA rules to discuss Ray Allen's contract until July 1, the first day of free agency, but he did offer his thoughts on the future of the Celtics' sharpshooter
Yeah, I think Ray's open to coming back, Ainge said, according to ESPN. But, listen, I don't know. I won't even get into details with talking to players other than the exit interviews and Ray was getting rehab here, and we've talked. So I have a feel of where his head is, but I'll know more in July.
But there is a significant undercurrent of rumors among NBA observers, many of whom believe that the Miami Heat will make a play for Allen, who would add great shooting to the team's lineup. Plus, on June 13 Ray Allen had bone spurs removed from his right ankle shortly after Boston lost in heartbreaking fashion to the Miami Heat's new Big 3 of LeBron James, Dwyane Wade and Chris Bosh in the Eastern Conference Finals. That makes him a much healthier player than he was in those conference finals games earlier this year.
Alex Kennedy, an NBA reporter with Hoops World, is one of those who believe Allen's home next year may be in sunny South Beach:
The general consensus around the NBA is that Ray Allen will sign with Miami, Kennedy tweeted Tuesday. 'Barring a change, he'll join the Heat,' said a league source.
Ainge, however, hopes that Ray Allen will be coming back to Boston for at least one more season.
I have had conversations with Ray, yes, Ainge said. Not contract-specific, but just sort of what his hopes and future [are], what he thinks about our team and would he like to come back and all those types of things. But I haven't had any more specifics, and on July 1 we'll talk more to Ray.
As for Kevin Garnett, a second member of the Celtics' Big Three that also includes Ray Allen, Ainge is confident he'll be coming back or retiring, the Boston Herald reported Wednesday:
I think that's it. As of right now, Ainge said in regards to those two options, suggesting that KG will probably not go to any other NBA team. We're having conversations with Kevin, but we don't have any answers on whether he's coming back or not ... I don't think it will happen quickly. There's no deadline with Kevin. Kevin is the only free agent we have we can talk to now. We don't have to wait until July 1 because he's eligible for an extension. The rest of our players, we have to wait until July 1.
© Copyright IBTimes 2023. All rights reserved.