Recycling And Waste-Reduction: US Food And Beverage Companies Come Up 'Significantly Short'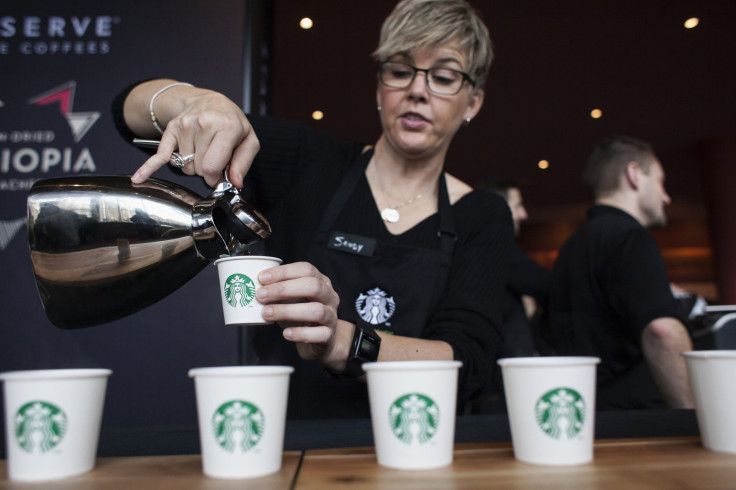 Sit down at a Starbucks coffee shop, and chances are your tall nonfat latte will come in a disposable paper cup, not a reusable mug. Order a salad at McDonald's, and your leafy greens will likely arrive in a nonrecyclable black plastic container. Despite years of well-touted sustainability efforts, U.S. fast-food chains continue to send millions of pounds of packaging straight to the landfill -- not recycling plants, a new report by major environmental groups found.
Beverage companies and grocery stores are similarly failing to reduce their garbage flows. In fact, they may be exacerbating the problem by packaging more kids' drinks and snacks in flexible plastic pouches, which can't be recycled. Among all plastic packaging, only 14 percent is recycled in the United States, leading to significant pollution in oceans and waterways and resulting in an annual loss of $11.4 billion in potential recycling revenue, As You Sow, a shareholder advocacy organization, and the Natural Resource Defense Council, said Thursday.
The groups surveyed the packaging practices at nearly 50 U.S. fast-food, beverage and grocery companies and found that most companies "are coming up significantly short," Conrad MacKerron, the report's lead author and senior vice president of As You Sow, said on an afternoon press call. "Brand leadership is sorely lacking, and none of these companies have prioritized" recycling packaging materials or using recycled paper and plastics.
"If we can fix this problem, that goes a long way toward reducing our reliance on virgin materials and finding innovative ways to make sure that … people can live sustainably in coming decades," he said.
No company was listed in the "best practices" category, though the report did cite a handful of companies for "better practices," including Starbucks Corporation, which was named the top recycler among fast-food companies, followed by McDonald's Corporation. The Seattle-based coffee giant aims to offer recycling in the fronts of more than 3,200 company-operated stores in the U.S. and Canada by 2015. So far, Starbucks only has "front-of-store" recycling in 39 percent of those locations, according to 2013 data. The company has cited inconsistent municipal policies and varied recycling infrastructure as major hurdles to achieving the target.
Starbucks initially committed to serving 25 percent of all beverages in its stores in reusable mugs or tumblers by 2015, but it has since lowered the goal to just 5 percent due to problems in implementing and tracking the use of "for here" service ware. Still, the report lauded Starbucks for being the only brand in its sector to attempt front-of-store recycling and for boosting the amounts of recycled and recyclable materials in its beverage containers.
Starbucks competitor Dunkin' Donuts was criticized in the report for its continued use of foam hot-coffee cups, which are largely excluded from municipal recycling programs. The Massachusetts-based subsidiary of Dunkin' Brands Group Inc. says its foam cups actually reduced waste since they eliminate the need for cardboard sleeves or "double-cupping," according to its website. Even so, last fall the company began testing recyclable-plastic alternatives and said it could start phasing out its signature foam cup in 2016.
The "better practice" winners in the report's beverage category included Coca-Cola, PepsiCo, Nestle Waters NA and New Belgium Brewing. MacKerron explained that beverage companies, more than any other sector, have been pressured in recent years by environmental groups to boost the use of recyclable materials in their products and establish corporate recycling goals. "It's a much newer issue for the senior executives at the [fast-food] restaurant companies and the consumer goods companies," he said. "They are behind in terms of their awareness and the resources they're putting into it."
MacKerron noted that Nestle has taken an unusual step in arguing that companies -- not municipal taxpayers -- should pay for the recycling of packing. Many global food and drink brands are already required to handle their own packaging in Europe and Canada, though U.S. operations are off the hook. The report also praised Coca-Cola's Honest Tea brand for committing to replace its flexible plastic containers with recyclable aseptic packaging, the boxes that can hold liquids like milk, juice and soups.
Walmart was dubbed the top company in the grocery and consumer goods category. The report noted that the Arkansas retail giant reduced packaging across its global supply chain by 5 percent between 2006 and 2013. The company has also committed to use more recycled plastic content in its packages and products by about 3 billion pounds by 2020 -- an amount equal to about 30 percent of the recycled plastic used today. "The could have a significant impact on creating new markets for post-consumer plastics, creating [recycling] jobs and reducing greenhouse gas emissions" associated with new plastic production, MacKerron said.
Darby Hoover, a senior resource specialist with the Natural Resources Defense Council, urged companies in the survey to develop better strategies for tackling packaging waste. She noted that the U.S. has an overall recycling rate of just 34.5 percent, a much lower rate than in other developed countries. "Single-use food and beverage packaging is a prime component of the plastic pollution in our oceans and waterways, which kills and injures marine life and poses a potential threat to human health," she said on the call.
Ocean researchers estimate that some 10 million to 20 million tons of plastic enter the ocean every year, a large chunk of which comes from straws, plates, forks and cups that consumers carelessly throw away, or can't recycle. "Companies have an opportunity and an obligation to curb this pollution," Hoover said.
MacKerron said that despite the bright spots in the green groups' Thursday report, the document hardly serves as a roadmap for companies. "Ultimately these are still really weak examples of leadership," he said.
FOR FREE to continue reading
✔️ Unlock the full content of International Business Times UK for free
offer available for a limited time only
✔️ Easily manage your Newsletters subscriptions and save your favourite articles
✔️ No payment method required
Already have an account? Log in
© Copyright IBTimes 2023. All rights reserved.